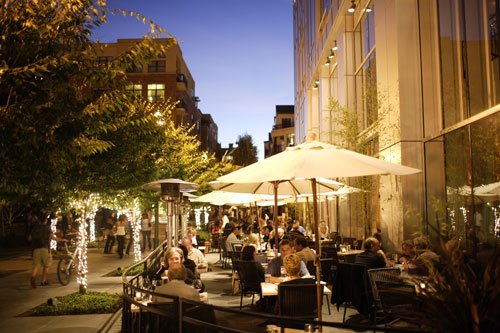 This announcement that Fenouil restaurant on Jamison Square was closing made me do a double-take.
It is with heavy hearts that we announce the closing of Fenouil, in Portland's Pearl District. A longtime iconic restaurant, Fenouil unfortunately was not able to weather the storm of the financial crisis and will close its doors on Sunday, April 3rd. We are extremely grateful for the efforts of our talented staff, led by Chef Jake Martin in the kitchen and Ginger Henderson-Radichel as General Manager, and everyone who worked hard each day at Fenouil. The Dussin Group is currently weighing options as to the future of the restaurant space, more details will be forthcoming as decisions are made. A final thank you to the wonderful Portland community who supported us for so many years.
Fenouil opened to great fanfare in 2005 at a cost of over five million dollars. It quickly became a hot spot, for it's French Disney atmosphere and for the stellar menu, which actually brought frog legs back to Portland.
Unfortunately, the restaurant failed to live up to its promise from the start. Reviews were mixed, and they received some terrible PR on this site when a friend of mine bought a gift certificate for his boss, who took his wife to Fenouil for their anniversary. As they tried to pay, the restaurant said it was fake…
"At one point, …they were going to honor the certificate. Then as they were leaving, he apparently changed is mind and ran out, further embarrassing them, and asking where they were going. The way they were treated, it was obvious the management assumed they were guilty of fraud, and treated them like criminals."
Can you imagine if that happened to your boss? The whole story is pretty amazing.
Another blow came when Fenouil was purchased by the same people who own The Old Spaghetti Factory". It is my belief they suffered greatly because of this association.
End the end though, I'm sure it came down to economics: a 5 million dollar restaurant floundering in a tight economy that couldn't bring enough people through the doors to keep it afloat.
Now the question is, will it become another Old Spaghetti Factory?