Old Mallory Hotel Menus offer a peek into another time.
I got a response to this post from the grandson of the owners –
Thanks for posting this menu from L'Abbe at The Mallory. My grandparents operated this restaurant and several others in Portland from the 1920's until the early 1970's. My grandfather was a Chef from Switzerland who trained at the Escoffier Culinary Academy in Paris before emigrating to the US in 1910. His last name was Aebi which he converted to l'Abbe for his restaurants. In addition to The Mallory, they operated a L'Abbe at the Roosevelt Hotel at 9th & SW Salmon. In the 50's, after their kids moved out of the family home in Milwaukie, they converted it into their most dramatic restaurant, Chalet l'Abbe which they sold in the mid-70's. The new owners changed the name to The Fernwood Inn which continued restaurant operations until recently when it sold and has now been converted back into a residence.
That's why I love writing about old places. No matter where they are I often get emails back from families that owned the originals restaurants.
---
Every so often I'll come across an old menu in a junk bin, or someone will send me one. I love these little windows in time. These two menu pages from L'Abb'es French Wine Restaurant at The Mallory Hotel (now Hotel Deluxe,) were sent to me by a reader. They are from 1945, at or near the end of World War II. I'll have a bottle of the 1929 Nuits St. Georges please.
According to their website, "Hotel deLuxe began as the Hotel Mallory, commissioned in 1912 by Rufus Mallory. Even then it was a luxurious retreat: the Crystal Room (now the Screening Room) was a ballroom featuring Grand Piano and orchestra pit. In its previous life, the Green Room was a billiard room furnished with a pool table, crystal decanters of spirits and fine cigars. Across the lobby, ladies could socialize privately in the Lady's Parlor, which is now the Editing Room."
Thanks to Scott for sending these to me! You can see other menus from the Mallory here and here.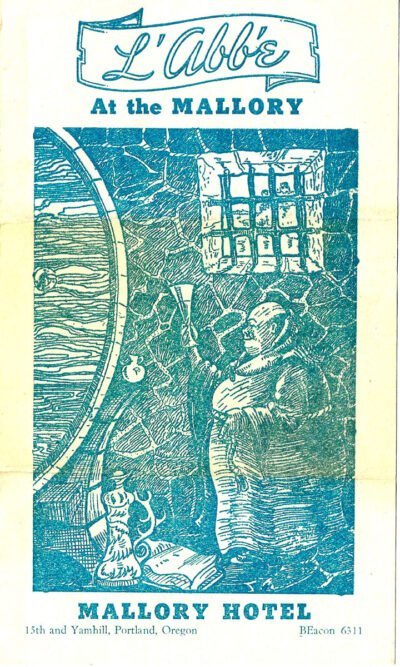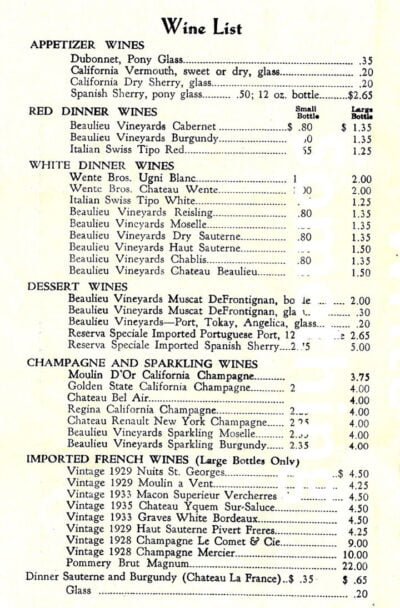 You kids may find the phone numbers a bit confusing – ATwater 9011, but I remember well when phone numbers started with two letters and then 5 digits, the "2L-5N" system. Our phone number in the late 50's was FR5-1722, or 375-1722. The two letters designated the nearest telephone exchange.
Of course, back then we had "2-way party lines," where we shared lines with our neighbors. Before making a call, we'd have to pick up the phone and listen to make sure someone wasn't already talking on the phone. You could hear their entire conversation as long as you stayed on the line. Of course, if you were talking, you'd never dared say anything you didn't want all your neighbors to know!
This was before numbers were multiplexed, which means every home on a regular line had a pair of wires that went all the way from the nearest central office to each home. Party lines shared wires which saved phone companies (and subscribers) money. The ring patterns were different for every family, so when it rang you had to listen carefully to see if it was the ring for your house. In some neighborhoods, phones were shared by 10 households! Can you imagine trying to figure out which calls were for you? Some of the kids in our neighborhood would call their own number and hang up, which made every phone on the circuit ring. Not me of course. Nope. Is the statute of limitations up?
And now you know.
Yes, geeky, but at one point in my life when I worked for AT&T, I accumulated a collection of very old phones and equipment as I removed them from old buildings in Los Angeles. I loved them.