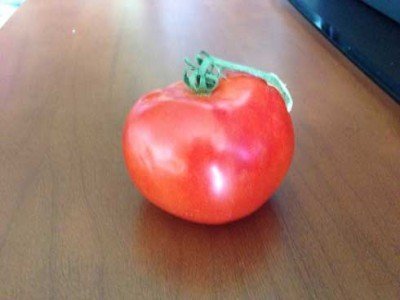 Everyone, meet Harold. I wasn't really looking for a tomato, but bought him at the grocery store in a weak moment when I thought a bit of color would be nice in a salad. Fortunately for Harold, he was sitting on the kitchen counter while I was cooking, and we ended up having a nice conversation. Not one for killing friends and chopping them into little pieces, I spared his life, and ended up adopting him.
Since he is a rescue tomato, I'm not sure about his age. However, I can tell you that this is our fifth week together. Add a conservative three days for shipping time, and he's six weeks off the vine. He's been sitting on my kitchen counter, with no special care. Harold's life experience is rather limited, so mostly I've been the one talking during our conversations, but I'm sure he feels loved. As you can see from his portrait, he's still pleasantly plump, firm, red, and could probably be sliced and used in a nice, though flavorless sandwich this very day. That Harold is still around, is what scares me. I know a tomato isn't going to have much flavor at this time of year. I realize that grocery store fruits have been bred to last a really long time, but after SIX Weeks, this tomato is still going strong.
50 years ago I had a huge vegetable garden. Every few days I would fill a 40 gallon trash barrel with tomatoes or zucchini, and take it around the neighborhood on a dolly, trying to give them away to local residents, who, after the third week, would slam and lock their doors when they heard the squeaking wheels of my hand-truck approaching. The produce I couldn't give away would turn soft and disintegrate within a couple of days.
Why do I bring this up? Because it scares me. Have we really come to the point where we can keep delicate fruit for months without it spoiling? This feels so wrong to me. There are rare times that, out of desperation I buy produce out of season, but events like this remind me why farmers markets are so important. Go to them. Get to know the vendors. If you find something you aren't familiar with, ask them how to cook it. Enjoy the scene, it's like a big street party that the whole family can enjoy. If they are new to you, read this post on top ten mistakes shoppers make at farmers markets. Remember, by shopping from local vendors, you can prevent Harold's brothers and sisters from being raised for adoption.
Here are a couple of links to show the markets near you, what is currently available, and lists of vendors. There are many others around the Portland area. Start shopping!
Beaverton Farmers Market, Portland Farmers Markets, Hillsboro Markets, Tualatin Farmers Market, Hillsdale Farmers Market, Sunnyside Farmers Market