How to make mayonnaise from scratch – and stories
My first summer in Waxahachie was in 1962. I took the plane trip alone, and that by itself was enough to make the whole summer worthwhile. In those days, the "stewardess" would give a young traveler special attention. I was seated next to the galley where the choking cloud of cigarette smoke wasn't quite as thick, and I remember watching the props spin up, wondering how those little blades could pull us into the sky. Since most cars didn't have seatbelts in those days, we had no clue how to put one on, and actually watched the stewardess for instructions. After we were airborne, they took me to meet the pilot, a tall man with an easy smile who politely shook my hand and gave me an American Airlines Junior Pilot pin and a deck of playing cards. I think I still have them somewhere.
I'll never forget the lightning storm that flashed around the plane as we made our approach to Dallas Love Field airport. Towels were piled in front of the terminal doors as we ran from the plane and across the tarmac. Grandmother and my Aunt Jewel picked me up in a big four-door sedan that smelled of hay fields and summer.  I sat in the back seat and immediately got instructions from my aunt that I should never cross my legs, as this could cause potentially fatal blood clots. She kept turning around and looking at me in my California "city clothes" that, as was the custom in those days, I had put on for the flight. After a few quiet miles, she turned again and made a pronouncement that we were going to Sears for new ones that wouldn't embarrass her. Apparently, the lack of a hat and Wrangler jeans would make me stand out in the small town of Maypearl.
One didn't argue with Aunt Jewel. Look up crotchety old woman in the dictionary, and it would likely have her picture next to it, but I absolutely loved her. She taught me exactly how I should sit in the car, the best way to make ornate "houses" out of cards, and as I got older, the fine art of the game of poker. Years later when I started going on dates, she'd yell at me to "be a gentleman" as I went out the door, but then she'd give me a sly wink over grandmother's head.
The Waxahachie Sears was smaller than I was used to but had the familiar smell of stale popcorn, and a whole clothing department just for ranch hands. I was dazzled as we walked up and down metal bins of boots and hats, finding just the right fit for my eight-year-old head. I wanted spurs, but with one look she quickly put that idea to rest. Still, I fairly strutted out the front door in my new duds, confident that I was now a real cowboy. Somewhere, I still have a picture taken later that day, in which I was being held up on a horse by my uncle Fred, proudly wearing my new clothes and holding a lariat.
During the week, Aunt Jewel made the main course of every meal, and meat always played a big part.  Let's just say she wasn't the greatest cook in Waxahachie, and pretty much boiled every cut of meat she could get her hands on (see The Boiled Chicken Death March). I quickly learned to hide as much of her cooking as possible in my pockets, which I would give to the lanky German Shepherd dogs at the first opportunity. I finally got caught when grandmother was doing the laundry and found pot roast in all of my pockets. The dogs, Sue and Wingo, moped around for three days.
The big meal of the week was Saturday supper when we'd feed all the ranch hands. Grandmother was in charge of cooking the whole spread, so it was a special occasion. In those days, trips all the way to the Piggly Wiggly grocery store in Waxahachie were few and far between. I used to beg her to make chocolate pies until she'd give in, and we'd go into town for ingredients. Afterward, I would paste the Plaid Stamps they'd give her into her stamp books and fantasize about what we could do with the big stack that was building up on her old desk in the sitting room. But most weekends we would just drive down the road to the neighbor's ranch for provisions.
Old Mr. Jackson's farm was like a vegetable petting zoo. The dusty dirt road was lined with tall brown-silked corn plants that I got lost in one afternoon, when a peacock snuck up behind me and screamed, sending me running off into the field. I couldn't find my way out until Mrs. Jackson stood on a tractor seat and yelled until I could spot her. There were rows and rows of okra, squash, zucchini, beans, and tomatoes, along with a variety of farm animals. Some afternoons, grandmother would drop me off to spend the day. I must have driven Mr. Jackson crazy with questions while running from crop to crop while we picked vegetables for that afternoon's deliveries. He taught me to plant tomatoes deeply so they'd have good roots, how to check when the corn was ripe, and when I had too much energy, he got me to play crop duster, running up and down the corn rows like an airplane, hands brushing each plant as I rushed by, and sending clouds of pollen into the air before it would settle back down on the silks of nearby plants. Now I realize it was his way of helping nature pollinate the corn and wearing me out at the same time.
Eventually, Grandmother would come back for me, full of gossip, hair freshly styled from the Maypearl beauty parlor, and the rest of the afternoon would be spent on the screened front porch, shucking the ears of corn, squealing at worms, and cutting kernels off the cobs so they could be stored in the rusty deep freeze. There was always an old seed bag of potatoes to be peeled, but peas were the worst; hours and hours of opening pods and dropping them with a thunk into stainless steel bowls.
She'd keep some of the day's pickings out for the evening supper, and I'd sit on a metal kitchen stool and watch as she magically beat eggs, oil, and vinegar into mayonnaise, which she'd then make into 'ranch' buttermilk dressing. Aunt Jewel would tear up salad greens and mix them with fresh tomatoes and radishes. Corn was creamed with fresh, unpasteurized butter, heavy cream, and cracked black pepper, and okra would be battered with a bit of cornmeal and mixed with tomatoes after it was fried, sending an announcement to the entire house that dinner was coming. Finally, the star attraction, hamburgers.
Grandmother taught me how to select a grade of meat that had enough fat in it to give it a good taste but still keep its size. I'd watch her push it through an old hand grinder and lovingly massage it into patties, never packing it too hard, before cooking it to medium rare. When the burgers reached our plates, we'd put them together with Mr. Jackson's freshly-picked onions, grandmother's homemade catsup, and the pickles put up the previous fall.
For dessert, we always had her famous chocolate pies. You've heard about them before: "When the meringue cried, she always said they were angel's tears". One day I will dig out the recipe, still on a faded browning index card… lard, butter…
In the back of the house was an old-fashioned windmill, the kind you used to see all over the Midwest. I don't know how it managed to stand on those old legs. The blades would strain, singing a rusty song in the breeze, pulling cool water from deep in the ground, sending it gurgling into the cattle troughs and pushing it through leaking pipes across the fields, where it would spill out next to the weathered white salt licks. Next to the windmill was an old farm bell. I loved to turn the big metal wheels that sent it crashing against the clapper, its call peeling across the fields, scaring mice into their burrows, and tolling the cowboys to summer supper. They'd come riding up, pant cuffs frayed from spurs, still full of hay, for a quick rinse under the windmill outflow before joining us for a meal.
I still remember that first Saturday dinner back in 1963, hands joined around the big wooden ranch table, as my Uncle Fred said grace. I wasn't religious, I didn't even know what religion was, but sitting there with the bounty of a day's work waiting for us, I couldn't help but think the prayer was appropriate.
"For food in a world where many walk in hunger
For friends in a world where many walk alone
We give you thanks O Lord"
Every night before bed, Grandmother and Aunt Jewel would call out to each other from their bedrooms. "Goodnight sweet Sister, I love you". Of course, if I were there, I'd be included too. It's been years since they passed on, but I still think about it from time to time: "Goodnight Grandmother, goodnight Aunt Jewel. I love you."
How to Make Grandmother's Homemade Mayonnaise
Mayonnaise is much easier to make than most people think. It's just four ingredients: egg yolks, vegetable oil, an acid such as lemon, and something that helps with emulsification, such as a little Dijon mustard. I also add salt and pepper, the way my grandmother did. It's about using everything in the right ratios. This isn't some fancy recipe you couldn't find in a million other places and it takes no shortcuts. It's just the ingredients, a whisk, a bowl, and a little technique. This is the method that in my experience produces the silkiest sauce.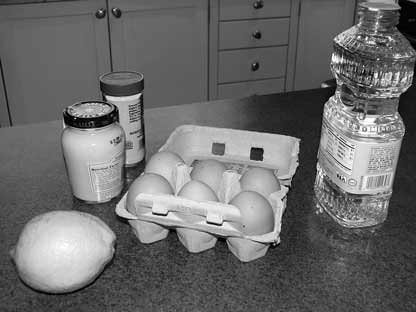 Make sure you have all the ingredients at room temperature before you begin.
2 large egg yolks
1 1/2 tablespoons lemon juice
¼ teaspoon salt
1 good pinch of ground white pepper
2 teaspoons Dijon mustard
1 cup vegetable oil. For a modern touch, sometimes I'll use ¼  olive oil and ¾ vegetable oil to add some grassy notes.
A few secrets: add the oil in as small a stream as possible. If I have a new bottle of oil around, I leave the foil top intact, making a couple of small holes with a toothpick, which makes it easy to add it drop by drop into the eggs. Secondly, do not use aluminum or copper bowls, as they will discolor your mayonnaise.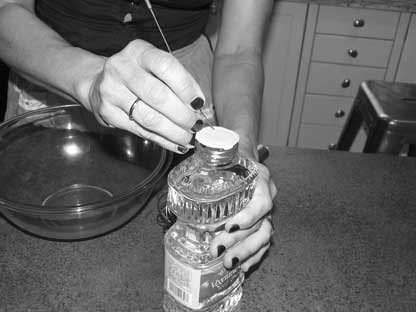 Put the bowl on a dishcloth to hold it in place. Whisk all the ingredients together except for the oil: egg yolks, lemon juice, salt, pepper, and mustard.
Slowly add in the oil, beginning with just a few drops at a time using the method above, or just adding it with a quarter teaspoon, until about ¼ cup has been emulsified. Then you can add the rest at a slightly higher rate.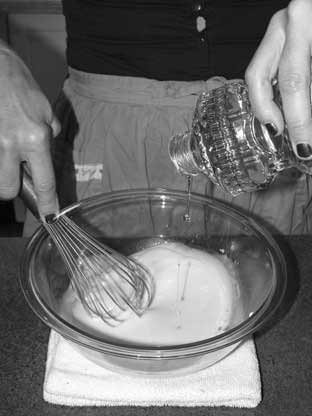 It takes a lot of whisking and helps to have a friend or child by to help. When it thickens, correct seasoning to taste, add any additional flavorings you want such as herbs and refrigerate. It keeps about ten days, but if you do it right, it won't last nearly that long. I can eat it with a spoon.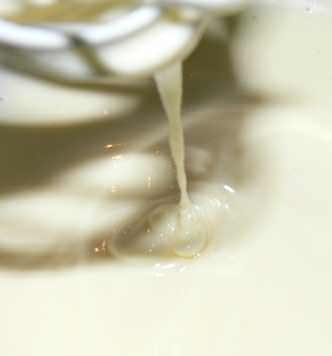 If you liked this story, you might also like "Making Butter and Memories"