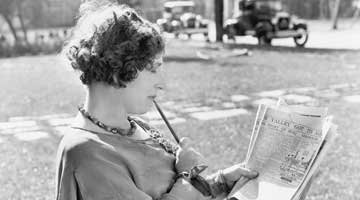 I forgot this news – Trent Pierce of Fin fame has announced that he will be doing "sneak peek dinners" which will feature dishes from his "new seafood concept" which will open later this year. Trent Pierce and partner Benjamin Blank are looking for a space in the Pearl for the new place. I posted the press release a week ago, but if you missed it, you can read the rest of the story here.
---
Todd Steele over at Metrovino was kind enough to send everyone a copy of their new brunch menu. There is so much interest, I figured I would post it over here instead of the PR section. Todd says that this is just a draft, that the final menu will change a bit. Brace yourself –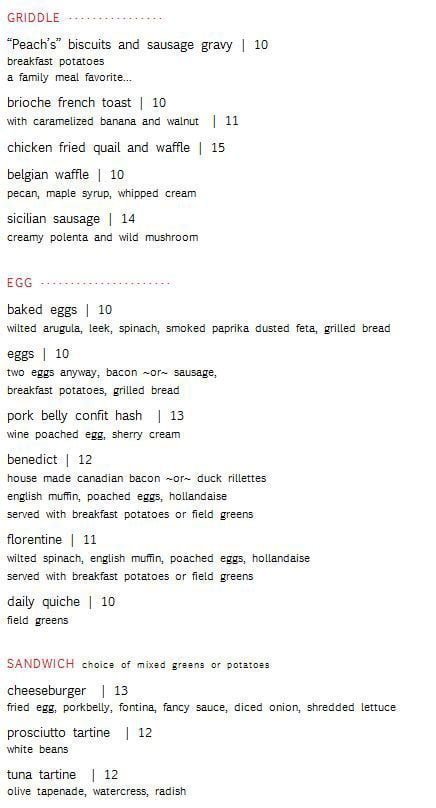 Brunch starts April 1st, with the hours from 10-2. Reservations for 5 or more.
---
Moving on – here's a wild rumor for you. Note that this is completely unsubstantiated gossip. Escape Lodging out of Cannon Beach might be doing a hotel concept in Portland, with David Machado of Lauro/Vindalho/Laurel Cafe doing the restaurant. The plan is supposedly not going to happen this year, but it sounds interesting.
---
Digging down into the depths of my inbox, the Serious Eats website is running a "sandwich a day". Their um, February 2nd pick was Sunshine's Tavern's  fried chicken sandwich –
the buttermilk fried chicken sandwich ($11)—one of the best things I've eaten in months—is my favorite, made with crispy, tender chicken breast and topped with blue cheese coleslaw and chili mayo. The freshly made fries it comes with are great as well.
(I'm just going to hang my head in embarrassment for not posting that one sooner. I hate to see what is next!)
---
Open Table, the online restaurant reservation company, has announced their "Hottest Restaurants for "Sceney Dining", as picked by the users of their service. They claim that the list is based on five million reviews. However, I have found Open Table's lists to be pretty dubious in the past, and love this quip from the Huffington Post:
We won't contest the fact that it represents a fairly good survey of the restaurants in America that most resemble dancehalls. Indeed, many of the restaurants on the list — which are mostly located in New York, Los Angeles, Miami and Las Vegas — make regular appearances in the pages of People and Us Weekly magazines.

We would caution real food lovers to do their research before visiting any of these restaurants, however. There are a few certifiably delicious eateries on here: The Bazaar, Girl & the Goat and Uchi, to name a handful. But a solid majority of the restaurants are the types of places that get viciously panned by restaurant critics for cacophonous acoustics, inattentive service and lousy, overpriced food.
Well Brace yourselves, out of the 100 restaurants listed, a Portland restaurant appears: Departure Restaurant and Lounge. I might be tempted to say something snarky, but I don't even know what "sceney dining" is. I'm just not cool anymore.
I refer you to Huntington Post's caveat above. No other PDX restaurant made the cut. I guess most of us aren't cool enough.
---
Kettleman Bagels will be gone by May 1st. Einstein closed NW and Broadway locations this week. They will all be reopening as Einstein, a chain known for mediocre bagels that taste more like French bread than anything else. It's time for someone local to give them a run for their money. MCZ?
---
Speaking of Open Table, are we "over them"? A host of start-ups think they can do a better job than the ubiquitous company which seats over nine million diners a month.
… many chefs and owners go so far as to say they hate, hate, hate OpenTable. Common complaints? The salespeople are aggressive; the computer is clunky; and, above all, it's expensive. OpenTable charges restaurants one dollar per seated diner, which can cost a small business thousands of dollars each month.

But now a promising new software company has come to the table: SeatMe. Since January, the San Francisco-based 13-person start-up, founded by 24-year-old Alexander Kvamme, has been quietly, slowly, luring restaurants away from OpenTable — Nojo; Hog & Rocks, Michelin-starred Saison and its new ticketing system for starters. They are signing new local eateries every day — and already fielding calls from across the country.

Comprised of industry insiders, SeatMe has been brainstorming diner-friendly features far cooler than the standard location/cuisine/price search. Stuff like text alerts touting last-minute availability at your favorite restaurants; "If-you-like-Zuni-you'll-love-Nopa" recs; a widget that allows you to book a table from any old blog, whereever a restaurant name appears. Even track regulars' quirks and preferences, like so and so hates beets and loves Burgundies (in the name of customer service, they say…).
Heck, I'd use that widget. The best thing about this new service is that the iPad-friendly software is just $50 a month. If you aren't familiar with its advanced capabilities, some of the systems out there track an incredible amount of information on you, such as birthdays, likes, dislikes, but more alarmingly, how long it takes you to eat, whether you tip adequately, and how often you show up late or miss a reservation. All of these are nice little  bonuses that the front-of-the-house can use to decide whether they want to give you a reservation in the first place. They also hook into your computer browser and watch the sites you visit, sending the information back to the restaurant, so that they can determine whether you are the type of customer they want in the restaurant.1
1 Yes, I totally made up that last line. Scared you, didn't I?
---
You may have missed this story – The Story of Sushi as told by Bamboo Sushi in Portland. This animation was seven months in the making, with all handcrafted miniatures. It's great to watch, and has gotten national press for the award-winning restaurant, which was winner of Best Sushi in our 2011 Reader's Choice Survey. The new branch of Bamboo Sushi at 838 Northwest 23rd is still on schedule for mid-may. From Portland Monthly, "The expansive 3,200-square-foot Northwest branch will push beyond Bamboo's sustainable sushi with fish-focused sausages and some playful molecular gastronomy at a time when Portland is finally joining the seafood conversation."
---
Another piece of old news. If you listen to The Splendid Table on NPR, you may have heard an interview with Steve Jones of the Cheese Bar. What I hadn't heard, is that he won an award for "The Best Cheesemonger in the World". Wow. He won the award at the Cheesemonger Invitational in July 2011. I love going to his shop. It's a food lovers wonderland. You can listen to the entire show here, or skip to his interview at 16:10 minutes in.

---
That's enough news for now, but just so you know, I've got 28 stories still waiting in my inbox.