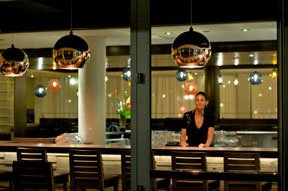 On a cool evening a few months ago, I sat with friends on the patio at Nel Centro. Three fire pits allowed heat to drift across our table. The flames, reflected in window after window of the hotel, were sometimes three layers deep. Sheltered from the transit mall, it was a little oasis. Vines climbed nearby walls, the background music was perfect, and the chairs were comfortable. The modern lines of the Hotel Moderna carried over wonderfully, but the space was still warm and inviting. It's a great place to spend time, possibly the nicest courtyard of any Portland restaurant.
The interior is in such contrast to the patio, it feels like they were put together by two different designers. It transports you to exactly where you are – a hotel restaurant. It's corporate in feel, with, as another reviewer said, "no soul". Light comes from a plethora of variously shaped and colored blown glass lamps hanging about the room, in contrast to the rest of the primarily brown decor. Brown colors are everywhere, booths, carpet, chairs, ceiling, pillars and even some of the art elements. They are nice shades of brown, but, for me, in contrast with other parts of the space, it just doesn't work. Modern lighting notwithstanding, the overall effect is a far cry from the sleek look of the attached Hotel.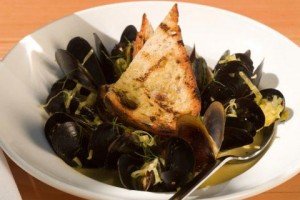 The kitchen is open; a huge rotisserie entices with burnished golden chicken, and the requisite wood oven sits in the corner. A comfortable, spacious bar takes up a third of the space.
Service is mixed, ranging from just fine, prompt and personable, to one weekend night, when, though there weren't many people in the restaurant, it seemed like they were understaffed. As we were taken to the patio, I couldn't help but notice that many used dishes were sitting on empty tables. This was an omen, as plates remained on our table long after we finished, pacing between courses was way too long, and the waiter didn't come around as often as he should have.
Twelve house cocktails are available. I've had a few that I liked; the Nel Centro old fashioned with Maker's and Mandarin was interesting and balanced, as was a Lillet Midi – Lillet Blanc, Aperol, tangerine & bitters.  Others are too sweet for me, or in the case of a mint julep, downright awful, arriving in a warm tumbler glass. Overall though, they will appeal to a younger crowd, as they tend to have a strong kick, which is masked by other ingredients. However, for an average price of $9-$10.00, you can do better elsewhere. Four draft beers are available for $5, from an Anderson Valley Summer Solstice to Double Mountain IRA. Five more choices are offered by the bottle. A slightly smaller choice of food from the restaurant is available in the bar, with the overall cost averaging $11.00.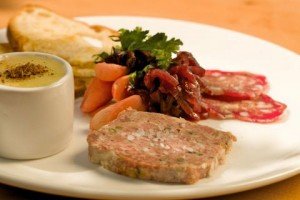 Good bread and olive oil are served after you order, the oil being better than usual for this type of freebie. Although the salt cod fritters were large and had a great texture, they were way too fishy, and had an off-putting taste. An accompanying red pepper rouille was interesting, but overall, I didn't like the dish ($10).
Salads are quite large – easily big enough for two. I loved the zucchini salad, with wonderful thin slices of raw zucchini that were almost translucent, pecorino Romano cheese, a hint of fresh mint and a scatter of almonds to add crunch. Combined with a perfect dressing, the overall ingredients added up to a wonderful salad ($9). Another interesting option, a mélange of lovely, sweet red and yellow beets with green beans, and a piquant dressing of goat cheese and sunflower seeds, was also successful. The beans provided a nice texture; the goat cheese and beets were great counterpart. All the flavors came together perfectly ($9).
Mesclun salad with croutons and herbs was exactly as billed. The greens were fresh, it was properly dressed. Large, maybe two inch, croutons added a decorative touch, but unfortunately, they were spongy and didn't have much flavor ($10). Another classic salad, the butter lettuce with sunflower seeds and French blue cheese was also what you might expect. Well made with good ingredients, but just a normal salad – not that there is anything wrong with that ($10).
In my experience, the mains have all had some sort of issue. Take the grilled wild salmon with French lentils and Pommery (champagne) mustard sauce. The salmon was plump and irresistible, everything was direct and unfussy, but the lentils were over-salted to the point where they burned our mouths. This ruined the dish, and I don't know how it left the kitchen like that ($23). On another evening, I had the same experience with the beef daube, which is a braise of red wine, olives, and nice little cigars of fried panisse (chickpeas). The sauce was dark, nice and thick, and loaded with flavor, the meat fork-tender. The portion was large, and the dish could have been a really nice, comfort food, but again, it tasted like a box of salt had fallen into it. It also had a greasy mouth feel that wasn't enjoyable. No one at the table could eat it, and we will normally eat anything ($20).
Provenςal roasted pork with tomato gratin and mostarda di frutta was interesting. Mostarda is an Italian condiment made from candied fruit and a mustard sauce. The combination of the sweet fruit and the subtle mustard worked well with the excellent, juicy pork. However, I didn't like the tomato gratin on the side. It consisted of flavorful bright red tomatoes, breaded and fried. They didn't go with anything else on the plate. Still, it was a good dish, minus the tomatoes ($19).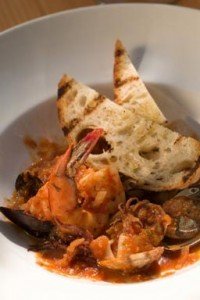 In general, Nel Centro does a good job on rotisserie food. Chicken was excellent. Moist, crisp skin, properly seasoned, with a hint of thyme. An accompanying panzanella salad was not as successful. As in the forementioned salad, the bread cubes were huge. They seemed brushed with oil, then baked, so they were hard, then put into the salad, i.e., they were croutons. The problem is the bread didn't absorb any of the other flavors, so the vinaigrette taste was missing. Normally, with panzanella, the bread is  moistened, and then wrung out. As it expands, it absorbs the flavors of the rest of the salad. However, the quality of the chicken made up for the weakness of the salad ($18).
Desserts are as good as pastry chef Lee Posey's well deserved reputation. The changing menu of gratins burst with flavor ($7), and for those into chocolate, the satisfying Scharffen Berger soufflé is one of the best examples of the dish I've seen ($8). The same could be said about the lavender-scented crème brulee, which comes with pistachio macaroons which pay a perfect complement to the lavender ($7).
It's difficult to know what to say about this restaurant. I loved the patio, and as I sat there for the first time waiting for my food, we were so comfortable, I really hoped for a great dining experience. If you pick carefully and the chef is watching the salt, you can have a good meal, but it is just as easy to have one that is unremarkable. The patio is so nice I will still go back, but if this restaurant wants to be taken more seriously than average hotel food, the chef and staff are going to have to step up their game. For the money you are likely to spend for a full meal here, there are better places in town.
You can read an interview with owner Dave Machado here.
Ratings:
Service: C
Atmosphere: patio A, interior C
Food: C
Information:
Phone: 503-484-1099
Address: 1408 SW Sixth Ave, Portland, OR
Hours: Dinner: Sun-Thurs: 5-9pm, Fri&Sat: 5-10pm, Lunch: Mon-Fri 11:30am-2:30pm, Brunch: Sun: 8am-2pm, Breakfast: Mon-Fri 6:30-10:30am, Sat: 7:30-11:30am
Website: NelCentro.com