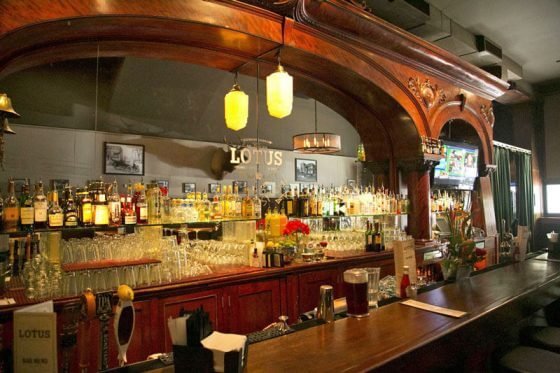 The Lotus Cardroom and Cafe has closed and the building will be torn down. According to KPTV, who seem to be breaking a fair amount of restaurant news these days –
The historic bar, which is located at SW 3rd Avenue and Salmon, will be demolished to make room for a high-rise boutique hotel. The 30-foot cherry wood antique bar was made by the Brunswick Company in Chicago in the late 1880s, traveling around Cape Horn in South America and ultimately ending up in Portland.

While the restaurant will be demolished, the bar will be saved and sold. The bar's owner John Plew says the priority is not getting top dollar but finding a proper new home for it.

"My goal and wishes are that it remains in Oregon," said Plew. "That it gets put in the proper place where other people can enjoy and will really honor it for another 100 years."
Saturday night finished with a silent auction of some of the framed historic pictures from the walls, proceeds which benefited the Oregon Historical Society. RIP.
Bar manager Jeffrey Morgenthaler of Clyde Common has been named America's Bartender of the Year, and Best Cocktail & Spirits writer at the 2016 Spirited Awards, which are held every year as part of Tales of the Cocktail event. When Morgenthaler took over the bar at Clyde common, he turned it into one of the most popular drinking spots in Portland. The writing award is due to his excellent The Bar Book: Elements of Cocktail Technique. Pépé Le Moko the offshoot "speakeasy" below Clyde Common was named as one of the "5 Best Cocktail Bars in America 2014" by Bon Appétit.
After a few delays, Revelry, the much-anticipated Korean street food restaurant from Seattle chefs Rachel Yang and Seif Chirchi has opened. The restaurant, features a wide array of small plates; dishes like spicy fried chicken with peanut brittle, kimchi pancake with pork belly and bean sprouts, dan dan noodle, with chipotle and collard greens, and three different rice bowls. Prices range from $4 – $17. On Thursday – Saturday, they have live DJs. My first impression is that this is best for a younger crowd. Revelry is open until midnight daily and 2 am weekends,
We've needed a good sit-down Korean restaurant in Portland for a long time. Let's hope this one hits it out of the park.
Revelry is located at 210 SE MLK Blvd in Portland. [Map]
Folks will finally be able to take home a good donut from Portland. According to Portland Monthly, Blue Star Donuts is opening a branch at Portland airport by November. "The new airport shop will stock grab-and-go half- and baker's dozen boxes of its brioche-style doughnuts, fresh-glazed single rounds, and Coava Coffee Roaster's "Blue Star Blend" drip and packaged coffee." The chain now has four stores in Portland, two in Tokyo (according to Po Mo five more are opening in Japan), and one in Los Angeles.
It is no secret that Trent Pierce's B+T Oyster Bar has struggled to find a footing, though the tiny Roe restaurant in the back has been filling every night. The Oregonian reports that B+T will close for good on September 4th, and "Roe will move across the river, reopening in a west-side space with more room for staff, equipment and a proper chef's counter, plus some kind of similar hidden "speakeasy" vibe. The Rockin' Crab and Boiling Pot, an Asian-influenced Cajun/Creole seafood restaurant, will take over the space, 3113 S.E. Division St., with a second Portland location." According to the O, former Trifecta pastry chef has already taken over the restaurant's desserts.
Best restaurant news I've heard in a while.
This idea failed almost immediately – According to KPTV.com, Restaurants Unlimited, owners of Stanfords, Portland City Grill, Henry's Tavern, Newport Seafood Grill and a dozen other restaurants, tried adding a 1% "living wage surcharge", or as it was printed on the receipt, a more cryptic "LWageSC" to checks.
It's not a lot of money, but to me it is the principal involved. If you want more to pay your employees more money, raise your prices. Don't try to hide it as a line item, or guilt me with the promise that your employees won't make a living wage unless I pay the extra charge. I won't patronize business that do this, nor restaurants that add a "health and wellness charge". Have the balls to charge enough to pay your employees a fair wage or find another business.
Restaurants aren't the only companies to try this model. MasterPark adds a surcharge "due to the $15 per hour minimum wage requirement for certain businesses in SeaTac".
One of my readers asked what the tax implications would be on such a surcharge. According to Forbes Magazine, "The "living wage" surcharge, however, is completely taxable to MasterPark: it doesn't matter what label is slapped on it. Clearly, any money that is actually used to pay employees the increased wage (the cost of doing business) would be deductible but merely stating that the surcharge is meant to cover costs doesn't make it so."
Anyway, a week later, Restaurants Unlimited announced they had discontinued the surcharge, telling the Oregonian, "We truly appreciate all of the feedback from our loyal guests regarding the one percent living wage surcharge policy".
Not that they are connected, but on July 7th, they appointed a new CFO, Crystal Grays. Wonder if this was her idea. Wonder if she is still there. Just wondering. What's next, a "white tablecloth" charge? (WTC) "Clean plates fee? (CPF)"