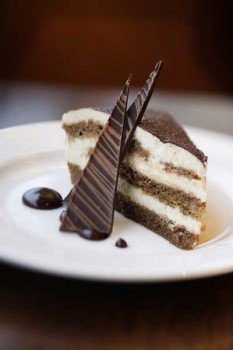 Esquire Magazine has announced their selections for "The Best Bars in America 2012". Portland's Kask has made the list.
Kask is an odd little bar with an offbeat, nerdy charm. You can't really call its style contemporary, not with the many odd implements and other tchotchkes lurking on the shelves. But if it's retro, the thing Kask most recalls with its tiny chairs, little low tables, and multiple blackboards isn't so much an old bar as it is your old seventh-grade science classroom. There are worse things to recall. But if middle-school science were as pleasant as squatting at one of the little tables here, sipping one of the slightly offbeat yet moreish cocktails or a five-dollar glass of the punch of the day and picking apart a plate of the charcuterie, much of it made in-house, maybe we'd all be driving moon-rock-powered cars.
Kask is at 1215 SW Alder, downtown.
---
Next,
Food & Wine lists
Portland in their list of "Best Brunch Cities in the U.S.", specifically calling out
Brunch Box
food cart and
Broder
(our review)
:
Obsessed with local products and mobile eats, Portland extends its favorite trends to brunch. The

Brunch Box

food cart specializes in creative breakfast sandwiches like the meaty Black & Bleu: sausage, bacon, blue cheese, grilled onions and Cajun spice. The always-busy

Broder

spotlights Pacific Northwest ingredients in dishes like an open-faced breakfast sandwich on sourdough rye with country ham, farmer cheese, marjoram cream, baked eggs and house-made ketchup.

Congrats to them too.
---
Eater says
Little Big Burger
is opening a branch on NW 23rd st, taking the space now occupied by Yuki, a Japanese restaurant. I walked past yesterday and Yuki is still open, so this change is not happening too soon. According to Eater, yet another branch of LBB will open in the south waterfront later this year. That would make six locations for the chain.
Hmm… my mother told me one time that love that burns the brightest burns the shortest time.
---
Carpaccio Trattoria
has opened in the old Belly location at 3500 NE MLK Blvd. The menu focuses on Venetian food, so it's heavy on seafood. Think starters like escarole cream with whole squid and crostino, burrata, and marinated beef tongue. Current entrees include orecchiette with Italian hot sausage and broccoli rabe, fresh beet pasta with clams, wild mushrooms and garlic paste, catfish ravioli, etc. Five different risottos are available, currently squid and ink, asparagus, wild mushrooms, vegetables and sweetbread. For the seafood phobic there are some meat and salad options. You can see the menu and more information at the link above, though there are no prices on the website. The chef is Francesco Solda.
Here's a clip from the Oregonian
:
Solda, who moved to Southern California from Italy in 1989, quickly established himself at the swank Montecito restaurant Pane e Vino. That's where he met Jason Priestley, the teen heartthrob and star of the hit series "Beverly Hills, 90210."

In 1998, the two partnered to open La Gondola restaurant in Carmel. The opening was attended by "Beverly Hills, 90210" cast as well as actor Clint Eastwood and baseball star Reggie Jackson.

… Despite the press, the restaurant didn't last — Solda says the quiet Monterey Peninsula town couldn't handle the influx of young and loaded celebrities flying up to the restaurant each week.
Everyone knows that all Hollywood stars have great taste, so this place is going to be fantastic!
---
We knew the day might come when we would either announce that we would be retaining the option as the café operator in Director Park or moving on to a new location. After a brief conversation this week with Portland Parks and Recreation, our partners since 2008, we have learned that our friends at Elephants Delicatessen have secured the café for the next few years. We truly wish them luck as they learn how to operate in the location, and as they continue to take care of our valued park guests in the months to come.

What this means for us is quite simple but equally exciting. Our Hillsdale outpost will still open this summer in the beautifully designed park-meets-food cart plaza near Wilson High. Rolllin' Etta will continue to roll and attend many special events (like the North American Organic Brewers Festival) and private parties, but also has a new home at the NEWLY REOPENED Green Castle Food Courts at NE 20th & Everett (starting next week). And by late summer or early this fall, we hope to have Violetta V2.0 up and running downtown with a bigger, four season dining room and bar.
Spins like a top!
---
You need to check out NeverSeconds, a website by a nine-year old girl evaluating the food being served at a primary school – I believe in the U.K.
My dad says I should call myself Veritas Ex Gustu, truth from tasting in Latin but who knows Latin? You can call me Veg.

…Things don't always go right. I know this because I still fall off my bike, not often but it does happen when I am trying something really tricky. Today the menu ordering system was so confusing it went wrong. I ordered an enchilada but I got a sausage and bean pitta pocket…

Food-o-meter- 5/10
Mouthfuls- 29 not including cake licking
Courses- main/dessert
Health Rating- 4/10
Price- £2
Pieces of hair- 0
Wristband- Yellow
I'm not sure if I have ever used the world adorable before, but I'm using it now. Enjoy.
---
I don't have any information about a new restaurant going into the old Saint Cupcake place on er… NW 17th(?). It is going to be called Fish Sauce, though the sign also says nước mắm, which is the Vietnamese version of the same thing. Anyone?
---
The Slide Inn has opened in the former il Piatto space, serving German and American cuisine. From the PR,
Some of the menu is traditional German such as Wiener Schnitzel, Spatzle, house baked lye dunked pretzels, pumpernickel, rabbit country terrine with morel and cranberries, house brined sauerkraut, red cabbage.

We are also serving house made sausages & hamburgers. Then I feature items such as vegetarian/vegan stuffed cabbage roulade or a tofu curry burger with carrots, leeks and brown rice.

I have a fair amount of GF options on both our dinner as well as our brunch menu and have a daily assortment of dairy free ice creams.

We are serving Dinner nightly from 5:30-10pm, and Brunch on Saturday and Sunday 9-2:30pm…
You can see the menu here.
---
The list of sponsors for our 2012 Reader's Survey is continuing to grow. The long list now includes 
Cerulean Wine
– $30 gift certificate for tasting room in Hood River, and Portland Oregon Wine.com – a $30 bottle of 2005 Bordeaux. You can see the entire list on the first page of the survey. 
Have you taken it?
---
Speaking of which, I've gone through the first group of answers, and so far it looks like there are previous winners who will be pushed down the list – a few surprises, though that may change over the next few days. The outcome will have some impact – "Best Restaurants" section in the 2011 survey alone has gotten over half a million views. It's going to be interesting to see how it all comes out.
---
Finally, I've made some changes to the website, mostly updating the code to optimize speed – it's fast! One change is that comments about specific posts on Facebook echo on the website, as do some Twitter responses. Keep it in mind if you are concerned about such things. It's just an experiment for now. I also have a few minor issues to work through, mostly cosmetic. Feel free to send me feedback.