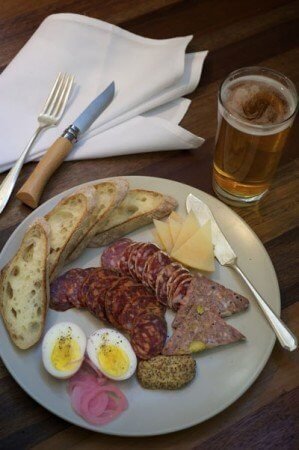 Portland Monthly Magazine reports that Trigger, the Tex-Mex restaurant from Tommy Habetz and company will close, to reopen as another Bunk. This isn't exactly a surprise: the location under the Wonder Ballroom was a bit strange and frequently competed with the ballroom and Toro Bravo for neighborhood parking spaces. That, coupled with a kitchen that never seemed to get its feet under them kept Trigger for taking off. I think Bunk will be a better fit for the location.
---
Pasta Allegro on the corner of NE Fremont and MLK Jr. has closed. No, really -closed. Yes, they shut the doors last month, but they swore it was just to remodel, saying on their Facebook page, "Contrary to media coverage by the Oregonian and Portland Monthly today, we are not CLOSED DOWN. Gossip. We'll be back up and running in a couple of weeks, just making some changes for the better."
Now their website says they are finished "Pasta Allegro will not be reopening for business at 3500 NE MLK Jr Blvd. However, we are still available for Catering Events if you have a need for Catering services."
So far the space has housed three other restaurants, all short-lived:  Terroir, Belly and Carpaccio Trattoria. To any prospective restaurant owners, let me point this out once more – parking is difficult, the corner is uninviting, the outdoor "patio" which is nothing more than tables set up along Fremont is noisy and full of exhaust for the river of cars rushing past. Don't do it!
---
From Bloomberg Business Week – The Honey Launderers: Uncovering the Largest Food Fraud in U.S. History.
Back in 2001, the U.S. imposed import duties on Chinese honey after they were accused of dumping it on the market. The result was a tripling of their prices, which was supposed to kill off the imports. It turns out, all the duty accomplished was it opened the door to black market smuggling – over $80 million. From Bloomberg,
Chinese honey was often harvested early and dried by machine rather than bees. This allowed the bees to produce more honey, but the honey often had an odor and taste similar to sauerkraut. Fan was told to mix sugar and syrup into the honey in Taiwan to dull the pungent flavor.

…In a few cases the honey was contaminated with the residue of antibiotics banned in the U.S. In late 2006 an ALW customer rejected part of Order 995, three container loads of "Polish Light Amber," valued at $85,000. Testing revealed one container was contaminated with chloramphenicol, an antibiotic the U.S. bans from food. Chinese beekeepers use chloramphenicol to prevent Foulbrood disease, which is widespread and destructive. A deal was made to sell the contaminated honey at a big discount to another customer in Texas, a processor that sold honey to food companies. According to court documents, ALW executives called Honey Holding the "garbage can" for the company's willingness to buy what others would not. Giesselbach followed up with Honey Holding, noting "quality as discussed."
It's an interesting article for those who have a few minutes of down time.
---
A big change at the struggling Quartet on the SW Waterfront. Amid a flurry of legal issues, the restaurant has replaced original chef Adam Kekehuna with a chef who might be able to cook, Portland Prime executive chef Shayne Unea. Personally I think it is too little too late, but we'll see. At this point I won the bet I made on it, so I'm happy.
---
Grub Street has named "58 Extraordinary Coffee Shops Around America", and (gasp), Portland has made the list. They call out Barista, Coava, Courier, Heart, and Ristretto. I learned something here – for some reason I've always thought the word "maven" as in, "Award-winning coffee maven Billy Wilson …" was a mostly feminine term. I looked it up, and the word just means "expert or connoisseur". Yes, I'm oversharing.
---
Olympic Provisions is moving into the 33,000 square-foot Tazo Tea building in the eastside industrial district (produce row). According to Portland Monthly, they are turning out close to five thousand pounds of meat a day, and expect to quadruple that number.
When asked about quality control, and the fear of turning into a salami giant like Columbus or Creminelli, Cairo had this to say: "We will always grate our own goddam nutmeg, pay a guy to peel fresh garlic, and age with natural mold casings. I'll never compromise."
Okay then.
---
Little T American Baker is moving to the new alley on SW Stark where The Brig used to be. Eater says it will just be called Little T, which means they will probably open the door to those outlandish French Croissants and annoying Danish pastries. The Stark street alley is becoming quite the little food center, with a candy store named Quin, and Boxer Ramen.