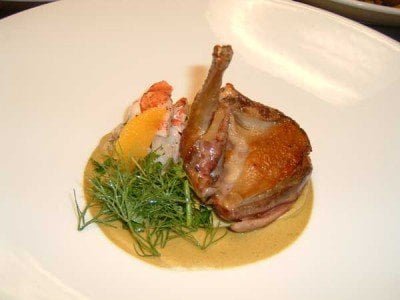 Noraneko Ramen, the latest venture from Biwa owners Gabe Rosen and Kina Voelez has opened on the SE Waterfront. The ramen focused restaurant is scaled down to the basics – hearty ramen in a casual environment at very reasonable prices. We'll have more later today. 1430 S.E. Water Ave., Portland.
Dare to dream. In-N-Out, the incredibly popular burger chain now has a distribution center in Northern California. Why do we care? The restaurant has always said they only expand to areas that can be served from their existing distribution centers. As I pointed out last summer, the chain is currently building their first restaurant in Medford Oregon. According to the MailTribune, "As far as other Oregon sites are concerned, eventually we'd like to open more restaurants, but, again, it is just too early to project any other sites besides Medford," Carl Van Fleet, vice president of planning and development for In-N-Out, wrote in an email." If I would consider taking a road trip to Medford for a burger, and I would, they can send a daily refrigerator truck to Portland. Hmm… Road trip. That reminds me I should re-post an old story.
The area around Portland restaurant Ned Ludd is turning into quite the er… Luddite community. According to the North Portland Sequencer, an Amish Cafe/store called Butter Churn is opening a few doors down from Ludd on MLK Jr. Blvd. Billed as an "adventure for the entire family", customers will pay to milk goats and use it to churn their own butter, or working with cheese-makers from Baa' Goats Farms, produce a high quality product that can be branded with the family name. The venture is being financed by, I kid you not, the cast of the Fox TV series Grimm, and actress Reese Witherspoon, who fell in love with the city while filming an episode for the 2015 season. Let's hope they don't go the costume route and make participants don gingham dresses and fake beards. Now this is where it gets a bit strange. The Amish have a tradition called Rumpspringa where young people are allowed to take a traditional "time away" from the Amish community. According to the Sequencer, adolescents who don't want to stray too far from elder supervision will work in another section making artisan "Jagermeister" type spirits and artisan gelatin shots for sale in the adjacent store. It almost sounds like something out of that horrible Amish Mafia television show. What could go wrong?
We've been hearing since last June about Renata from the people behind Project Grace. Between the two of them, owners Nick and Sandra Arnerich have an impressive resume, having spent time at Wildwood, Thomas Keller's French Laundry, restaurants in San Francisco's Delfina Restaurant Group, and Benu, also in San Francisco. Renata will feature a huge wood fired hearth, which is currently being installed. According to Eater, "the opening date is finally coming into sharper focus. Sandra Arnerich says she and her husband plan to open the doors to the 70-plus seat spot between mid-May and mid-June." To me that sounds like early summer, but what do I know. Anyway, the focus seems to be on, you guessed it, the new Portland fad: pizza. Renata will be located at 626 Southeast Main Street, Portland, OR 97214.
What's up with the new Tastebud from Mark Doxtader and chef Jason Barwikowski slated to open in Multnomah Village? At first we were told the new location at SW 35th and Capitol highway would open in November 2014, the focus of which would be wood oven dishes and the pizza that has brought them lines at local farmers markets. The old building that used to house a furniture re-finisher was completely renovated, and one side opened months ago as a Bishops Barbershop. I parked and peered into the other side last week, and nothing has changed. Metal stud framing and a sad little oven sitting forgotten in the middle of the room. However, when I was heading back to Portland, I noticed a sign saying that "Interstate Pizza" (I think that was the name), is opening across from Marcos Cafe. That area already has the Black Lab which specializes in pizza. Can such a small area support three pizza restaurants?

John Gorham is a empire building machine, cranking out one successful restaurant after another. A press release this morning announced the imminent opening of his new gastronomic society + event space, Plaza del Toro.
The inspiration for this project came to me a while back when I visited the Seattle-area and went to the Modernist Cuisine Cooking Lab in Bellevue. I​ was super impressed with the culinary research and development going on there and all of the scientific boundaries that they are pushing. It was an honor to be invited and it really pushed me to experiment more with the science of food. Maybe you've noticed some of the molecular techniques we've been using on the Toro menu? I had an amazing​ dinner at the lab and everyone was super hospitable. The service was great but the environment was understandably ​sterile. For our meal, we were literally sitting in the middle of a large scientific laboratory. I came away thinking, I want to do something like this in Portland but something more inviting, a culinary lab with ambiance​.

This past fall, when I went to San Sebastian, I found just what I was looking for in the 100-plus gastronomic societies there. These are warm, inviting spaces focused on the betterment of food and pushing culinary boundaries while also building relationships and strengthening the community. I loved it and immediately wanted to open something like that in Portland.

Plaza del Toro is Portland's first gastronomic society as well as a private event space on Southeast Taylor near Water Avenue Coffee. We already have 220 members — all of our employees from Toro Bravo, Tasty n Sons, Tasty n Alder and Mediterranean Exploration Company.
Now Gorham has announced yet another Portland venture, Chopped Experience Restaurant.
It seems like Portland has stepped to the forefront of reality food shows. Many local chefs and food carts have been featured on the both Top Chef and the Food Network show Chopped. In the latter, the producers take a basket of surprise ingredients and give them to each chef to make an appetizer, entrée and dessert.
Chef John Gorham, who has been known for starting restaurants with a unique point of view, is digging even deeper into the Portland dining scene, transforming a reality show gimmick and transforming it into a dining adventure. Guests of his Sellwood area restaurant are simply asked to bring a basket with three to five ingredients from which their meal will be composed. In a press diner this evening, Chef Gorham managed to reach beyond the cliché and actually transform the ingredients into some of the best Portland dining I've had in some time. Who would have thought that Blue Point oysters, Blue Star Donuts, pineapple rings and quail eggs could create a memorable meal. The only restriction is that guest's brimming baskets be composed of local, natural products. According to John, all 220 members of his staff will rotate through the position of chef, giving everyone down to the dishwasher the chance to strut their stuff.
Speaking of preview dinners, have you heard of Ol' Factory? It has flown under the radar until this last week when people in the popup community got wind of the concept. It is Portland (and maybe the nation's) first full-sensory restaurant. It officially opens this weekend, and I have to say I haven't been this impressed by a Portland restaurant in years. The good folks behind Right at the Fork podcast actually landed an interview with the impressive chef owners. I think this is the most exciting new restaurant project of the year. Instead of a meal being experienced based on just taste and smell, they feel if they can bring in all the senses equally, the whole experience will be greatly expanded. The 20 minute podcast is a must listen.

Hank Costello, the former executive chef of Andina restaurant left last January to pursue a full-time career as a personal chef and restaurant consultant with a business name of De La Vina. Interestingly his menu of services doesn't seem to include Peruvian food, but leans towards Mediterranean dishes. He's not only doing catering, but is putting together complete meal packages. Best of luck to him.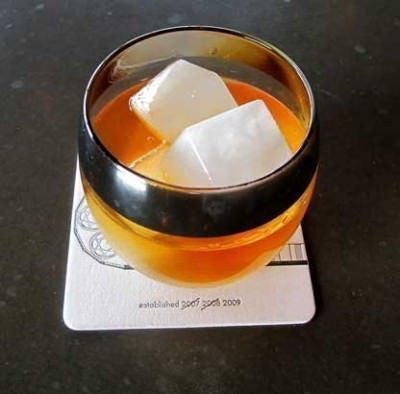 Google wants us drunk!. From NPR's The Salt,
It turns out the world is daunted by cocktails and has sought help enough times from Google that the company decided to get in on the mixology instruction game itself.

On Thursday, the tech giant launched a feature that provides step-by-step instructions for how to prepare a desired cocktail and a list of ingredients. (It also suggests garnish and drinkware.)

Google spokeswoman Krisztina Radosavljevic-Szilagyi tells The Salt the tool could also be used to help you "feel like a pro when you're ordering [drinks] out on the town." Not sure if a White Russian contains cream or milk? Ask Google, and you'll get a quick blurb about the drink — and a photo.
Radosavljevic-Szilagyi calls "functionality for foodies". I beg to differ, but after a few cocktails my level of functionality falls precipitously.
Finally, this story, which frankly sounds like an April Fools piece, but it's from November of 2014. According to BBC News, scientists have invented a robot that tastes Thai food for authenticity. Seriously.
At a small laboratory in a Bangkok suburb, a group of scientists has come up with what they hope is the answer to an old conundrum: how to tell if a Thai dish is authentic or not.

It carries the simple name e-Delicious, and it takes the form of a box about the size of a large printer, containing sensors, and some computer circuitry, which act as an electronic tongue and nose.

It was developed by Thailand's National Innovation Agency, at a total cost of $1m (£640,000), after former Prime Minister Yingluck Shinwatra complained about the poor versions of Thai food she was subjected to during her overseas trips.

A Thai Delicious committee was formed – a bit like the French Appellation d'Origine Contrôlée for food and wine – and around 200 people were invited to sample different versions of classic Thai dishes like tom yum gung (sour prawn soup) and kaeng khiao wan (green curry).

Whichever version was the consensus winner was taken as the standard, although the designers acknowledge that as the sampling was done in Bangkok, inevitably their standards for now are Bangkok versions.
According to the story, the machine has 9 sensors to measure the balance of sweet, sour, bitter, salty, savoury, spicy and aroma. The whole idea sounds silly to me for two reasons. 1) it costs at least $18,000. 2) Thai dishes vary from not only region to region but between cities. Who is to say what is the most authentic? Humph.
One more thing. The Haiku contest is now closed. Is soon as I figure out the best way to do the voting, I'll open the poll. Also, I'll keep churning out the Best of 2015 results, but they take quite a while, and I'm crazy busy helping out some sick friends. I'll have someone draw the winning names this weekend!