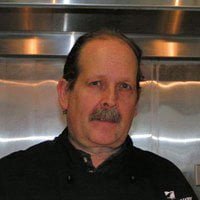 According to KGW News, long-time OCI Lead Chef and Instructor Daniel Brophy was found dead at the Culinary Institute in SW Portland early Saturday morning.
From the OCI website, "Dan is the resident encyclopedia of knowledge at Oregon Culinary Institute. In addition to nearly three decades of experience in kitchens overlapping two decades of teaching experience, he is an expert in marine biology, master gardener, and mushroom expert. He has been at OCI since 2006 and, aside from being one of our Lead Chef Instructors in the classroom, is our most active faculty member leading field trips, organizing student projects, and speaking in the community."
Before joining OCI, Daniel Brophy was an instructor at In Good Taste cooking school.
Police were called at 8:30 a.m. to the shooting at 1701 Southwest Jefferson Street.

Officers at the scene learned that students and others arriving for morning courses found Brophy injured inside the building. They attempted to save his life but he died shortly after police arrived.
The police have not announced any suspects at this time, and are asking the public for help.  Call Detective Darren Posey at 503-823-0403.
Updated: Dan's wife, Nancy Crampton Brophy was charged in his murder in September 2018.