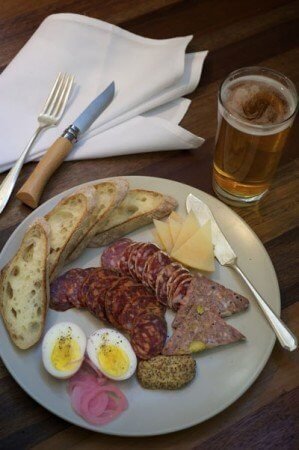 Since 1999, Saveur has been gathering their favorite dishes, places, food, and people to publish in their annual Saveur 100 issue.  This year's list ranges from Bali, to New Stockholm cuisine, cognac cocktails, the humble cleaver, and Portland's own Paley's Place and Olympic Provisions.  Saveur Editor in Chief, James Oseland, writes that, "This year more than ever, we've been struck by how resonant these 100 items are, and how vital our world is for their presence. This year's list reaffirms the beauty of things we've long cherished but have sometimes overlooked."
Paley's Place won my 2009 Restaurant of the Year.
What we love most about Paley's food is its quiet confidence, the fact that it's grounded in the classics but not confined by them. One shining example is a dish of West Coast spot prawns, bursting with roe, baked in sea salt with fresh bay leaves from the Paleys' yard, cardamom, and star anise (pictured). The gentle cooking method preserves the crustaceans' meaty texture and sweetness. Like the restaurant itself, the dish is an understated but insanely delicious experience.
Madge! Get the keys to the car!
Next, Olympia Provisions.
 Portland, Oregon's Olympic Provisions makes some of the finest charcuterie we've tasted, from regional variations on Spanish chorizo to French saucissons to Italian soppressate. Our favorite is the Greek loukanika, aromatic with orange zest and cumin, and, like many Olympic sausages, dotted with creamy nubbins of fat thanks to the local pork used, enriched by the pigs' diet of foraged hazelnuts.
Olympic Provisions is one of my favorite Portland places. You can see Roger's review here.
Note: The name on all "Olympic Provisions" stories have been changed to reflect the new name, Olympia Provisions.