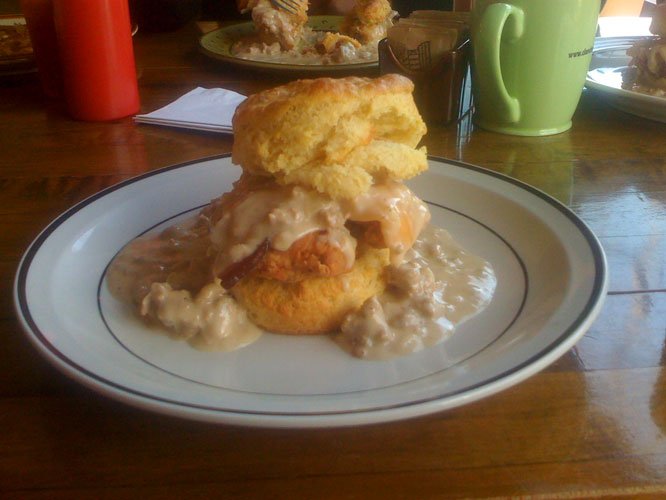 [updated 04/2021]
Witness the humble American biscuit. It's not very big, it doesn't store well, and it's not particularly attractive. I think it's safe to say that you won't see biscuits at your local Boulangerie any time soon. Biscuits just don't get that kind of respect.
Enter Pine State Biscuits, who have come to Portland on a mission. Any discussion of the new restaurant must of course begin by making mention of their booth at the PSU Farmer's Market. Created by Walt Alexander, Kevin Atchley, and Brian Snyder, the Pine State Biscuits booth has become so popular over the last several years that customers have often found themselves waiting in line for over an hour to get their hands on one of the hundreds of sandwiches these North Carolina transplants punch out over the course of a day. (Trivia Note: Like "Tar heel", "Pine State" is a nickname for North Carolina)
The amazing thing is that customers have been consistently willing to wait in line this long. Indeed, in a town with no shortage of serious bread, it's impressive to consider how popular Pine State Biscuits have become, and just how quickly they have pulled it off. And the attention hasn't just been local. Esquire magazine recently chose Pine State Biscuit's "Reggie Deluxe" sandwich as one of the best sandwiches in the entire nation. Take that, Mr. fancy-pants Boulangerie.
To see if the guys could translate this success to their new restaurant on Belmont, I went four times over the course of several weeks. Since I am porcine-impaired (I don't eat it), and since we both have southern roots, I asked Cuisine Bonne Femme to meet up with me there so that she could give me her opinion. In particular, I was curious to see how she would react to the infamous Reggie Deluxe. More on that below.
Let's begin with the obvious. This is a really small space. There are only four tables in the dining room, and that should probably be three. If you want to get up and refill your coffee, somebody's going to have to move. There are also five booth seats against the wall, but again that's probably one or two more than there should be. Let me put it this way: if you're nickname is bubba, you might want to consider a to-go order.
But while the restaurant itself may not be built for comfort, the food sure is. The boys have kept it simple, with a menu that currently has only about a dozen choices. If you are a biscuit purist, you can order a "biscuit & spread", which comes with either jam, butter & honey, fruit & whip cream, or a house-made pimento spread ($4). The legendary biscuits & gravy option is of course in the house ($7), as are six different biscuit sandwiches ($9-$12 each). To go with that you have a choice of only two side dishes, hash browns or grits ($4-$6). To drink there is Coava Coffee, southern style sweet tea, or Cheerwine soda.
It's safe to say that you are in no danger of suffering menu fatigue at Pine State Biscuits. But don't kid yourself that this will make your choice easy. If you just want a biscuit fix, you'll do fine with the biscuit & spread option. The jam (I tried the Huckleberry) was great, but if you don't require something that sweet on your biscuit, let me recommend the pimento spread. Pine State Biscuits makes it with Chèvre instead of mayonnaise, and the result is an extremely satisfying spread that bears the signature tang of goat cheese while maintaining the restrained sweetness of the pimentos. It's a winner.
If you are a vegetarian, try the "Moneyball" ($8.50). The Moneyball is a biscuit topped with shitake mushroom gravy and an egg. When the egg yolk seeps down to merge with the thick, flavorful gravy & biscuit, the taste combo is amazing. This may not be tradition, but it's umami on steroids. Want to skip the egg? No problem, PSB also offers a Moneyball sans egg ($6).
As for the meat-eaters among us, Pine State Biscuits offers numerous sandwich combinations that include sausage patties, heritage bacon, and/or fried chicken. Chicken aficionados will want to check out the "McIsley", a biscuit sandwich with fried chicken, pickles, mustard, and honey ($9). I found the slight saltiness of the pickles to be a perfect accompaniment to the sweetness of the honey and bite of the mustard. My only complaint is that while the chicken was tasty and moist, it wasn't very crispy. How is it that some upstanding North Carolina boys are foisting non-crispy fried chicken on us? That ain't right. That ain't right at all. Something needs to be done about this.
In all fairness, Cuisine Bonne Femme thought I was wrong on this point, and liked the chicken just fine as it was. We "agreed to disagree" as they say, so try it and decide for yourself. And if you want to do that, you'll have no problem, because the fried chicken finds its way onto a number of sandwiches, not the least of which is the infamous "Reggie Deluxe".
The Reggie Deluxe is of course the sandwich. It is the Big Kahuna, the Mac Daddy, the Ozymandius of biscuit sandwiches. It is the sandwich chosen by Esquire magazine as one of the best in the nation, and it is one serious tower of biscuit power. Picture this: nearly half a foot of biscuit sandwich, filled with fried chicken, heritage bacon, Tillamook cheddar, sausage gravy, and a fresh-cooked egg. One look at this thing and your cardiovascular system will begin weeping and begging for mercy. Your libido will, I think, take a somewhat different view.
And the actual experience of eating one? I watched in anticipation as Cuisine Bonne Femme took her first, cautious bites. Pausing for a moment, she looked up at me and said, "best breakfast sandwich in the nation", and then went back to work on the beast. Cuisine Bonne Femme is not prone to hyperbole, and I was impressed. Her only complaint was that the egg was cooked a tad too much. One of the guilty pleasures of this sandwich is having the runny yoke explode down through the layers of the sandwich and onto your chin, and that won't happen if the yoke is hardened by overcooking.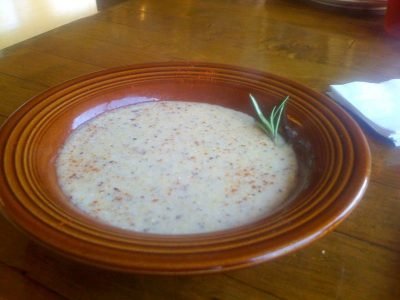 Bottom line – there may be enough cholesterol in the Reggie Deluxe to bring down a water buffalo, but it's worth it. As with many things in life, the prize does not go to the meek, so suck down an extra Lipitor and have at it. And if it makes you feel better you can always share it with a friend. I couldn't help but notice that Cuisine Bonne Femme was barely able to finish half of hers. She told me that she was going to save the rest for dinner, but apparently, her dog got a whiff of the thing, went batshit, and ripped it right out of its to-go container. Those with dogs take note – if you bring a Reggie Deluxe home, your best buddy may become temporarily insane. Similar results have been observed with roommates.
So what about those two side dishes? Pine State Biscuits may only have two sides at the moment, but we can console ourselves with the fact that they do them really well. In particular, their grits are crazy good. That's right. I said it. Good grits.
Now, this being nearly as far north in this country as you can go before you have to show someone a passport, I know that many of you have never eaten grits. Or worse, you have suffered the indignity that is "instant grits". But I beg you to set aside any past experiences or preconceived notions you might have. Order the grits. No, wait a minute. You're skipping ahead. Stop it. Order the grits.
Locally sourced from Ayers Creek Farm in Gaston (an Oregon Tilth certified organic farm), the grits at PSB may be the best I have ever eaten. I was beginning to wonder if I wasn't overreacting, but Cuisine Bonne Femme also thought that they were amazing. In fact, for about five minutes we cut into the grits like two archeologists on crack, trying to figure out exactly how Pine State Biscuits does it. Screw it. We don't know. Get the grits. You'll thank me.
The hash browns do not rise to the level of the grits, but they're really good. The order comes out as a single large, circular plate of potato. I couldn't help but be reminded of Swiss "Rösti", although Pine State Biscuit's version was much thinner and lighter than that. Happily, they avoid the leaden, greasy fate of so many other restaurant versions of this standard. This, even though I saw them reach for a big container of clarified butter when they cooked them. Sweet.
Pine State Biscuits does have a few issues, but nothing particularly dire. The fried chicken issue needs to get worked out. That's a big one for me, but your mileage may vary. The eggs are not cooked consistently, so sometimes you get a nice runny yolk and other times less so. They need to keep an eye on that. On one visit, they had completely run out of their two sides, and I've been hearing that this is happening with some regularity. It's counter service only, so you'll be getting your own water, coffee, etc. (I should add here however that the staff is very friendly, so if you need help with something, I'm sure you'll get it)
Oh, and no dessert. What's up with that? I suspect that the absence of dessert is due to the fact that they still see themselves as mainly a breakfast joint. But they do serve lunch as well, so I hope they soon add a little something nice to the bottom of the menu. [Editor's Note: You had room for dessert?]
All in all, Pine State Biscuits scores high in most categories. The food is fresh, locally sourced, thoughtfully prepared, and inexpensive. Most importantly, everything tastes really good. Their grits, along with a number of their sandwiches, are the best of their type in the city. This combination of quality and pricing will no doubt quickly endear them to the Belmont neighborhood, but their limited hours may make it difficult to draw customers from other parts of town. That would be a shame, because Pine State Biscuits is a solid and unique addition to this city's food scene, and as such, deserves attention. Portlanders have a fine record of seeking out good restaurants, even if a little work is required. Here's hoping that Portland beats a path to the door of Pine State Biscuits.
You can read our interview with the Pine State Biscuits Owners here.
NE Alberta
503-236-3346
2204 NE Alberta, Portland OR. 97211. Also at Portland Farmers Market in the South Park Blocks every Saturday morning.
Mon-Thurs: 8 am-1 pm. Fri-Sun: 7 am-3 pm
Division Street
503-236-3346
1100 SE Division St., #100, Portland 97202
Mon-Thurs: 8 am-1 pm. Fri-Sun: 7 am-3 pm
Schuyler Street
503-719-5357
125 NE Schuyler St. Portland 97212
Mon-Thurs: 8 am-1 pm. Fri-Sun: 7 am-3 pm
NW Portland
971-407-3621
Mon-Thurs: 8 am-1 pm. Fri-Sun: 7 am-3 pm