Suze Orman, financial "adviser", says that people should stop eating in restaurants to save money.
Unemployment has hit 10.1%, but Suzie Orman wants us to boycott an industry that supports 14 million people? How is this is going to help?
Orman made this statement on a recent episode of the Oprah show. The outcry was immediate, and Ms. Orman retracted her statement the next week, but the damage has been done. This is all our restaurants need.
---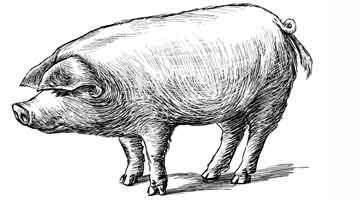 Piggins. Piggins? Piggins! Greg Higgins wants to open a restaurant called Piggins?! When I first started hearing this rumor, I dismissed it, but then the Oregonian ran the story. The name sounds like something that was dreamed up during a college party. "Dude, this is such good bacon. We should totally open an all pig restaurant! (pause to inhale) We could call it, like… Piggins!"
---
The story I wrote on how to make butter is drawing visitors from all over the world.
So many, I'm thinking of renaming this site The Butter Chronicles. No wonder recipe sites are so popular! Thanks to a crafts site called Angry Chicken for sending more people than any referrer ever. Thank you Angry Chicken. I appreciate everyone who links to this site!
Making butter from scratch is so easy and tastes so much better, I can't believe more people don't take the time.
---
No more dogs at the Portland Farmers Markets
The Portland Farmers Market opens this weekend on the South Park Blocks. However, their announcement raised my eyebrows because it included this:
…Portland Farmers Market will no longer permit shoppers to bring their dogs or other pets to its Saturday and Wednesday markets in the South Park Blocks, due to repeated concerns of market vendors and shoppers. The pet policy applies only to the organization's two busiest farmers markets, where long lines at vendor stalls and food carts form each Wednesday, and crowds in excess of 12,000 gather on any given Saturday.

Portland Farmers Market hopes that dog owners will find it easier to shop with their pets resting at home. Customers with children or those who are sensitive to dogs won't have to avoid the dogs, and vendors will be able to focus on sharing goods without worrying about canine noses poking over the tables. The new pet rules are similar to those in place at farmers markets in Beaverton, Hillsdale, Seattle and San Francisco. All markets will be open to service dogs.
At first, I was a bit bothered by the announcement, but after some reflection, it makes sense. The market packs with people, and I've seen big dogs knock over stacks of produce, and small dogs get stepped on, not to mention a few fights. It's probably for the best, but I'll miss wandering through on Saturday mornings with mine, especially since he carried everything I bought (he's absolutely perfect in every way on a good day).
Yet another Portland parking meter plan
A follow up to my parking meter story: Mayor Adams has now backed away from the idea of extending hours later into the evening, and instead, now favors raising the price by .25 an hour, and expanding the program to seven days a week, with payment required from 1pm – 7pm.
I wonder, has anyone looked to see what the cost is going to be to change all the parking hours signs vs. what the income will be? How long will it take to pay for all of this? Sunday parking enforcers, reprogramming meters, changing all the signs. Hmm. I know I'm in the minority, but I would much rather see the gas tax raised to pay for street maintenance. It spreads the pain equally over everyone, and those who put the most wear on the streets, pay the most tax.
Gourmet Magazine no longer out of touch with America
According to this article in The NY Times,
Reflecting the bad economy, Gourmet, which usually writes about expensive restaurants and faraway travel, has added a feature about what to do with leftovers, and put a ham sandwich — albeit a fancy one — on its March cover.

Food & Wine's March issue includes an essay on buying the cheapest bottle on a wine list. Bon Appétit's April cover trumpets a "low-cost, big-flavor" pizza party.

"There is an incredible opportunity," said Ruth Reichl, the editor in chief of Gourmet. "People need help learning to cook again, and they need advice on less-expensive ingredients, and we're trying to give it to them."
Chef Morgan Brownlow to open Cafe 401 today.
The small breakfast and lunch restaurant will be open from 8am to 3pm, 7 days a week. The menu is what you would expect – pancakes, waffles, French toast, burgers and sandwiches. It's at 401 Ne 28th Ave, Portland, OR 97232.
Update: Morgan walked away from the project in May. The restaurant folded.