Pondering your lunch order?
Those of you who have a queasy stomach may want to pass on this story. Bull City Burger and Brewery in Durham, North Carolina features an Exotic Meat Month every April. The restaurant is adds menu items like wild boar, elk burgers, turtle, alligator, python, scorpion, a camel burger, and bug ice cream. I can hear most of you saying, "what's the big deal… those aren't all that exotic?" I present the tarantula burger: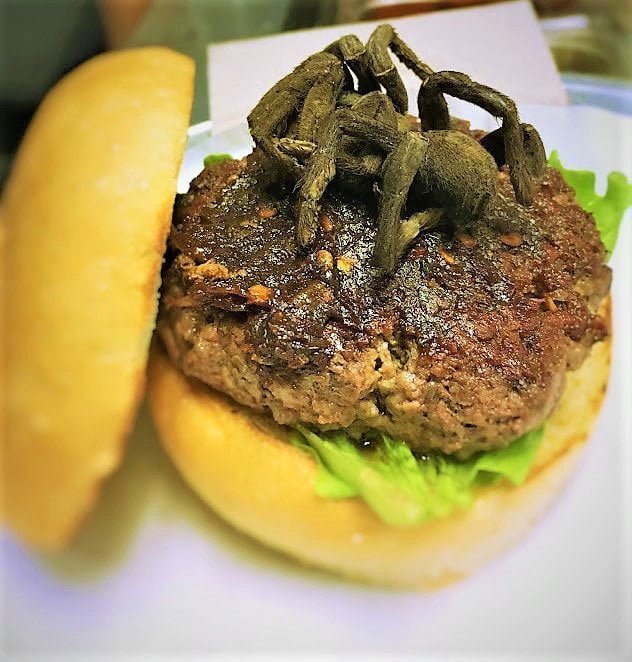 In a statement to PortlandFoodandDrink.com, a restaurant spokesperson said they started Exotic Meat Month 7 years ago for a chance to experience tastes that other cultures enjoy every day. "People all over the world get their protein from different sources, EMM is a chance to learn about new flavors and increase your cultural awareness. It's also fun! We added bugs to the mix in recent years because they are a source of protein that people rely on every day in some countries and can be reared sustainably. We've been hosting the Tarantula Challenge for the past 3 years. This is the first year that it's gained this level of attention."
In case you are thinking about jumping on the next flight to North Carolina, according to Bull City Burger, they have a limited number of tarantulas at the beginning of the month, so the Tarantula Challenge is by lottery. You must come in to enter and watch Facebook, Twitter, and our website for your name/number to find out if your ticket is drawn. They update Twitter, Facebook, and Instagram when the exotic meat changes.
Still interested? They have two more tarantulas to raffle off this year and will continue to host Exotic Meat Month every April. "What we will offer depends what food trends we see in the world. Crickets are gaining in popularity…"
Would I eat one? I'd have to be dying in the desert before I'd even consider the tarantula burger, but then I have the whole spider phobia issue. Everything else is fair game after a couple of bourbons. How about you?