What restaurant has the best Italian food in Portland?
I was curious how this survey question was going to come out, as we've had a steady increase in Italian restaurants over the years. Looking back at older surveys shows the trend away from simply serving a Caesar salad and a bunch of pasta has reached maturity, and Tuscan influence is on almost every menu. Putting together this list reminded me of a few places I've forgotten, so it is a good reminder. I also realized how much more expensive Italian food has gotten over the years. I remember when it could be a good choice for those on a budget, but these days it takes some digging to find decent food for a lower price.
The side problem with making these lists: I have to rush out and get whatever food I've been writing about as soon as I'm finished. This survey is making me gain weight.
907 votes cast
1. Nostrana – 14% $$-$$$$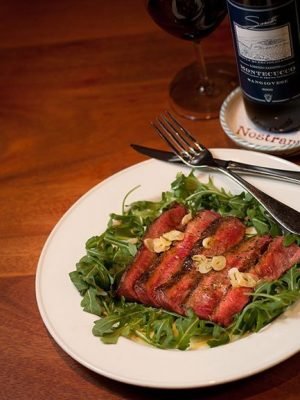 A wildly popular authentic Italian restaurant, you might expect Nostrana to be a generic house of pasta, but while you'll always find three or four on the menu, the focus is more on Northern Italian cuisine and pizza. I go here for the house charcuterie, the radicchio salad, the halibut and the seasonal thin crunchy Italian pizza – for me, the simple ones are the best choices. Nostrana is not cheap – by the time you have antipasti, salad, and pasta or pizza you are looking at $50 or more per person, but judging by the crowds most people think it's worth it.  If the butterscotch budino with salted caramel is on the menu finish with it, but realize that you'll be looking at the ceiling as your eyes roll back in your head. Insider tip – go for lunch where you can get in without a wait. Review Patio information.
This is the real thing and much of the food is as good as you could find it in Italy. The ingredients are top-notch, and the preparation is generally good. However, I tend towards the Antipasti, Giardini and Primi plates, as I have found the larger "Secondi" less to my liking. If burrata is on the menu, don't miss it. Trust me; right now it is served with nectarine, jalapeño, and pumpkin seed. Overall, the menu is a strong reflection of everything that is currently in the farmers market.
Depending on what you order, the cost of a dinner can be high; plan accordingly. Patio information.
Mucca was opened by a native of Rome and focuses on traditional Italian cuisine. Like the other restaurants on this list, the emphasis is on preparing the food with local sustainable ingredients. Try the tasting menu consisting of 6-courses for $75 to get an idea of what the chef can do. I prefer the antipasti and any of the secondi, but the pasta has gotten much better since my first visit just after they opened. I'm a sucker for duck, so if it's on the menu I get it every time. Still hungry? Choose from eight desserts to finish your meal. If you are looking for romance this is a good place to take your significant other.
Burrasca started as a popular food cart and expanded into a brick and mortar space in 2015. They call their version of Italian "Tuscan Soul Food", which makes me happy as it reminds me of the time I spent living in Florence. The food is direct and to the point, without an emperors parade of competing ingredients. Try the housemade pasta with mutton and Parmigiano-Reggiano, or the ultimate comfort food of pork loin roasted with fennel pollen and herbs. Information on their lovely patio.
5. Renata – 4.9% – $$$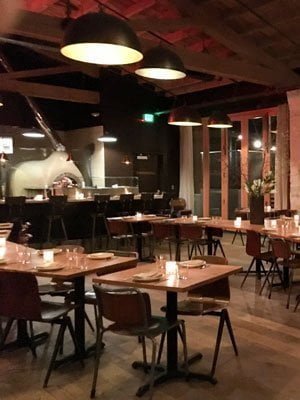 I find Renata frustrating. The darling of the critics since it opened, I thought it fell short of its potential. On the other hand, it is possible to get a terrific meal here, with some of the best and most interesting pasta in town. The space is very Portland, all an open expanse of bare concrete and shared tables. Pluses include excellent cocktails, boards, and pasta, but in my experience, I've never had a pizza that I thought was as good as those produced at Nostrana or Apizza Scholls. My service experiences have been mixed. The patio is a great seating option on nice days.
Accanto started out as the little brother to the now closed Portland institution Genoa Restaurant. Its casual yet sophisticated vibe appeals to many, whether they are looking for a leisurely lunch or a full meal. Once again, the menu is highly seasonal, featuring simple preparations. I tend towards a personal weakness – puttanesca, but the tagliatelle and halibut, have yet to disappoint me. It isn't difficult to keep the cost below $30 a person if you stay away from the large plates (sans alcohol). Outdoor dining information.
This is the child restaurant of Mingo, the first restaurant I ever had dinner at in Portland. Back in those days, there were few good dining choices in Portland, and the wait for a table at Mingo could be considerable. Enter Bar Mingo, opened not only to give restaurant patrons a place to wait, but under the steady hand of chef Jerry Huisinga, a good option for a simple meal. The pasta is homemade, properly cooked and a good choice, but if risotto is on the menu order it; this is one of the few places in town that constantly turns out new batches. I stay away from risotto in restaurants as it is usually par-cooked, but here it is terrific. The happy hour has some great deals: calamari, raw oysters, Manila clams and more for $9 or less. The streetside dining is great for people watching.
8. Luce – 3.9% $$
Luce reminds me of many little places I've eaten in Italy; a low-key intimate restaurant with a wide selection of antipasti, pasta and at least 5 specials every night. It is owned by the same people behind Navarre, Una and Angel Face Bar, the first which has been a fixture on the local restaurant scene for years. In 2012 Luce made Bon Appetit's list of the Best New Restaurants in America, coming in at number 4 (though oddly they have now been removed). Many menu items are available by half or whole orders. This makes stopping by for a quick bite an easy, reasonably priced meal. My favorite dishes here are the hanger steak – simple and a deal at $18, and the rabbit pappardelle.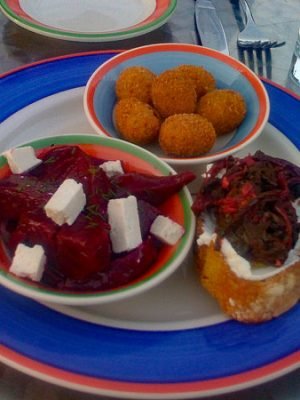 This restaurant is a Portland institution, having developed a devoted following over many years in business. The menu is fairly wide ranging, with many appetizers and pasta available along with a bavette steak, pork chop, and halibut. Unfortunately, I haven't dined here in years, so can't speak to the food.
Firehouse was taken over by new owners in 2016, and to be honest I haven't been since, but from what I hear much of the food has remained the same. Most everything at Firehouse is based on the wood oven, so expect a selection of crispy pizza, lovely spit-roasted chicken, wood-grilled pork chops, salmon and the like. On warm summer evenings, the patio is a nice place to hang out and absorb the last rays of sun.
Previous years: