I always get a mix of comments when I ask "Where is the best place to dine with children in Portland?"
One group is firmly in the "no one should ever bring kids to a restaurant", and others say "I can bring my kids anywhere I want!" Restaurants realize that with children come parents, and the adults are going to spend money on alcohol and give their kids memories that make them come back years later; it is a good long-term business plan. Thus, these restaurants not only allow kids, they embrace them with statements like "The place where friends and family meet", "Bring the kids!", "Tot Tuesday", and "Free Soft Serve Ice Cream". Get them while they are young – it's Philip Morris all over again!"
When I was a kid my parents would take me to most restaurants with them, and even fancy places had high chairs. I still have fond memories of sitting on phone books to reach the tables. In those days parents were allowed to beat their kids, so of course they were good. A well-placed glare from my dad would silence the noisiest child. Explains why we are all such mature, mentally stable, loving adults now. Cough.
We received 708 votes in this category, the most ever. I'd say my demographic is starting to reproduce. I listed more restaurants than usual, as I know some of you are desperate to find new places.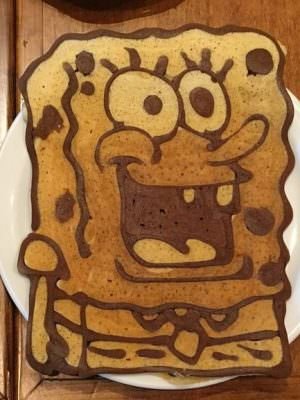 1. Slappy Cakes – 16% $ kids $8 and up depending on your options.
Slappy Cakes reminds me of one of my favorite breakfast activities as a child – making my own pancakes (Mickey Mouse of course). "Slappy Cakes is all day breakfast, all day fun! Make pancakes right at your table on our built-in griddles while enjoying dishes made from-scratch with fresh and local ingredients. Add a sparkle to your day with one of our handcrafted signature cocktails. All this and more in a fun and hands-on setting where it's okay to play with your food!" The restaurant has been featured by multiple national magazines, and Alton Brown called it "One of America's top ten destinations". You'll select from various 8 oz. bottles of flavored batter, and can pick from a large number of toppings, like chocolate chips and peanut butter chips. They also have a more traditional breakfast menu. Sounds perfect for kids, and many of you seem to like it – this restaurant received %16 of the vote. Kids and hot griddles… what could go wrong? Yes, they have alcohol.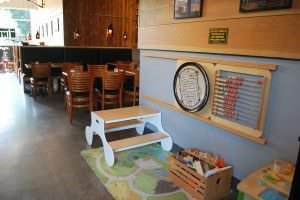 "Hopworks Urban Brewery and Hopworks BikeBar are Portland's first Eco-Brewpubs. We offer handcrafted organic beers and fresh, local ingredients, all served in sustainably built and operated buildings with a relaxed, family friendly atmosphere. …Kids are always a welcome addition to the scene at Hopworks locations. We have plenty of toys and books in our play areas to keep even the most active young minds engaged while you enjoy a fresh, organic beer and delicious menu items." A special Kid's menu is available, with the type of things you would expect – pizza strips, hot dogs, PB&J, etc. Even "Earth's Best Organic Baby Food".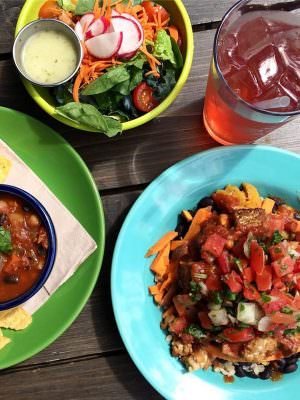 Special kids menu with a Bowl, Mini-Burrito, Taters & Cheese, etc. The menu is all about healthy, sustainable, organic, local food. Very low-key environment. Everything on the menu is marked whether it contains nuts, is vegan, Paleo friendly or gluten-free.
A lot of places say they are family friendly, but only make minor concessions towards children. All of our Portland, Oregon restaurants treat families with young kids as a major priority. Every one of our pubs has a play area designed mostly for toddlers. We let kids be kids at the Laurelwood. We are well aware that modern family life is hectic and stressful– most families have two working parents and these folks love the fact the Laurelwood lets them relax. Parents get to chill out and catch up, while the kids get to play with trains and color… Much better than being forced to sit still and be quiet! Some people think it's odd to have a brewpub be so family focused, but Laurelwood believes that craft beer, good food, and spending time with your family go hand in hand.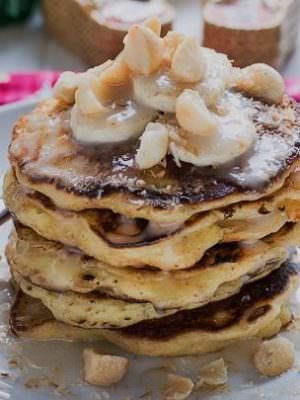 Mother's has been around for a long time, and in addition to their home-style menu, is known for welcoming families. Breakfast and lunch children's menus are in the low range, but dinner portions cost more – for good reason. They are half-portions of regular size entrees – pot roast, chicken & dumplings, meatloaf etc.
At The Country Cat, American craft cooking is truly at its prime. Adam and Jackie Sappington have masterfully created their unique interpretation of the country's ever-evolving culinary heritage yielding a conversation-starting menu that highlights flavor profiles from Adam's southern upbringing balanced out by classic Northwest styles. The cozy and soulful restaurant is nestled in southeast Portland's rather unexpected Montavilla area, a family neighborhood reminiscent of Adam's hometown in Missouri allowing the duo to foster a restaurant environment that serves the community first.
Country Cat has a children's menu, but it isn't available online.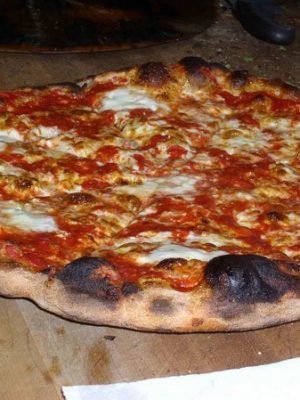 No specific children's menu, but hey, this is pizza. Build your own (limit 3 ingredients per pie) make it easier to get something everyone will like. Also salads, ice cream sandwiches, and… classic arcade games(!) An 18″ plain pie is $20.
Are we child friendly? – Yes! Our 9-year-old daughter has been raised here. BUT that doesn't mean we allow children to run amuck in our restaurant. Children are expected to either be in their seats with their parents while enjoying dinner, grabbing the etch a sketch, playing at the video games, or in the bathroom. We expect parents to parent their children who are, screaming, dancing in the middle of the restaurant, or running back & forth, immediately. If parents do not handle their children we will be forced to. It is an issue of safety & common sense. It does not mean we don't like children, we just don't like 700+ degree cheese landing on our face or on someone else, including a child.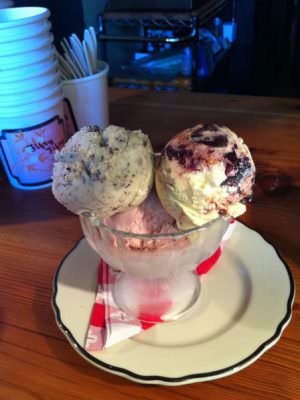 Lovely's is primarily a pizza restaurant – "we use organic & locally sourced ingredients in our food & our dough is naturally leavened for good health!" Needless to say, this makes selling it to 99% of the children out there an easy task. Even better, there is a Cheese Pizza for Kids – $7. For adults, Lovely's is also one of the top choices in our Best of Portland Pizza survey. Lovely people, good cooks – it's hard to go wrong with any of their food. Have some food, romp up Mississippi Avenue. What could go wrong? A plus: they make ice cream. 12″ pizzas start at $13.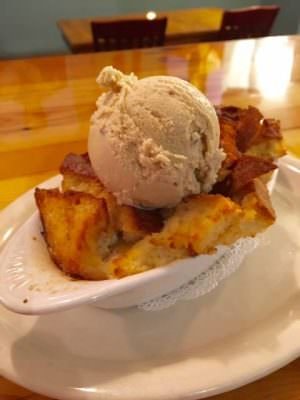 I might consider Tin Shed if I ever went to breakfast for no other reason that they have a special dog menu. I was hoping to say something very snarky, but they have a kids menu too: fruit cups, scrambles, french toast, oatmeal and biscuit sandwiches, all fixed up a bit for younger palates. Even better, a full bar.
…we believe that energy travels through food: not just caloric, but spiritual energy. Our goal is to give the food a good ride from farm, to grocer, to the Shed and to you. We pride ourselves on providing only the freshest, most wholesome products. Our beef, chicken and eggs are all free-range. Our coffee is organic, shade-grown and blended to our specifications right here in Portland. Our dairy products are packed locally using no growth-hormones, the salmon is wild… you get the picture.
Tin Shed is wildly popular, with frequent lines out front.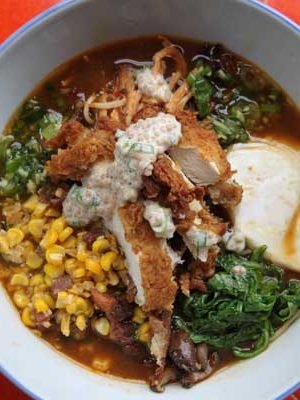 There are plenty of items that will please children or your inner-child on the Boke Bowl menu. Steam buns, Rice Bowls, Ramen, etc. The Korean Fried Chicken on Thursdays is very popular. These two restaurants are very relaxed, busy environments. Vegan and Gluten-free options are marked.
Bambino Bowl (kids) Available as ramen (pork, seafood miso, or caramelized fennel dashi) or as a rice bowl
Just noodles, broth, seasonal veg, protein. 7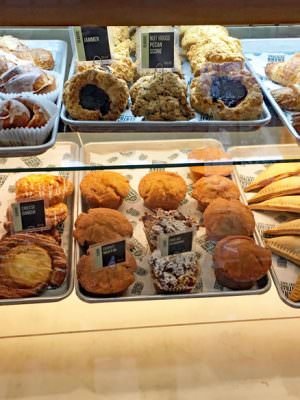 Everything is made from scratch, using local, sustainable ingredients whenever possible. You'll find a selection of breads, breakfast sandwiches, classic and seasonal sandwiches, salads, soups and breakfast sandwiches. The low-key atmosphere makes it easy to relax with the kids. Oh, and there are pastries. Lots of pastries. You deserve a break today. Get them a grilled cheese and have yourself a lovely chocolate something. You can get a PB&J or a grilled cheese for around $5.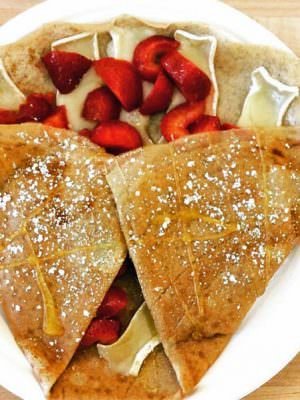 Flapjak (yes, I checked the spelling) is a creperie on N. Mississippi. The food is a child's dream – lots of choices: butter & cinnamon sugar, min marshmallows & Ghirardelli chocolate sauce, banana with dulce de leche & cinnamon, Nutella, peanut butter, banana and maple syrup… If have been indulging in (cough) alternative substances, this will be your dream too. Flapjak also offers a large selection of savory crepes with eggs, ham, turkey, etc. Kids love being able to watch the crepes being made, and the staff is friendly to everyone. Closed Mon – Wed.
Chinese food and kids – an easy match for most. HK doesn't seem to have a special menu for kids, but it has a huge list of dishes, which you can see on their (terrible) website. The popular dim sum gives kids a wide selection of things to try, but the price can add up quickly. The wait can be quite long on weekends. It's been years since I've been, so other than that, I can't tell you much. I shouldn't tell you this, but they are going to come out 9th on our top ten Chinese restaurants in the 2017 survey. Shhh.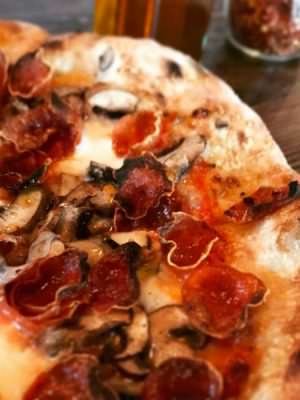 Once again, good for children because they can build their own pie. An 11″ with house-made mozzarella is $10, with toppings $1 each. Spaghetti is also on the menu for $6 and up, and the small salads are inexpensive too.
A nice neighborhood restaurant. with wood fired pizzas and Italian 'inspired' food in NE Portland. In the back there is a separate room with even more tables; I'm told groups with children are frequently placed here as not to interrupt diners in the front room. I haven't been able to find a children's menu, but once again, pizza and pasta!
Previous winners: