The tavern had been closed since a 2-alarm fire in April of 2018.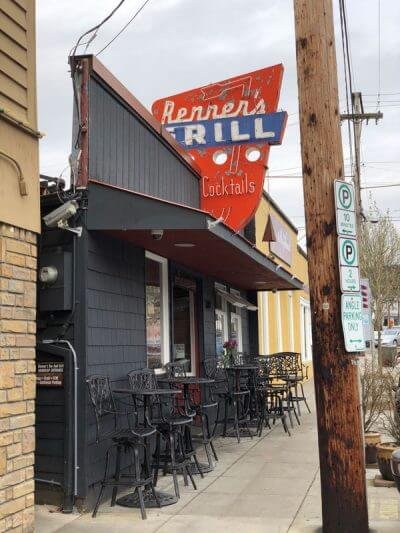 Renner's Grill on SW Capitol Highway, a Multnomah Village institution since 1939, has reopened after a fire that started in a kitchen vent. It has been a long wait for the locals as it was the best watering hole in the area. Because of the age of the building, the fire caused great damage – the many remodels and different building materials used over the years gave it plenty of places to hide before firefighters could put it out. Subsequent delays with city permits, an almost complete reconstruction, and a traffic accident which seriously injured the owner, dealt Renner's a near-fatal blow. Fortunately, they made it through the chaos and the bar is now ready for business.
A preopening visit last weekend showed it is still the Renner's that regulars know and love. The inside is updated, with much more daylight streaming in.
I used to hang out at Renner's on a regular basis and always had a good time. It's loud, cramped, the regulars are characters, food portions are large and drinks are strong – all of my requirements for a dive bar. That the food is decent puts it over the top.
Renner's joins upper tier restaurants Tastebud Pizza and the eventually to open Y'alla by John Gorham which is going in where Gastro Mania used to be.