Updated 7.19 – Autentica has closed. 
About 12 years ago, when I was living in Napa Valley, a friend of mine told me about a group of Mexican women who made tamales. I'd never been a huge fan, but she swore these were unlike anything I'd had before. The directions were a bit convoluted, consisting of vague instructions that took me bumping down dusty dirt roads, counting farm outbuildings until I came to the fourth. Inside a group of women had formed a production line, one cooking corn, the next grinding it into nixtamal, another making dough, and the last stuffing the tamales with pork and steaming them. The women normally made them for the grape pickers, but I came with a good reference and wasn't afraid to make a fool out of myself by trying to help, so they sold a dozen to me, still steaming in the corn husks. The price was a dollar each.
I'd never had such good tamales before, and through the harvest season, I kept returning, plying the women with beer and laughter, and doing whatever I could to help out. Shortly thereafter I moved to Oregon, and though I have participated in many Christmas 'tamale parties', never had any that were as good as those, consumed under an old vineyard oak tree. Now I've found some in Portland that are almost as good.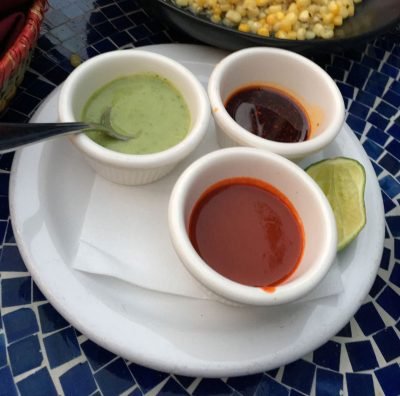 When they first opened the service was rocky. Chef-owner Oswaldo Bibiano has worked out most of the problems with pacing, but service can still be a bit overly 'relaxed'. A friend of mine told me that we should accept this, that this pace is 'traditional in Mexico', but I don't buy that at all; and dammit, we aren't in Mexico.
Some folks may be disappointed that the food is not the 'Mexican' drek served in many restaurants. These dishes are authentic to the Guerrero region of Mexico (Acapulco) and stay true to that ilk. It is a bit different from other Mexican restaurants in town, which is one of the reasons I like it. However, not every dish may be to your liking. I've had a couple of misses, not because the food was poorly made; more because the food was just not for me. Keep that in mind and most likely you'll be happy. Many dishes use the Mexican herb epazote. It is fairly pungent, and, somewhat like fresh coriander, an acquired taste. (While I'm thinking about it, here's a bit of trivia: epazote is often used in bean dishes because it's a carminative, which means it reduces gas. Enough said.)
Autentica has a full bar and a choice of beer. If you are into spicy drinks, try the habanero margarita. Otherwise, any of the selections should do the trick.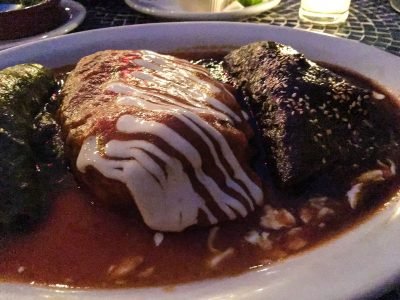 Meals start with a little plate of three salsas, all quite different from each other. They are great for dipping the thick, warm homemade tortillas, or spicing up the food, which tends to be a bit on the mild side. You might want to add a dish of guacamole, which is fresh and balanced, better than most restaurant versions.
We'll start at the top of the menu with mariscos or seafood. The ingredients are always quite fresh, with bright flavors. One of my favorites is the spicy pulpo enamorado, an octopus salad diced with tomatoes, red onions, and serrano peppers. It is served in a glass, surrounded with saltine crackers, which may seem a bit odd to people, but this is traditional to the region. They also have ceviche, which changes from time to time. I've tried an Acapulco style with fresh fish, beautiful big prawns and avocado, and another one with scallops. Both are quite good, the servings on the large size for the money. My only complaint is the tomatoes are bland and forgettable during the off-season.
There are usually at least two soups available, all decent, but not a strong point on the menu. Traditional tortilla soup is made from a rather wimpy broth and ingredients that are soggy by the time they make it to the table. Cream of corn with red habanero peppers is a bit better, but the corn flavor lacks spark. Moving on to the Small Plates section, we fare much better. I almost always start my meals which a taco al pastor, a moist, flavorful pork taco. Dried chilies, cilantro, onions and a thin spicy sauce make it a winner. The menu used to feature tamales, but they are gone now; I hope this is temporary, as these are the best I've had in ages, with a nice thin layer of masa. There are two varieties: the first a moist pork tamal with red chili sauce, cooked in a banana leaf. The sauce is dark and spicy with lots of depth and a long finish. The other is vegetarian, stuffed with poblano pepper, cream and epazote. This version doesn't quite have the depth that comes from the pork, but it is still excellent, a slight bitterness peeking through from the epazote.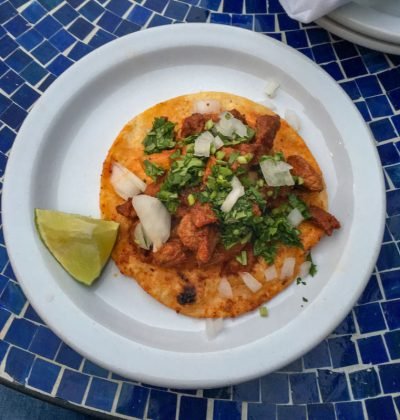 I could easily make a meal out of one of the tamales and the tostada con tinga de pollo. The tostada is a whole tortilla, fried crispy, piled high with crunchy fresh cabbage and shredded pork topped with cabbage and cream before being sprinkled with good cotija cheese. As with everything else at Autentica, the portion is fairly large. The most difficult challenge is eating it without covering your shirt.
Going on to the large plates, try one of the stellar molé, like the occasional teloloapan, chicken in a red molé sauce made from chocolate, eight kinds of dried chilies and nuts. It's a half chicken, perfectly cooked so it doesn't lose the moisture, covered in a complex molé. It is very good, probably the best in town, though the sauce can be rather intensely flavored, so it's not for the faint of heart. As with most dishes, the entrée is huge; you'll probably be having some for lunch the next day. People sometimes ask me to define "depth" when I'm talking about a sauce. A perfect, smooth molé like this one is one of the best examples I can think of. You may also find Pollo en Mole Guerrerense, which is a darker mole with over 30 ingredients. It's a parade of contrasting flavors, and if you are adventurous at all, order it. Terrific dish.
The specials tend to be excellent. One night they had a boneless chicken with a smoky chipotle sauce. Again the chicken was cooked just right. The sauce was creamy with lots of nice pieces of chiles. I've had this dish before in other well-known restaurants, but this is the best I've tasted. If this is on the menu, order it. Another winner is the pescado entero con adobo rojo, or roasted whole fish marinated with adobo dried chili paste. It's another large entrée, usually red snapper, the fish reclining across the plate, head and all. The fish rotates depending on what is available, but the meat is always tender and moist, a bit of fresh epazote giving a counterpoint to the sweet complexity of the sauce of fried dried chiles and tomatoes, none of which overwhelms the wonderful fish.
When I was a kid, my mother used to make wonderful chile relleno, and I've compared all that have come afterward to hers. Autentica has a version that is close, the large poblano pepper roasted until sweet and tender, stuffed with cotija Mexican cheese and covered with a ladle of a slightly spicy tomato sauce. It comes on a large plate of enchiladas, one with red molé, one with green, and the chile relleno resting in between. This is a wonderful way to sample multiple flavors from the Guerrero region.
It's easy to keep picking out winners: carne a la plancha con frijoles charros y chiles toreados – a thin flat-iron steak, cooked quickly on the flat top with charro beans, serrano peppers, epazote, and little strips of napolitas (cactus), or lomitos de Puerco – fork-tender pork tenderloin with a green mole made with pumpkin seeds and serrano peppers. On Thursday from 5 pm to 10 pm, they serve traditional pasole, a large bowl of broth and hominy with an array of condiments on the side: pork garlic, onion, chilis, cilantro, etc. Not my favorite thing, but that's just me. I have a friend that just loves it.
If you want something different from the Portland norm, give their weekend brunch a try. Of course, they have Menudo, but also a large choice of Mexican dishes like sope, tortas, huevos rancheros, quesadilla, enchiladas and one of my favorite things in life, chilaquiles. Prices are just about what you'd expect, averaging $9 to $16.
I like Autentica. For the most part, the food is interesting and well prepared and gives those used to the standard burrito enchilada plates a foray into real Mexican food. I like that menu item rotate on and off on a regular basis, always making for an interesting experience. While there can be a wait for a table at primetime, if you want an excellent relaxed dinner, venture up to Northeast Portland and give them a try.
Phone: (503) 287-7555
Address: 5507 NE 30th Ave, Portland OR. 97211