Note: Aviary closed in 2020.
Redolent of the sea, oysters at Aviary restaurant come five to a plate on a sparkling bed of ice. They hit the tongue like silk, sliding back, the tiny summer tang of tomato granite, building to the barest hint of horseradish, and then as they go down, a whisper of salty ocean air, like you are standing on a beach in a warm breeze.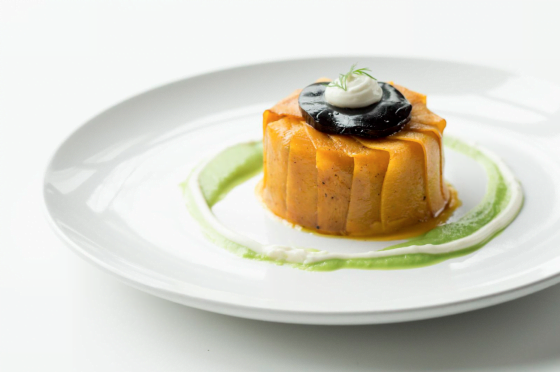 When you start a meal at Aviary with oysters, their perfect flavor balance will set the tone, but you still will not be prepared for the dishes to come. Oxtail croquettes stand in formation like sushi. Whatever urge you may have, don't break them – they are meant to be eaten whole. Pop one into your mouth and bite down. First the crunchy smooth breading and then jets of deep earthy flavors envelop the palate. Rich acid and the sweetness of tomato jam pull everything together.
Follow them with two small pieces of velvety milk-braised veal breast. They are so tender and soft you'll want to eat them by themselves, but the dishes here are all from a palette, meant to be combined, so place them between two tiny lightly sweetened buns, and add some pickled carrots, cilantro, mint and cucumbers until you have a tiny Banh Mi-like sandwich. Each vanishes in a couple of bites with a burst of flavor that leaves you craving more. Another night the veal was replaced with luscious, tender goose, the slightly gamey flavors contrasting wildly with the brightness of the other ingredients with an explosion of flavors, smells, and textures.
This is the way most of the dishes work at Aviary, one of the newest and best restaurants in Portland. The food they serve is executed with a rare degree of excellence. It is not merely to be consumed; it's meant to be thought about, tasted with eyes closed, lingered over, and discussed with a good friend. I worry whether there are enough people here willing to pause a conversation for a moment and think about what the chef was trying to achieve when they created the plate. The food is sophisticated, and from the buzz around town, it seems this is not the restaurant to go to with friends who don't have a good palate. Go with people who are adventurous and interested in food. Like any restaurant, people either get it, or they don't; nothing wrong with that.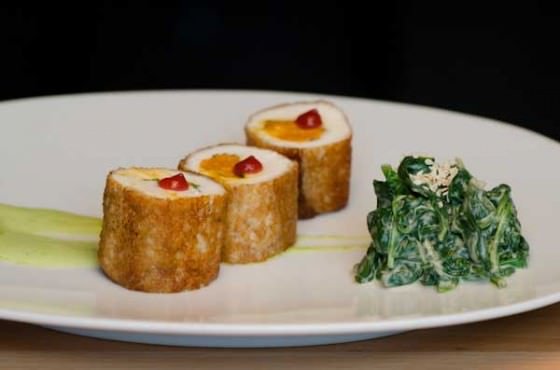 Housed in an inconspicuous space on NE Alberta next to Barista Coffeehouse, Aviary restaurant doesn't seem like something different or special from the street. It is sparse and modern, with an abundance of concrete, white walls and an open, medium-sized room. The seating is mostly two and four-tops, with a small chef's counter across the kitchen. A single sprig of rosemary decorates each table (simple, but annoying when they get tall).
Aviary was opened by three chefs, Sarah Pliner, Jasper Shen and Kat Whithead, who between them have a portfolio that's a who's who of New York restaurants – Jean Georges, Aldea, Ducasse, Aquavit, 5 Ninth…  the list goes on. One night I sat at the counter and watched them work. I didn't see a sou, just three chefs on equal footing, each cooking in their own world. I think this gives them more room to experiment without having to keep an eye on what everyone else in the kitchen is doing.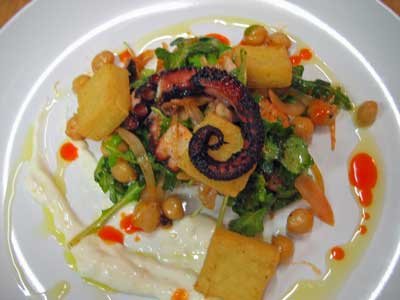 With all the different textures, flavors and contrasts in Aviary's dishes, the chefs have to be on their toes to make them work. The food is based on French techniques, with Asian fusion elements. This is modern dining, and the perfect way to do fusion; each cuisine enhances the other without getting in the way. Dishes show the juxtaposition between the way Aviary can move between simplicity, and complexity bordering on molecular gastronomy without resorting to gimmickry.
I am sure that comments will be made about the prices. Though they may seem high at first glance, for the quality of the food being served, they are quite reasonable. It is always a surprise to order a $10 dish and get six Tater-Tot-sized rolls on a plate, but I always waddle out the door for around $80 for two persons, including desserts. I wouldn't want to spend that much every day, but I think the food here is well worth it. As a friend of mine from Los Angeles said, "You wouldn't believe what this meal would cost me at home!" For two people, I usually order six or seven dishes.
The house cocktail list is a small but interesting mix of palate-cleansing starters which will be perfect as warmer weather arrives. Some of my favorites are the rhubarb cooler with vodka, basil, and rhubarb, the quarter horse which features bourbon, Thai basil, and fresh blood orange with a slightly sweet, peppery rim, or the Aviary Flower which includes gin, St. Germain, and Grapefruit juice.
The beer list is short but intriguing – Trumer Pils, Boneyard rpm IPA, Boneyard diabo rojo, Great Divide hoss rye, Old German lager, Hitachino Nest white ale, and 21st Amendment Bitter American.  The same could be said for the wine list – some really interesting choices are available, most in the $30-$40 dollar range. About 11 are available by the glass. The markup on some of the more unusual bottles is lower than I would expect.
All meals start with a humble bagna càuda dipping sauce. It is a warm, creamy Piedmontese sauce of butter, anchovies, olive oil and garlic, and is brought to your table as soon as you are seated, along with slices of crusty Pearl Bakery baguette and olive bread.
Salads are unusual, always showcasing the ingredients in new and interesting ways. One combines lightly dressed arugula, strips of Asian pear and celery root, thin bright wheels of watermelon radish, and tiny grains of candied cumin. Without the latter, the near-perfect composition of the other ingredients would make it stand out, but the scattering of the spicy little grains is like a spark waking the mind.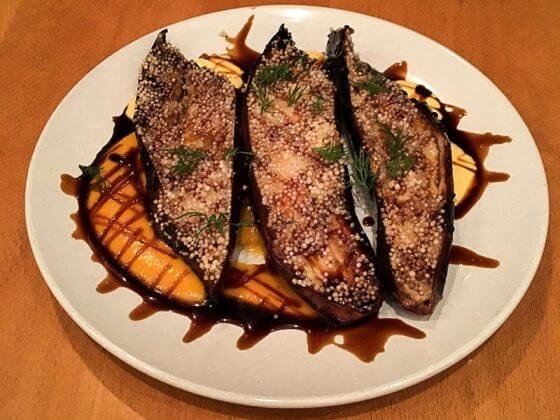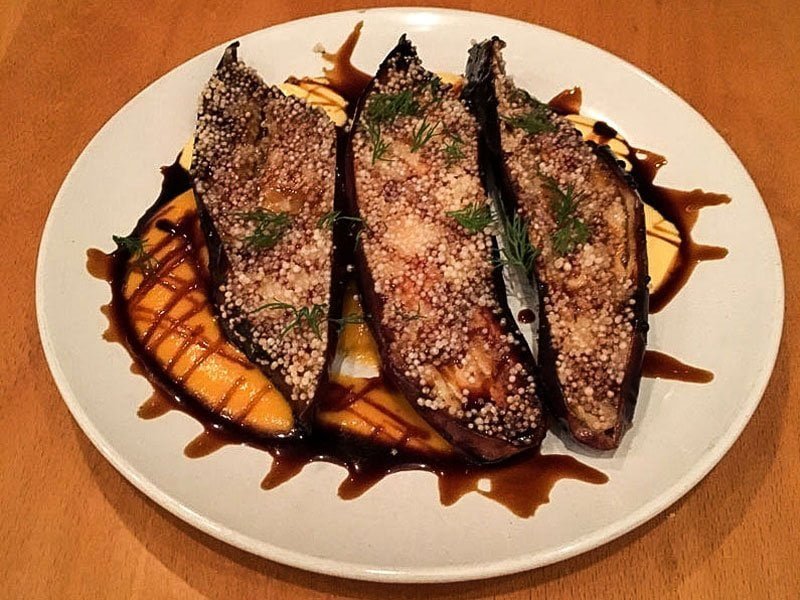 A salad of warm snap peas and barley is a gastronomic puzzle, a clever brain tease on how to eat the dish. A large crunchy barley disk astride a brilliant salad hides the surprises beneath. Tender snap peas and un-hulled cooked barley line the plate with distinctive delicate hon shimejis Asian mushrooms and lily bulbs. Marble-sized spheres, one containing orange juice and rose-water, the other yogurt, act as little yolks of flavor. Pop them with a fork to change the texture and tastes, mixing as you go or just in bites. Switch to another dish and come back a few minutes later, and you'll find the flavors have bloomed. I was transported to a rose garden.
Soups are always the mark of a kitchen's skills and imagination. Aviary nails it in a marvelous cauliflower velouté, so creamy it borders on foam. It envelops thinly sliced chestnuts which add a surprising sweetness and texture, along with captivating cinnamon-y shiso, and the salty pop of American Caviar.
Dungeness strudel comes two to a plate. Thin flaky pastry enrobes fresh crab, allowing it to cook yet keeping it crispy and creamy, again tasting of the sea. While satisfying and perfectly prepared, I felt it was missing something, lacking the wow factor present in many other dishes, and on one evening the crab was a bit watery.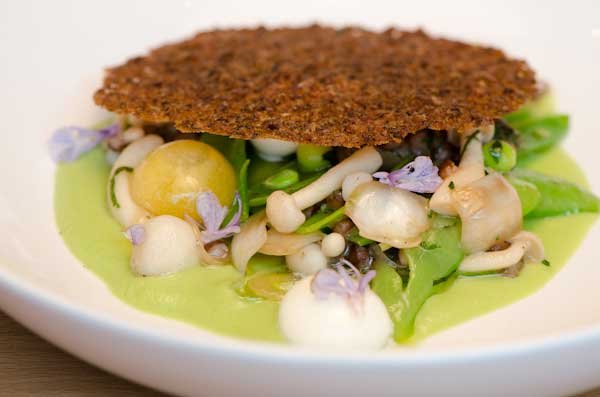 The brioche-crusted halibut stands out from anything similar in town. Three light brown and white stuffed spheres of halibut, with just enough fat to taste sushi-like, stand alluringly in a vibrant green pool of butter-poached cucumber and dark green shiso. Each is topped with a tiny orange bump of sea urchin and a dot of paste made from umeboshi fruit as an accent. Smooth yet pungent greens with wasabi, toasty sesame oil and a hailstorm of sesame seeds sit to the side. If you take a bite from the edge of the halibut it tastes like fish sticks, but swirl one in the sauce and pop it whole into your mouth and a parade of flavors will be revealed, a synergy of rich fish, soft popping sea urchin, cooling cucumber and the complex umami of umeboshi and shiso.
A plate of seared octopus salad looks like a kitchen mistake – black charred octopus appearing as tough as a tire but magically tender. Squares of crusty fried chickpeas mingle with yogurt, pimento, and whole Kabuli chickpeas. Mix it all together, and even if you've never liked octopus, you'll find the intriguing flavors pulling you back to the plate. This salad is a masterpiece, showcasing not only the technique but the art of construct and balance.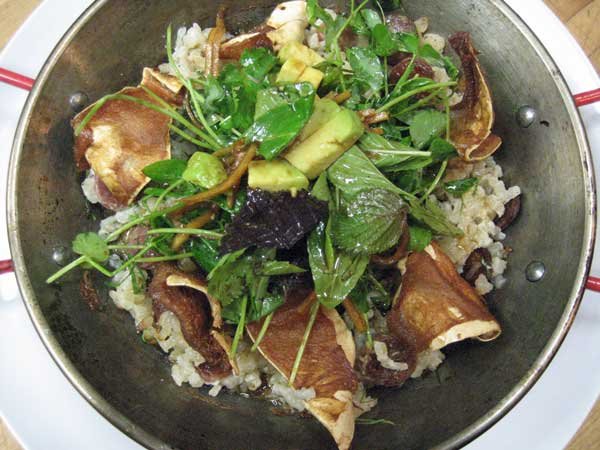 Order the tempura pumpkin during a break from other dishes, as its strong flavor tends to overwhelm. The lightly fried pumpkin hints of lemongrass and kaffir lime. They are perched in a shimmering red coconut curry sauce with a complexity that lays waste to most of its ilk. Though on occasion the tempura is a bit too soft, the dish is outstanding, an unexpected spicy departure from other items on the menu.
New York strip steak sounds pedestrian, and when it arrives looks pretty average fanned across the plate. My first bite left me unimpressed, but when I dipped it into the Serrano ham marmalade and scooped it up with a bit of braised endive and a grape, I was transported, reminding me once more that the components in these dishes are meant to be consumed as one. It's not the best dish on the menu, but it is satisfying, and a larger serving than most of the other choices.
I hadn't had crispy pig ears in a long time and was excited to see them on the menu. They are, in a word, perfect. When the paella pan is brought to the table you are assaulted with the hot scent of steaming coconut rice, which acts as an aromatic basket for salty chunks of Chinese sausage, avocado, and barely wilted greens. Black vinegar-pickled daikon are scattered throughout, providing little prickly strands of flavor. The ears are delicate crispy wafers, almost like a meaty potato chip, the rice so rich I could eat an entire bowl. Every time I ordered this dish other people at the table recoiled, but it always ended up being the star of the night.
Another excellent choice is the "spiced duck leg and broth, slow poached egg, daikon and dates, brioche persillade". Served in a small bowl, it's a wonderfully complex, earthy broth, the egg a creamy foil to the dates and duck.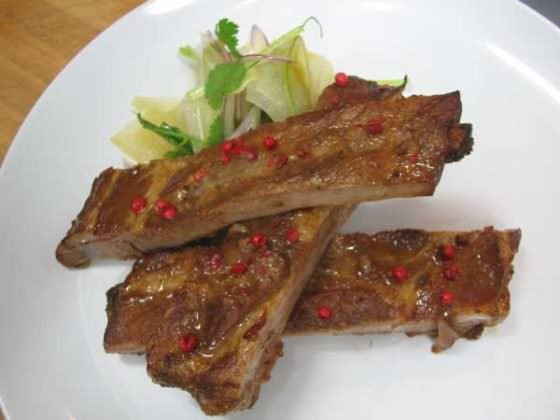 A few plates aren't particularly interesting. Shao Xing chicken with asparagus tapenade, leeks, and bright goji berries needs a little tweaking, but still gets props for being perfectly prepared – juicy and tender. The asparagus tapenade is interesting, and though wolfberries are a classic combination with chicken and look pretty on the plate, they did little to enhance the flavor. This is more like a dish you might find at any number of Portland restaurants, albeit with more sophisticated ingredients.
I found the pork ribs to be somewhat disappointing, and I wondered if they are only on the menu for those who are less adventurous. They are fairly large, and the meat literally falls off the bones as you move them around your plate. A sprinkling of brilliantly colored Madagascar pepper provides a punch of contrast, but I found the tamarind glaze uninspired, especially after the other dishes. However, a small daikon radish slaw on the side was an outstanding foil to the meat, the vinegar cutting the fat and reopening the palate.
Another dish that didn't thrill me was the slow-poached egg with yuzu cream, morels, and radishes. The egg itself is terrific – cooked sous vide, it is wonderfully creamy. The yuzu, a tart Asian citrus, combines well with the egg and woodsy morels, but to me, the way the foam hovers over the top provides a texture that is off-putting. I ordered it several times because I really like the blend of flavors, but never could get beyond thinking how good it could be if it was just a little differently structured. On the other hand, another PFD eater almost hung up on me as we argued back and forth, she was solidly in favor of the foam.
The desserts are not only very fairly priced but are works of art; some of the best in the city. Try the outstanding pana cotta, which rises far above most. Passion fruit sorbet, mango gelee, and little fennel filo crisps compose the dish. The passion fruit sorbet gives a tremendous blast of flavor, the pana cotta a lovely creamy, sour foil. It's a terrific refreshing palate cleanser and complete harmony of flavors.
My personal favorite is the coconut bread pudding. It is unbelievably light yet creamy and moist. All bread should be so lucky as to end up in a dish this good. A crispy caramel wafer is perched on top, all floating over a pond of unbelievably nutty sesame caramel, and a small mound of citrus with ginger provides even further contrast for a lovely amalgam of flavors.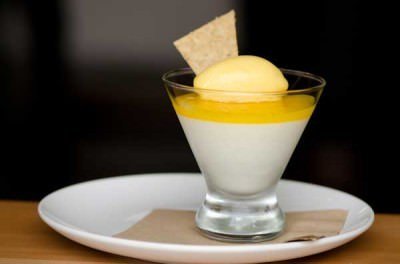 I've only tried the rhubarb mascarpone tart once, but it is another example of how much of a difference a little creativity makes. The tart itself would be fine, but when given a really good "fortune cookie" crust it stands far above the pack.
The beer ice cream is so different from expectations, you will find yourself passing it across the table to share with your companions. Beer is reduced by freezing. Then, by reserving the concentrate which melts first, the ice is discarded. This reduction is mixed into a vanilla ice cream base for an unexpectedly creamy and mellow beer taste.  The final plating is surrounded by a dark pool of coffee which has been set with a little gelatin. Salty crumbles of pretzel sprinkled across the top provide a bit of crunch. It is a marvelous execution of an unusual dish.
Aviary bows to those who must have chocolate for dessert with chocolate cake, spiced pears, port sorbet, and a crispy cinnamon stick. I wasn't particularly interested in this dish as I've had enough boring chocolate desserts to last a lifetime, but as with so many things on the menu, I was quite surprised. The cake was not too sweet and was lighter than I expected, but still moist, holding its shape like an intense chocolate pillow. Thin slices of carefully caramelized pears were perched atop. When the intensity of the chocolate threatened to overwhelm, a quick dip into the complex sweet port sorbet smoothed everything out.
Steven Smith Teas and French press coffee are an enjoyable way to finish your meal, though the French press is plastic, which is rather incongruous to everything else brought to the table.
I've never had any issues with the service at Aviary. The staff is happy to offer suggestions and guide you through the various menu options. However, on busy nights, they seem to get overwhelmed, and dishes tend to get plopped onto the table without any sort of explanation about what is what, and any special instructions on the best way to approach them.
The menu can be confusing and needs to be organized a bit better. Some of the dishes on the menu under "larger plates" don't belong there, which is a bit annoying when planning your meal. I'd love to see them do a tasting menu for entire tables. While the restrooms are wheelchair accessible, the keys hang on a hook by the door and are very difficult to reach from a wheelchair.
Those of you who have followed my reviews will be aware that I tend to like simple dishes where the ingredients are allowed to speak for themselves.  To me, most attempts at molecular gastronomy such as at Chicago's Alinea, are interesting, but gimmicky – not a restaurant I would like to go to very often. For the most part, Aviary avoids cliché and only dips into those areas when they contribute flavor or texture to a meal. Though the restaurant had a few problems with composition and consistency when they first opened, over my five visits, those issues seem to have been worked out. I have enjoyed every dining experience, and look forward to seeing how the menu changes with the seasons.
GRADES:
Atmosphere: C (loud when full)
Service: A+
Food: A-
Aviary Restaurant
1733 NE Alberta St. Portland, OR 97211; (503) 287-2400. AviaryPDX.com
ATMOSPHERE: Portland concrete modern.
SOUND LEVEL: A bit too loud on busy nights.
RECOMMENDED DISHES: Oxtail Croquettes, Seared Octopus Salad, Kusshi Oysters, Warm Snap Pea and Barley Salad, Crispy Pig Ear, Pana Cotta.