Note: Toro Bravo closed in 2020.
To understand Spanish food, it helps to have a little understanding of the culture behind it
Spain tugs at something deep in my soul. Maybe it is because taste, music, and memory are so closely intertwined, but every time I hear flamenco, I flash back to a time 25 years ago.
I was living in Healdsburg in the Sonoma Valley, where I frequented a restaurant in an old building on the downtown square. I'd drop by after work and sit at the long wood bar with a glass of wine, chatting with friends, and listening to the classical guitar player who entertained the diners. But it was after the restaurant closed that the real magic began.
Many nights local flamenco artists would drop by, the doors would be locked, and the guitarist, Mark Taylor, whose real passion was flamenco, would come sit with us. Tales of rousing adventures in Grenada and Cordoba were told. After a few bottles of wine, he'd strum a beat, someone would start singing, long skirts would flow back and forth, and before long, feet would be stomping across the restaurant, sending dust high into the air from cracks in the old wooden floor.
I learned to appreciate flamenco by learning the complex rhythms and doing simple "palmas sordas y secas", the practice of clapping along with the music to generate excitement or to encourage the performers. It wasn't long before I learned some simple cantes libres, and after a fair amount of wine would sing along. While I left those friends behind when I moved to Portland, I'll never forget those hot summer nights, twilight streaming through the high windows, dust hanging in the air, the laughter, flowing bright skirts, lessons taught, and most of all, the music.
Though I had visited Majorca and Madrid a few years earlier, these experiences gave me a further education into the country; I learned the passion that is Spain. The depth of soul in the voices and complexities of the rhythms carry over into their lives. I better understood the lifestyle and the food, because they go hand in hand. Spanish nights are long and passionate, a night out which starts very late and ends in the wee hours, is more like a food tour and a marathon party, than a simple visit to a restaurant. "Tapas" or snacks are the mainstay of an evening on the town, and every bar is known for certain dishes. You might have a drink at one along with bacalao fritura (salt cod fritters), move to another for boquerones (fresh anchovies), another for cordero (lamb), and choose another for jamón. It is all about the best dishes for each bar, a large circle of friends and favorite drinks, all intertwined: an explosion of life. It's hard to come back home after experiencing the Spanish passion for living. ¡Así se canta!
Toro Bravo Restaurant
For years the Spanish food scene in Portland was disappointing because none of the tapas restaurants have been particularly good. Everyone seems to think they can churn out small plates of food and call them tapas. It wasn't surprising, that by 2006, Spanish cuisine in Portland was slowly fading away. Then Toro Bravo, or the Brave Bull, burst on the scene, and judging by the crowds, Portland has never looked back.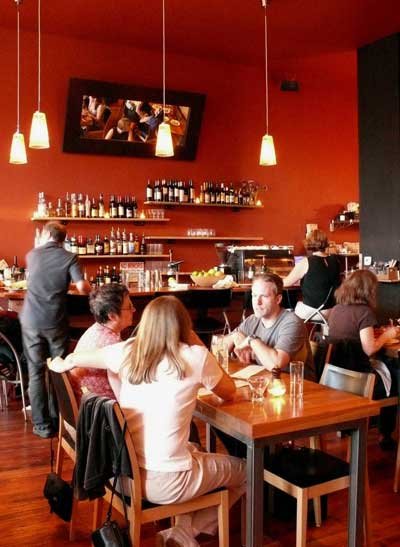 The restaurant is in a turn-of-the-century building on North Russell Street, next to the Wonder Ballroom. The space is simple, yet refined – a recurring theme in both the food and décor at Toro. Tall ceilings and a wall of large windows create airiness in the interior. Deep orange-red walls and ceiling, coupled with wood planked tables and small intimate touches such as a fully stocked bookshelf at the reception area, lighting that is neither too dark and dramatic, nor too stark and harsh, and subtle art elements throughout, make for a comfortable and warm experience.
Even though the space is open, there are a variety of choices in seating arrangements that are comfortable for all kinds of moods and situations. Whether dining with a large party, or even solo, you will be comfortable. Options include the bar, where one might just drop in for a cocktail and a couple of tapas, seating at the chef's counter seating up front, the right side of which is perfect for watching the well-orchestrated action in the open kitchen, several smaller tables for a date or group dining, a couple of large communal tables, and just added, a standing bar. A little alcove on the side provides a more private space which is a bit quieter than the main room.
Unless you time your arrival just right, you will be waiting. Get there early or late, as mid-evening tables are difficult to score. I've noticed that dishes are a little slower out of the kitchen if you go early, as they are slammed with fifty tables all ordering small plates at once! One plus, you can wander upstairs to The Secret Society bar, which will let you know when your table in the restaurant is ready. Get there at 4:45, and most likely you'll walk right in when they open the doors.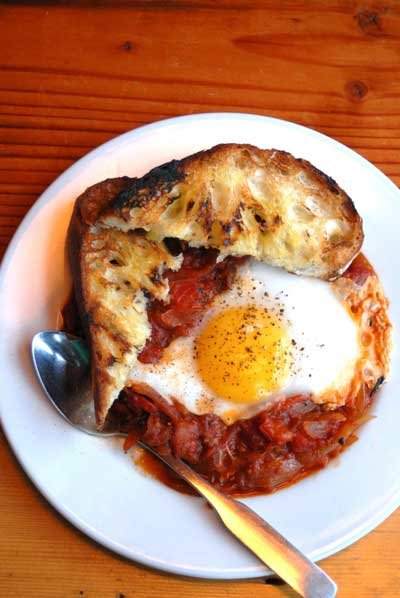 The cuisine at Toro Bravo covers many regions in Spain, from the mountains and seas of the northern Basque area to the distinct cuisine of Catalonia, which is the home of Barcelona, to the Moorish-influenced dishes of the South, though it is not a strict copy of any of them. Rather, John and company have decided some interpretations are more appropriate and have chosen dishes that they know people will like, that can be prepared in their kitchen. Call it more Spanish inspired, rather than traditional Spanish. Most importantly, they seem to have chosen dishes that they love, which makes a huge difference in creating terrific food. The formula works, just don't go expecting that perfect reproduction of a tapas bar you found on the beaten path during your holiday on the Costa Brava, or a copy of that well-known historic restaurant you once came across in Barcelona. This is not a Disney tourist version of the Spanish experience. Once you realize this, you can relax and just enjoy Toro for the good food and wine, relaxed and convivial atmosphere, and good company that it brings; for this is the essence of Spanish food.
The menu, which rotates items on and off on a regular basis, requires some thought to understand. Some people refer to all Spanish food as "tapas". There is much more to it than that. It's divided into Pinchos, literally toothpick food, Tapas which are snacks, so a bit larger and more adventurous, Raciones or portions, which tend to be larger yet, or Montadito, or food on bread.
The offerings at Toro Bravo are enticing, sometimes exotic, and varied enough that you may want to try them all, though the sheer number of choices makes it impossible. Plunge in and try things you might not normally be drawn to. But pay attention to the type of dishes you order. It is easy to go for an overabundance of similar dishes and leave the restaurant wondering what the fuss is about. Instead, be adventurous and grab items from every corner of the menu, and like a trip to Spain itself, you will be transported into another world.
As in Spain, food tends to fly out of the kitchen, and can quickly overwhelm the table. I order 2-3 dishes to start and play it by ear from there. The terrific servers are more than happy to help with selections and don't seem to mind if you break things up. Go with a group of friends and pass the plates around; a good time is almost a guarantee.
There is a small but good list of mostly Spanish wines with normal markup, and they have an interesting choice of well-made and interesting house cocktails. Traditional sangria is available by the glass and pitcher, in both red and white wine versions. They are darn good – not too dry, not too sweet and when in season, filled with fresh fruit. Sherry is added in lieu of the more traditional brandy or cognac that some recipes call for.
Start with the "Kisses" section of the menu. They are little bites- like Spanish amuse-bouche. I like the "French kisses" – brandy-soaked prunes, stuffed with foie gras, wonderfully creamy, slightly sweet. They could easily substitute for a dessert. Another winner, the Toro Kiss, griddled bacon-wrapped dates with warm honey. The result is complex, with the sweetness of smoky dates, meaty rich flavor of bacon still tasting of the grill, and warm honey, all combining to transport anyone who is familiar with the region right back to a cliff overlooking the Mediterranean.
For a starter, I love the creamy albacore tartare. It's a good-sized portion with charred onion powder, capers, avocado, and "onion yolk." The onion crackers served alongside are great, so complex and flavorful I wished I had a few more. However, I do they can overwhelm the tartare.
Order something from the house charcuteria. The wonderfully smooth and rich sherry chicken liver mousse is served with both soft bread and thin slices of crostini, and a little smattering of homemade pickled vegetables. The mousse is creamy and fine with just a tang of sherry. Other favorites are the smooth foie gras terrine and the Spanish cured meats. They will bring you more bread if you ask politely.
Other interesting pinchos include a marinated Spanish cheese with rose-petal harissa and mint – definitely a Moorish-influence. Be brave and order a plate of the fried anchovies with fennel and lemon. They are a delight; perfectly cooked, both the fried fennel and slightly sweet fried lemon give an interesting background flavor. On the side, one of my favorite sauces, a traditional Catalonia romesco which is typically made from nuts, garlic olive oil and a dried variety of red bell pepper matches just right. Yes, eat them head and all.
In Catalonia in the spring, people get together to have large BBQs (sometimes whole towns do this as a festival), of grilled spring onions called calçots in Catalan. It is usually an all-night feast of grilling, food, wine, song and dance and is a way to celebrate the start of spring after the long, dark, and wet winter in Catalonia. In the absence of calçots,  Toro Bravo uses leeks; simple and tender, grilled until soft, a nice accompaniment to balance out some of the richer offerings on the menu. They come with a piquant salbitxada (pronounced Sahl-bee-tcha-dah), a Catalan version of romesco with bread crumbs, almonds, tomatoes, peppers and other seasonings. It's rather addictive.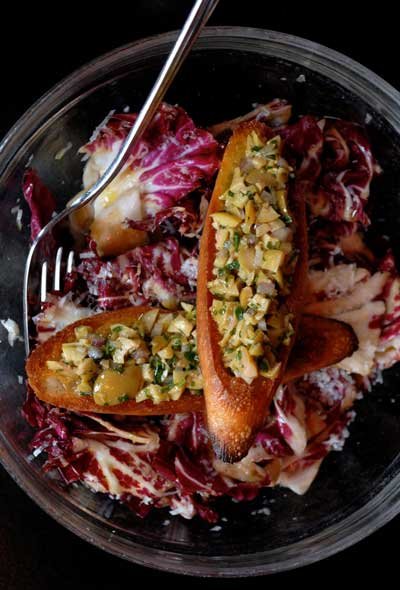 Under the tapas section, almost everything I have tried has been stellar. During the spring, the greens are available with grilled asparagus in a large cold bowl, the vegetables crisp and fresh, lightly and perfectly dressed in simple vinaigrette. The portion is big enough to share for two or three people.  In the winter, a salad of blood orange, arugula, red onion and espelette (a red pepper which is the cornerstone of Basque cuisine) gives a refreshing pause between courses. Seared scallops with a more traditional Castilian romesco is a brilliant yet simple dish. Two large sea scallops, perfectly grilled, with a deep orange sauce were buttery and succulent, the romesco harmonizing just right without overwhelming. A week later the scallops were served in a white fennel sauce that was just as good.
Harissa stewed butternut squash with crumbled sheep's cheese. This is a marvelous dish – salty, sweet, earthy and creamy, all balanced against the melting cheese oozing from the squash. I wouldn't change a thing.
Lamb rillettes with apricots and honey showcase the Moorish influence on parts of the country like Seville and Granada. They arrive steaming hot in a Cazuela dish, a traditional thick ceramic which is built to insulate food. Boquerones, fresh marinated anchovies loved throughout the country, and John Gorham's version, served with piperade on thin slices of crostini, is a highlight – fresh and bright, the anchovies draped alluringly over the bread, giving the slightest taste of the sea, with layers of satisfying textures and tastes wrapping around each other.
There are some misses on the menu. A recent order of rabbit chops left me unimpressed compared to the rest of the menu. They didn't have a lot of flavor, were dry, and a bit of a pain to eat. The rabbit a la plancha was better but had a delicate flavor that fought to stand up against the bold flavors in the rest of our meal.
Moving on, prawns presented as "griddle shrimp with chilies" were spicy and succulent; three nestled together after being grilled in their thin shells. Eat them with your fingers, and you'll be licking them to get every last bit of flavor. Meatballs with tomato-almond sauce and peas hit all the right notes, providing unexpected earthy depth, as do the surprisingly crisp, yet light and creamy oxtail croquettes with chili mayonnaise.
There are so many bad versions of Brussels sprouts, many people are hesitant to try them. Here, combined with a light dressing of sherry bacon cream, they are elevated to a new level. Another one of my favorites is the spicy Bedouin-influenced Merguez North African sausages. The meat is moist, bursting with a complex combination of spices.
At Toro Bravo, the empanadas are perfect little pouches that fall away with the slightest crunch of teeth, revealing an unctuous, complex filling of chorizo, molten mahon cheese, espelette pepper and crème fraîche. Don't miss them.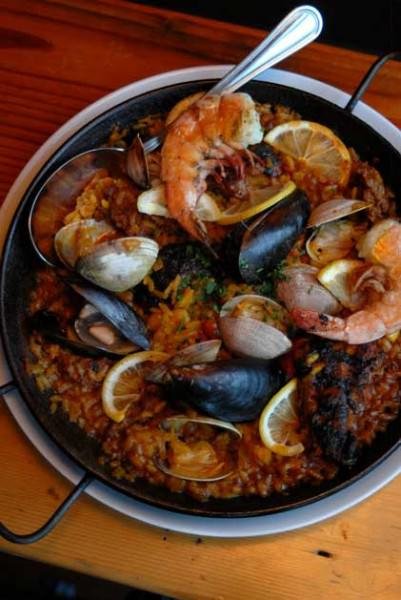 Many Spanish restaurants are judged by the paella. This is Spanish soul food encapsulated in one dish; earth and sea together in a rustic preparation, high-quality ingredients; served with both restraint of technique and flair of presentation – wonderful for sharing. This version takes liberties with ingredients from different regions; it's full of chorizo, grilled chicken, shrimp, clams and mussels, with the nice saffron color and back taste that saffron brings.
The Jamon-wrapped chicken is another good choice. The chicken is moist, maybe a tiny bit overcooked, but all is forgiven by the crunchy Jamon that envelops it. It sits in a piquant bed of pisto manchego – tomatoes, onions, pepper and olive oil.
Toro Bravo has a full range of Spanish-influenced desserts on the menu, in this case, better than average. A recent Basque burnt cheesecake "La Vina" was light as a feather and burst with huckleberry flavor. It was crowned by a brilliant fruit leather, perhaps the best cheesecake I've ever had. Hazelnut ice cream with a glass of sherry poured over it at the last minute, shows a full range across the palate – first the sweet, almost overwhelming taste of sherry, the hazelnuts rushing up to meet it as a perfect foil, the ice cream smoothing out the flavors and bringing them all together. In Spain, churros are traditional after a night of drinking, and I have happy memories of standing in a foggy street, munching on them trying to keep the night from ending. These are straight, as you'd expect to see in Madrid, and are better than average; the fluted dough is never oily, just slightly sweet and crunchy, balanced by warm bittersweet chocolate in a separate cup for dipping.  The olive oil cake which shows up at several of John Gorham's restaurants usually raises a few eyebrows of the uninitiated, but the first few bites push those worries away. It's a comforting cake, lighter than you would expect, with a simple blood orange caramel once again playing with your senses as the components combine on your tongue. For me, the molten chocolate cake is just fine, but after a big Spanish meal, it's not what I'm craving.
Spanish food is one of the world's great cuisines, and although Spain has developed a high-end reputation in the past few years as the cradle of molecular gastronomy, everyday Spanish food is about quality and fresh ingredients, simply prepared. This is rustic food, meant for downing as tapas and accompaniments to glasses of Spanish Rosado or pitchers of Sangria. This is food to relax over, to nibble at, and to share with friends. I had dinner at the well-known Piperade in San Francisco not too long ago, and though John Gorham's food strays a bit farther from tradition, it compares favorably. The only thing missing at Toro Bravo is the strum of a flamenco guitar and dust rising under stomping feet.
Highly recommended. If you are interested in learning more about this cuisine, I suggest "The Toro Bravo Cookbook", by owner John Gorham. Here is a link to some flamenco videos with the folks I used to hang out with. 
Phone: (503) 281-4464. Reservations: only available for parties of 7 or more.
Address: 120 Ne Russell St. Portland, OR 97212
Hours: Sun – Thurs 5 p.m. – 10 p.m., Fri – Sat: 5 p.m. – 11 p.m.