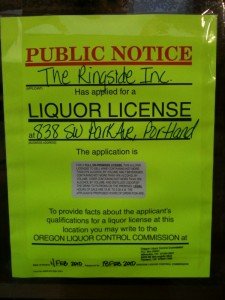 When I wrote the Steakhouse Roundup, one of my biggest complaints about Ringside, was the whole place smelled like mildew. The interior is also quite dated and could use a thorough cleaning.
Now the rumor I mentioned a few weeks ago, is verified:  the owners have decided to make some major changes. They will be opening the restaurant in the Fox Tower space, across from the new and flashy Director Park, while the old location is renovated. Plans call for lots of additional square footage in both the dining room and the kitchen.
The current RingSide will move from their Nob Hill site on May 14th, and open May 25th at the Fox Tower Location. The remodeled restaurant will reopen in early January 2011(!) with an additional 3,4500 square feet added to the restaurant. The kitchen will gain 2,000 square feet, and a new dining room which can be closed off for private functions will be 500 square feet. A new wine cellar will also be included. I would guess all this added space will be taken from the existing parking lot area.
Ringside also holds a long-term option for the  Fox Tower space.
The press release had all the drama one could possibly imagine for a restaurant opening:
WHAT: The RingSide Steakhouse will make a major announcement concerning the remodel and relocation of the venerable West Burnside restaurant.

WHERE: The announcement will be made at the Fox Tower, 805 SW Broadway, Portland, OR 97205 on the Mezzanine level overlooking Director Park.

WHEN: Thursday, March 4, at 2:30 p.m. The press conference will begin at 2:45 promptly. The participants will be available for live TV and radio interviews immediately following the in press conference.

WHY: This press conference will resolve rumors regarding the possible closing of the landmark RingSide Steakhouse West Burnside location during a remodel. Rumors also have been swirling regarding the plans for the restaurant space on the mezzanine level of the Fox Tower currently empty restaurant space.
Just get rid of the smell! Please! I like the old-school feel, so hope they don't take its soul along the way.