A server at a Red Lobster restaurant in Missouri, was attacked by four customers after she brought the wrong order to their table. The resulting mêlée, was filmed on a cell phone by a woman nearby. One customer threw a drink in the server's face, who was then assaulted by all four of the dining party.
Police have identified the women involved, who have been charged with 2 counts of felonies. You can watch the video here:
The server is the one standing on the booth.
---
The eagerly anticipated OX Restaurant, the project of Greg Denton and Gabrielle Quiñónez Denton has started preview dinners. From the press release,
Ox will offer rustic and authentic Argentine classics, as well as new twists. A traditional Argentine empanada filled with spiced meat, olives, raisins and egg may be offered alongside an empanada filled with foie gras and maple-glazed heirloom carrots. Ox will serve grilled meats and fish in both individual and family-style portions, accompanied by unique preparations of the freshest local produce. The bar will feature artisan cocktails and both local wines and microbrews on tap, as well as a generous selection of affordable wine bottles from the Pacific Northwest, South America, Spain, France and Italy.
You can read the rest of the details and make reservations here.
---
The Portland Farmers Market is launching a new branch in North Portland's Kenton neighborhood on June 1st. It will be open on Friday Evenings from 3pm to 7pm. You can read more details here.
---
There are just a few days left to register for the Barista Nation Portland Event. The regional event "Provides focus on coffee discovery, development and devices for everyone! It will be held at the Wonder Ballroom on Tuesday, April 17th. More here.
---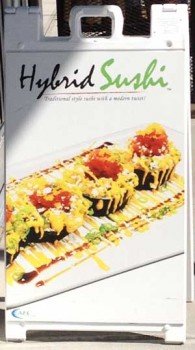 I thought this photo was a bit scary. "Hybrid Sushi" from Fred Meyer. This looks to me like melted cheese. I'd give it a try, but I would be too embarrassed to buy it.
---
We can finally put the "Bartender" or "Mixologist" question away. Out of 118 votes, just 3 were for mixologist. The whole thing was silly, most likely started by a desperate PR firm, or an impotent bartender.
---
The voting on our 2012 Food Vendor and Restaurant Survey will begin next week. If you would like to be one of the sponsors, just drop me a note. In return you'll get a Facebook/Twitter mention, a one-week inclusion in the RSS feed which will bring another 4,500 views, and several mentions in posts. It's win win for everyone! So far Cork Wine Shop, Ristretto Roasters, and Northwest Food and Wine Guide have stepped up!
Thanks to these businesses for sponsoring our new survey!
---
Speaking of events, beginning Monday I will be starting a Taste of the Nation Haiku Contest. The theme will be anything food. The winner will receive two general admission tickets to the Share Our Strength's Taste of the Nation – Tuesday, May 8th at JELD-WEN Field (a $170 value). Tickets will be mailed to winner prior to the event. More information about the event at www.portlandtaste.org. Sharpen those pencils, and practice your haiku this weekend! You can see all the details and entry instructions in a post on Monday morning. Not familiar with haiku? It is Japanese poem of seventeen syllables, in three lines of five, seven, and five. Here are some examples from past contests: beer haiku, and last year's Taste of the Nation haiku contest.