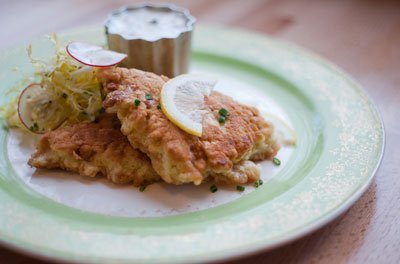 After months of rumors, Oregonlive has confirmed that popular French bistro St. Jack has closed their Southeast Clinton Street location. All is not lost, however, as their new Portland restaurant at 1610 NW 23rd Avenue opens on Friday the 14th.
St. Jack was a revolution for Portland, a truly excellent French restaurant. In our 2011 review, Roger Porter called it the "best new restaurant of the past year".  Chef Aaron Barnett who grew up with French-Canadian cooking and has worked in a number of serious kitchens, including Gary Danko in San Francisco and 23 Hoyt in Portland, says that he feels more comfortable focusing on just one location.
From Roger's review,
The glory of St. Jack has to be its pungent, deeply flavorful meats. The restaurant is heavily invested in organ meats, but even the timid may agree that the adventure is well worth the risk. A "petit plat" of fried tripe is for sure a tad fatty, but it's the kind that's addictive and utterly delicious. The French call it tablier de sapeur, or "fireman's apron." Basically the tripe is breaded and sautéed, and slathered with a sauce of capers, red onion, and homemade mayonnaise, it has both crunch and lusciousness. Then there's a salad of leeks and mixed greens topped with crispy bits from a pig's head, a tantalizing mix of health and hedonism, just enough of the latter to give extra interest to the vegetables. It's become almost de rigueur these days for restaurants to offer a charcuterie platter, and like several other places in town St. Jack cures its own meats. There's a particularly ambrosial chicken liver mousse and a chunky terrine of pork studded with nuggets of pistachio—mix and match. Frog legs often seem disappointing for the skimpiness of the meat on the bones, but St. Jack must have a source of Schwarzeneggerian amphibians, whose legs are plump, juicy, and almost satiating. They're done with parsley, white wine, garlic, and lemon, rolled in fresh herbs and lightly sautéed, with just that intriguing frog leg taste representing a mélange of barnyard and stream.
The new location is a much larger space, with a large kitchen and more room for prep. From OregonLive,
The new St. Jack promises to be larger, with double the seats, a bigger kitchen and, yes, air conditioning. It will free Barnett and his crew up to add things like a roving cheese cart, table-side flambé and an all-day burger. But part of the charm of the original St. Jack has always been its tumble-down digs, which lent the restaurant a sense of instant history that will be difficult to replicate in new construction on Northwest 23rd Avenue.