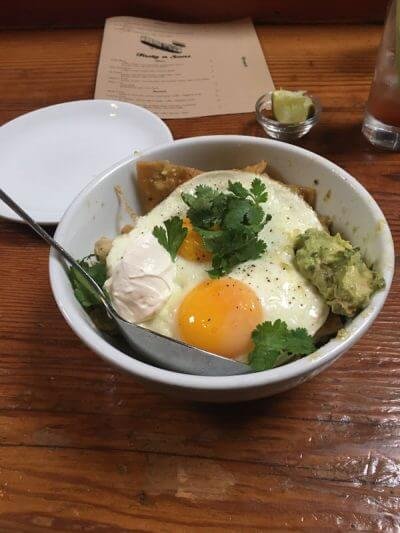 In February of 2010, John Gorham, the owner of Toro Bravo announced he was opening a second restaurant called Tasty n Sons* in the old Nutshell space on North Williams Avenue. Yes, Nutshell, a short-lived and lousy vegan restaurant which had replaced the equally lousy Anju, an Asian Fusion noodle bar. Bonus points and my condolences if you remember them.
The North Williams neighborhood was just getting its footing after the slow wave of gentrification encouraged developers to take a chance, one of them opening a complex with a focus on food-related business. Ristretto Roasters and the recently closed Lincoln were some of the first tenants in the building, but Gorham took the odd, narrow space on the south end.
Success was immediate with a wait for a table being the norm. John introduced a breakfast menu that was unlike anything Portland had seen at the time, filled with comforting yet exotic dishes like Shakshuka and Burmese Stew mixed in with a wide array of kicked up standards.
Since the year it opened, Tasty n Sons has placed high on every reader poll we have done. The only other restaurant with that honor? Toro Bravo. We didn't know it in 2010, but Gorham had a magic touch and an enthusiasm that wasn't matched by anyone else in town. How many restaurants hire a marching band on their anniversary to lead a crowd from one restaurant to another? John Gorham did. The Get A Life Marching Band led a crowd from Tasty down the street to Toro Bravo for a house party.
This week I was taken aback by this press release announcing that the restaurant would be closing at the end of this year to reopen in the recently vacated Woodsman Tavern under a new name, Tasty n Daughters.
"Tasty Mary" at Tasty n Sons

Tasty n Sons will take over The Woodsman Tavern and become Tasty n Daughters in 2019

We are excited to announce that Tasty n Sons will close at 3808 N. Williams and Tasty n Daughters will open in early 2019 at 4537 SE Division in the space currently occupied by The Woodsman Tavern.

The Tasty n Daughters brunch menu will keep many of the Tasty n Sons' favorites while adding some exciting new options. John Gorham says:

"You're going to see a lot of the same brunch specials and items we've had at Tasty n Sons for years and a few surprises inspired by our trip to Istanbul this year."

John and our team will present a Turkish Breakfast Feast on November 17th at PLAZA DEL TORO inspired by their recent culinary tours of Istanbul, Spain and Israel.

The dinner menu at Tasty n Daughters will feature best-of's from both Tasty n Sons and Tasty n Alder, such as the fried chicken, seasonal dishes from the Garden section, and classic steaks from a new Josper grill. John says:

"One thing that I really love to cook and have always been excited about is pasta. We're importing a La Monferrina pasta extruder from Italy for a new homemade pasta section."

The expanded wine program will be curated by Toro Bravo Inc Beverage Director Mindy Cook to complement Tasty n Daughters' globally-inspired menu items.

Tasty n Daughters will utilize the Woodsman's existing private dining room that can seat up to 20 guests. John says:

"We get asked to do small private parties all the time. Now we'll have an alternative to our event space PLAZA DEL TORO for smaller groups."

"One thing that I like to do is offer a lot of choices. I've always been that way. This new space gives us the opportunity to expand nearly every aspect of our Tasty operation. We really respect the buildout of The Woodsman and we're stoked to move into such a beautiful space. We've been asked to come to Southeast for years and so when the opportunity for this space was presented to us it was a natural fit."

Toro Bravo Inc will move our administrative offices into the building as well as Toro Bravo Inc Catering, which offers full-service off-site catering options for Toro Bravo, Tasty n Alder, Mediterranean Exploration Company, Bless Your Heart Burgers, and Shalom Y'all.
In a statement to The Oregonian, John said, "When we opened Tasty N Sons, I really was paying attention to the lifestyle on Williams, the bike riders, the walkers," Gorham says. "But the last three to four years, Williams just really turned in a different direction than the neighborhood that I fell in love with. We used to have great nighttime business, great bar business. Now Williams just gets quiet at 8 o'clock at night."
I love going there for breakfast, and am sorry the restaurant is moving. The Woodsman Tavern location is far enough out that I am not likely to give it a try unless I happen to be nearby. I hope that being in a new neighborhood will offset the loss of their regulars. In the meantime, I'll be sure to drop by Tasty n Sons several before they close.
As for The Woodsman Tavern, not a big loss. I had two memorably unmemorable dinners there over the summer.
The new restaurant will be at 4537 SE Division St., Portland 97206
*don't send me letters… the "n" is supposed to be lowercase per their own website.