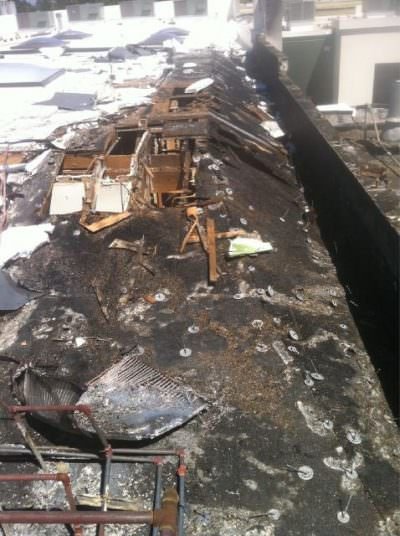 The fire department saying illegal fireworks were the cause of a fire that burned the roof of the building that houses popular NE Alberta stops, Barista Coffee and Aviary Restaurant on July 5th 2011. In a quick interview, Billy Wilson owner of Barista said "the building suffered major water damage, with a flood running down the walls and into the shop.  We will be closed at least two weeks but should have a cart in the courtyard by tomorrow, with a limited menu. We're gonna rock it!" Aviary suffered even more damage, but hopefully, they will also make a quick return to serving their excellent food!
Updates: press release from Aviary-
Aviary Restaurant sustained fire and water damage on July 4th and as a result the restaurant will be closed temporarily as we ascertain the extent of the damage and begin repairs. We hope to reopen as soon as possible and thank you for your support.

Chef/owners – Sarah Pliner, Jasper Shen and Kat Whitehead
From Billy Wilson-
The entire ceiling will have to be replaced, as will the West wall.