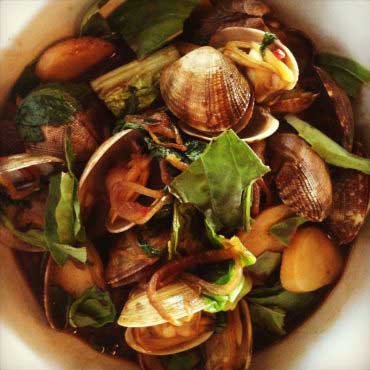 Wares, the newest restaurant from Johanna Ware is now open inside The Zipper restaurant complex
Johanna was the owner/chef behind the popular Smallwares on NE Fremont, which closed in 2016, crushing the hearts of many fans, myself included. In January 2017, she announced she would be opening a "micro" version, "Wares" in The Zipper/Bywater Grocery building in NE Portland. The new restaurant really is micro, just four tables plus outdoor options as weather permits.
The menu available on their website includes:
Chicken Ramen, Vegetarian Pho, Sichuan Egg Noodles, a Rice Bowl, Kimchi Stew, Radicchio Salad, and an oh so good Fried Kale with candied bacon and fish-sauce vinaigrette. Prices range between $7 and $13. Beer and wine are available too. I dropped by and tried a special, "Seared salmon salad, kimchi 1000 island, pickled ginger + fennel, basil, fried potatoes and egg". It was as good as it sounds.
The restaurant at 2713 NE Sandy in Portland is open Tuesday – Sunday from 11 am – midnight, with brunch specials on weekends. The building also houses Chickpeadx, Rua and Slice Pizza Co. Nice to have another late-night option in the area.