Note: Wong's King Seafood closed in 2020.
Food isn't quite as good as it used to be, but it still attracts crowds, especially for dim sum.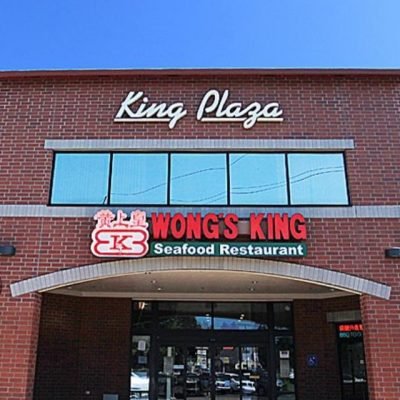 I used to be embarrassed when out-of-town guests wanted to get Chinese in Portland. I have a lot of Asian friends and when it comes to food they know I'm always up for Thai or Japanese, but when they'd suggest Chinese, I was always busy. The problem was I'd had good Chinese in L.A., San Francisco, and Vancouver BC. Compared to those cities, Portland's Chinese restaurants usually turned out gelatinous, greasy slop. Then I started hearing rumors of a new place named Wong's King Seafood.
The entrance doors in the mini mall don't prepare you for what is coming. The dining room is huge, modern, and spotlessly clean – on the way out a companion set a to-go container on a counter. As soon as he picked it up, someone rushed over and began polishing the top. One wall is taken up by large well-maintained fish tanks full of crabs and lobsters. Servers push carts laden with dim sum in every direction. Crisp white tablecloths set off the 60 or so tables; the larger ones have a Lazy Susan in the middle to make sharing easy. You'll feel like you are in a Chinese banquet hall; the room seats over 200. The wait staff is smartly attired, and always quick to respond, though you may have to wave to get their attention now and then. There is something about the scene that almost feels military in precision.
A few things to consider: even though Wong's is huge, it packs with customers. There is often a 45-minute wait. Many Asians tend to like eating late, so get there early if possible. You can also go for lunch and will usually be seated fairly quickly. Since you can order off the incredibly cheap lunch menu, plus the dim sum carts and the dinner menu, lunch is a great time to go. One thing to keep in mind, this is not Szechuan food. If you are expecting spicy, you may not find it here. Instead look for the more subtle layers of flavor that are the foundations of Cantonese food. Of course, you can always add some of the hot sauces that are on every table. Best of all, the prices are reasonable.
We'll start with dim sum, a Cantonese term, literally translated as dot heart or order heart, meaning order to one's heart's content. At this point in my life, I've had my fair share of dim sum in San Francisco and Vancouver BC. While not as good as the great places in BC, this is by far, the best I have had in the Northwest. The variety is large, the carts actually have fresh dishes (I watched them refresh one cart just because the items had been on it too long), the staff is very knowledgeable and doesn't hesitate to help you with your selections. It is fun peeking into all the tantalizing steamers as they pull off lid after lid, giving you a quick glance inside. If you ask about something that is not in their cart, the staff will send the right one to your table. Prices range from $2.00-$5.00. Everything I had was good, though you have to allow for variance in personal taste. I liked the gow: shrimp, pork, or red bean dumplings in light wrappings full of fragrance. More winners include the vivid steamed pork buns, sticky rice wrapped in banana leaves, and the delicately flavored pot stickers (though they can be a bit doughy at times).
Moving on, try the congee porridge popular in many parts of Asia, with flavorful bits of pork, rice noodles simply stuffed with shrimp, han sui gok; pork in sweet sticky rice that has been thrown into the deep fryer, or the similar wu gok with taro instead of pork. Still hungry? The char siu bao, BBQ pork buns and onions, or red bean buns may be just what you need. The carts just keep coming and coming. If you find yourself totally lost, and unable to understand what the servers pushing the carts are saying, ask to see the dim sum menu. It is full of pictures and little descriptions, which can help the layman find his way through the process. If you are feeling really brave, try the chicken paws. You'll get a whole plate of little feet, which tastes exactly like I would expect – not my favorite dish.
At the end, there is a cart full of sweet red bean buns, sweet tofu, mango pudding, sesame seed balls… just point and you'll be surprised.
Lunch specials are inexpensive and include an egg roll and steamed rice. You can add soup for $1.50. The crisp layers of the egg roll crackle when you bite into them. Light little crab puffs follow that actually taste like crab, the best I've had in Portland. The accompanying plum sauce has great depth of flavors. A huge mound of fried rice is as good as it looks, moist and packed with different items. Unfortunately, the mains are not nearly as good as they used to be. The first few times I came here, the Northern China Mongolian beef was the best I'd had in ages; layers upon layers of flavor, and a depth I never thought I'd find in Portland Chinese. The same was true for the gong bao (kung pao) chicken from the western regions. Now that has all changed. These dishes, in a word, suck; they are so bad I couldn't get any of the lunch specials down; they tasted overwhelmingly of vinegar and were terribly unbalanced. It's too bad because the lunch plates are a bargain, but I'd do the dim sum instead.
Entreés are wide-ranging, but from my experience, don't try the run of the mill stuff. The cooks seem to pay more attention to seafood and more exotic items. The dinner menu is 20 pages long with lots of pictures of the different dishes. Reading it makes you feel like you have traveled to a new world. I've never seen such a good selection of soups, some of them hard to find in restaurants anywhere. Try the house special won ton soup for something better than you'll be expecting. Of course seafood is a big feature here and Wong's manages it better than anything else. The shark fin soup bursts with flavor; all the seafood soups are loaded with fish.
Chinese spareribs are a feast, the meat practically falling off the bone, leaving you begging for more. They cook chicken and duck really well, giving them a great crispy skin that crackles when you bite into it. Unfortunately, unless you get them with a sauce, the meat itself can be a bit bland. Firepots of stock are delivered steaming to your table, waiting to be plied to your liking with thinly sliced meats and crispy fresh vegetables. Under Chef Wong's hands, even dishes like barbecued duck rise to new heights. Nothing oily here; the skin is crisp and bursts with flavor.
As I said, seafood is your best bet. The abalone is tender and silky, taking me back to diving for them when I was a kid. Here it is served several ways, but my favorite so far is thinly sliced with mushrooms. Scallops with XO sauce are perfectly cooked, juicy and flavorful; the same can be said for the salty-spicy prawns. The salt-and-pepper squid is perfectly cooked – crunchy and lightly seasoned with coarse salt and flakes of hot pepper.
Wong's King may be a bit out-of-the-way at 87th and Division, but we no longer have to be ashamed and change the subject when an out-of-town guest suggests Chinese. I'm not going to sit here and tell you everything they serve is fantastic – the food definitely misses the mark at times, especially if you stray away from dim sum. I will say it is the best of its type in Portland.
Phone: (503) 788-8883
Address: 8733 SE Divison st., Portland OR. 97266 (86th & Division).  Map
Hours: Dim Sum: Mon – Fri 10 am to 3 pm, Sat-Sun 9:30 am to 3 pm. Dinner and Regional Specialties: Mon – Thur 10 am to 10 pm, Fri 10 am to 11 pm, Sat 9:30 am to 11 pm, Sun 9:30 am to 10 pm
Website: WongsKing.com