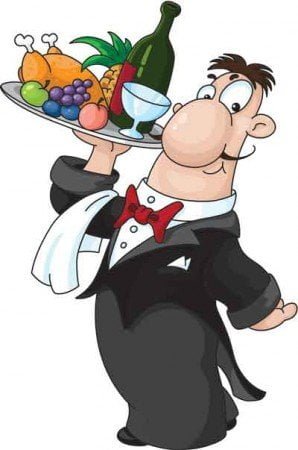 Many of you have weighed in with complaints about restaurant servers, now it's time for them to vent. Front-of-the-house workers, what drives you crazy? Here are a few from a list of 100 at InsideScoopSF; I've added a few of my own. Not the best list – I think you can do better.
Don't walk into a restaurant, and sit wherever you want. Workload needs to be balanced, some tables are reserved. Wait to be seated.
The "I could make this $14 dish at home for $4" comment.   You don't understand everything that factors into food costs: décor, serving ware, location, etc.  Add in your rent and utilities and time then see if you could sell it for $4.
Not complaining at the appropriate times. 'The steak was overdone, but we ate all of it anyways.' Let us atone and make it right. Don't expect it for free, or short your tip because you didn't give us the opportunity to serve you well.
The over-sharer. The customer who feels compelled to consume the attention of the server or manager with a very long story or too much irrelevant information about themselves. This defect can be found in poor servers as well.
They ask for salt.  When I deliver, they ask for another plate.  When I deliver, they ask for another napkin.  When I deliver, they ask for an extra glass.  When I deliver, they ask for another menu.  When I deliver, etc.
I hate seeing drinks that are brought in from another establishment.  Finish your damn Starbucks before you sit down at the table
Talking on a cell phone while ordering.
Large parties that come early and camp out on a busy night, thus throwing the rest of the evening's reservations into flux.
Customers who sit at a table and don't order because they're too busy chatting
Some restaurants mandate that servers introduce themselves to their tables and some servers do it at their discretion. If a server introduces herself, skip the sarcastic, My name is Fred and I'll be your customer…
Never snap your fingers, whistle like you're calling a dog, wave your hand in the air like you're hailing a cab, or yell Hey followed by anything, when you're trying to get your server's attention. (Pardon me, or Excuse me, when you have a moment please work really well.)
Don't interrupt a server who is attending to customers at another table.
If you are going to run home and post criticisms, take a moment to post when you have a good experience.