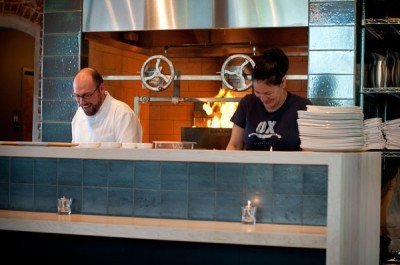 OX restaurant is a temple to "the wood-fired grilling tradition of Argentina, and with it, the culinary heritage of Spain, France, and Italy". Opened in early 2012 by Quiñónez and Greg Denton, Ox has shot to the top of  Portland's "must visit" restaurants, and placed number one on my 2012 Best New Restaurant List.
One warm summer evening, I ordered two empanadas. The crusts were light, beautifully folded, and crimped. One cradled juicy cumin-spiced beef, piquant green olives, and sweet raisins; a classic combination of flavors. The second held sweet grilled corn, which melded with poblano, potato, and fontina. They were marvelous and light; far better than I had learned to make myself when I was dating an Argentinian woman many years ago (the fault was mine, not hers.)
I enjoyed the bruschettas, one with wood-fired house ricotta, foresty sautéed morels, balsamic brown butter, and smoky grilled bread, then a second version showing the Asian influences on Argentinian cuisine, with sweet Dungeness crab, creamy avocado, paper-thin slices of radish, cucumber and minty shiso. Both are excellent, the crusty bread yielding quietly to the teeth.
A salad of grilled radicchio, arugula, avocado, chevre, grilled corn, toasted garlic, and an anchovy vinaigrette was my least favorite item on the menu.  I felt there were too many flavors competing – nothing drew my attention. The chèvre was fresh, light, and mild-flavored, giving creamy bits of texture, but the corn wasn't as sweet as it was in the empanada and tasted like it had been grilled ahead of time and had dried a bit.
The large lamb chop arrived with a sprig of rosemary still smoking from the heat. It is delicious and mild, with perfect brown bits of char and grill flavor, but not so much that it overwhelms the mildness of the lamb. The meat is moist, tender, and properly cooked with a nice pink color throughout.
I have a pork chop fetish and if it's on a menu, I'll order it every time. But most restaurants can't seem to get it right; some are dry, some lack flavor… not so at Ox, where I was presented with almost two juicy inches of sweet and savory meat on the bone. The maple brine fairly glistened as it was put before me; my hands trembled when it gave willingly beneath my knife. It was the best damn pork chop I've had in ages.
One evening the server talked me into trying the goat special. I like goat now and then, but there are so many good things on the menu, she had to work to get me to order it. It was easily the best I've had in Portland; a huge mound of sweet, moist, and slightly gamy meat. It was more than I could possibly eat and made a great lunch the next day. I wanted to hug her.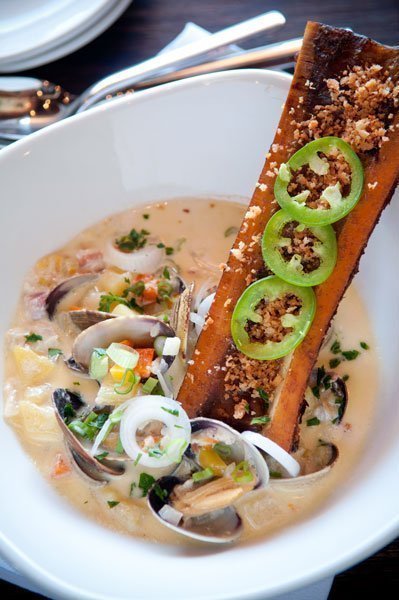 If you are the type of person who likes to sample lots of different dishes, throw caution to the wind and order the "Asado Argentino for 2″, a robust monument to meat: fatty grilled short ribs, deliciously charred and unbelievably tender skirt steak, large house chorizo – which seems to remind everyone of pepperoni, morcilla (blood) sausage, and on the very top, little mellow sweetbreads. All of this is piled high on one relatively small plate; an impressive feat. On the side is a large bowl of serviceable fried potatoes with mild horseradish aioli, a sprinkling of dill, and the final dish, a green salad. As with everything else on the menu, you'll also get a ramekin of the ubiquitous Argentinian chimichurri, which I think could use a bit more oomph. Your table will be covered with food. Lean over the platter and breathe deeply; you'll be assaulted by the hot scents of Asado. Morcilla is the Spanish/Argentinian version of dark, rich blood sausage. If you haven't experienced it before, don't think about it, just give it a try. The Ox version is very good, full of walnuts that give it texture, and a blend of spices that are a bit different than European versions.
The rib-eye is the king of steaks in Argentina – you see it everywhere. In that country, when it is brought to your table, it is often followed by a parade of accompanying ramekins: hard-boiled quail eggs, chickpea mash, garlicky potatoes, several kinds of mashed potatoes, sweet confit of garlic cloves… you can easily end up with a dozen. These accompaniments are used in little dabs to cut fat, soften some flavors, sweeten others. All of our senses are represented on these sides. Don't get me wrong, a rib-eye as cooked by Ox is terrific; it checks off all of my boxes, but I'm hoping they start experimenting with more sides once things settle down.
If you are in the mood for fish, try the wild Alaskan halibut on the bone. It's a large portion with smoky, crispy skin, and moist, creamy flesh; lightly grilled and sprinkled with flowers. Another of the seafood options, Oregon white prawns, arrive in a large dish almost overflowing with the crustacean. The flavors are simple, letting the shrimp speak for themselves, a melange of onions and flower petals turning them into art.
The dessert list always seems to have an item that reminds me of my past. Nothing says "grandmother" more to me than a buckle or a grunt, but pass them up. Don't get me wrong, they are well made, and the fruit is sweet and good; it's just that there are better options.
A case in point, the torte, which will prove my theory that we all have a dinner tank, and a dessert tank. It is warm and moist, tasting of hazelnuts and butter. Next is a scoop of ridiculously good chamomile-honey ice cream. To finish, a piece of sticky, light "honeycomb candy" is perched atop. It's an anthem to fall.
There are, of course, other choices: a better than average maple and sweet-corn panna cotta, and "Magic" – roasted peach-blackberry sorbet, enrobed in a bittersweet chocolate shell with sweet summer fruits. The bittersweet chocolate cake could use a bit of restraint; the tall glass contains cake, tres leches, dulce de leche mousse, and some bruléed banana. I thought it was a bit much.
The service is excellent. In all of my visits, there was never a gaffe. A complete bar is available, along with a good, fairly priced wine list. I'm surprised it doesn't contain many Malbecs, rather it represents many regions, most of them fairly big wines, which is just fine to me. When I asked about a couple by the glass choices, the server brought a sample of each – big points. The cocktails are a mixed bag; I've found their house specials were good, but off-menu classics could use a little work.
There is a reason this restaurant is on the radar. We've had others in Portland representing this genre, but none pull it off anywhere near as well as OX. This is a restaurant that will remain at the top of every list for some time.
Now if they just add feijoada to their winter menu.
Grade: A-