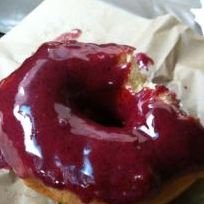 There is a dearth of particularly interesting Portland restaurant news lately, but here are a few items that have caught my eye.
Blue Star Donuts has opened a branch at 3549 SE Hawthorne. You may remember them from such delicacies as the Fried Chicken Donut or the *Valhorona Chocolate Donut. You can read my review of the downtown location here. The new store will be open Mon-Fri from 7am and Saturday – Sunday from 8am – until they run out.
*still spell checks as "hormonal". 
---
Coava Coffee has opened a second location. For those of us who like their brew but weren't fans of the big warehouse location, you have an alternative: Coava Espresso Bar – 2631 SE Hawthorne Blvd. Pastries are by Little T.
---
A few weeks ago, General Mills added language to its website stating that customers give up their right to sue the company if they download coupons, "join" it in online communities, enter a sponsored sweepstakes, etc.  Amid public backlash, a week later, the company withdrew the plans. In a blog post they stated,
As has been widely reported, General Mills recently posted a revised set of Legal Terms on our websites. Those terms – and our intentions – were widely misread, causing concern among consumers.

So we've listened – and we're changing them back to what they were before.

We rarely have disputes with consumers – and arbitration would have simply streamlined how complaints are handled. Many companies do the same, and we felt it would be helpful.

But consumers didn't like it.

So we've reverted back to our prior terms. There's no mention of arbitration, and the arbitration provisions we had posted were never enforced. Nor will they be. We stipulate for all purposes that our recent Legal Terms have been terminated, that the arbitration provisions are void, and that they are not, and never have been, of any legal effect.

That last bit is from our lawyers.

We'll just add that we never imagined this reaction. Similar terms are common in all sorts of consumer contracts, and arbitration clauses don't cause anyone to waive a valid legal claim. They only specify a cost-effective means of resolving such matters. At no time was anyone ever precluded from suing us by purchasing one of our products at a store or liking one of our Facebook pages. That was either a mischaracterization – or just very misunderstood.

Not that any of that matters now.

On behalf of our company and our brands, we would also like to apologize. We're sorry we even started down this path. And we do hope you'll accept our apology. We also hope that you'll continue to download product coupons, talk to us on social media, or look for recipes on our websites.

Our legal terms? You'll find them right on our website. You'll also find they're back to what they always were.
I guess the 'folksy' format means they are just a little company that made a mistake, and they didn't really mean to try to screw consumers. I will now go back to not buying the Cheerios I wasn't buying before.
---
Remember the brouhaha when celebrity chef Jamie Oliver accused McDonald's of using 'pink slime' in their burger recipes? From The Mind Unleashed,
Oliver repeatedly explained to the public, over several years – in documentaries, television shows and interviews – that the fatty parts of beef are "washed" in ammonium hydroxide and used in the filling of the burger. Before this process, according to the presenter, the food is deemed unfit for human consumption. According to the chef and hamburger enthusiast, Jamie Oliver, who has undertaken a war against the fast food industry, "Basically, we're taking a product that would be sold in the cheapest way for dogs, and after this process, is being given to human beings."

Besides the low quality of the meat, the ammonium hydroxide is harmful to health. Oliver famously coined this the "the pink slime process."

"Why would any sensible human being put meat filled with ammonia in the mouths of their children?" Oliver asked.
The treatment process made it possible for McDonald's to use what the industry called "inedible meat". This spring the company posted that they have now changed the recipe, and will no longer use the process. "Burgers are at the heart of the Golden Arches, and the fact is, McDonald's USA serves only 100% USDA-inspected beef- no preservatives, no fillers, no extenders- period."
I suppose it is safe to go back.
---
This is a gadget I must have, despite not having any good reason to own it: the Consumer Physics' Spectrometer, a thumb-sized device that pairs via bluetooth your smart phone to tell you the number of calories in your food, analyse that strange little pill your found in your son's car:
Get nutritional facts about different kinds of food: salad dressings, sauces, fruits, cheeses, and much more.
See how ripe an Avocado is, through the peel!
Find out the quality of your cooking oil.
Know the well being of your plants.
Analyze soil or hydroponic solutions.
Authenticate medications or supplements.
Upload and tag the spectrum of any material on Earth to our database. Even yourself!
Sitting in a restaurant trying to figure out what to order? Next time the waiter walks past with a plate of delicious looking food, just ask him to pause for a moment, aim the device at the content, and you'll know exactly how much weight you'll pack on if you order the same thing – everyone will be happy! Seriously though, it would be kind of cool for those of us who actually try to keep track of our caloric intake – it's a pain to calculate what certain dishes contribute. You see, my Fitbit keeps track of my steps and calories burned – it sends the data to my phone, which chats about it with my scale. About once a week they all get together and fire off caustic remarks like, "Really? Cheesecake?" My refrigerator, Claude, hates it of course. One rainy afternoon he and the microwave got into a huge fight with the scale, and my pedometer was got hot over the whole thing it scalded my thigh. Fortunately I'd decided it was silly for the washer and dryer to be connected to the internet, or God knows what would have happened to my socks.
Apparently I'm not the only person who thinks this would be cool – on the Consumer Physics Kickstarter page they have received pledges of $1,444,969 of their $200,00 goal.
---
The Red Star Roast House has remodeled and re-branded to Red Star Tavern. They've added tons of additional seating in the bar, and are putting a new emphasis on craft cocktails, which start at $5 during happy hour. 503 S.W. Alder Street in Portland.
---
Boke Bowl opened a second location – Boke West in the new Addy apartment building at 1200 NW 18th Street in Portland. While I'm not a huge fan of the food, it's nice to have a ramen option in NW, and they have some nice outdoor tables for warm summer days. They are open daily from "11am – Close".
---
Ned Ludd is searching for backers for "Elder Hall", which "will celebrate the spirit and bounty of Oregon through communal gatherings with a focus on camaraderie and collaboration." From their Kickstarter page,
Elder Hall will be an Oregon gathering space utilizing the power of communal events in the pursuit of connection, camaraderie and conviviality. We will offer classes on butchery and craft cookery. We will host our friends and neighbors who make great products and through a series of tastings and markets, showcase the brilliant and diverse food producers of this amazing place we call home. We will start a children's Summer camp focused on growing, cooking and tasting food. We will host a series of 'Small Suppers' with our extended chef community, curating very intimate experiences with some amazing culinary talent. The space will also exist for many uses by our surrounding community such as lectures, meetings and pow wows to get people talking about the things important to us such as, our fair city, the food community, sustainability, agriculture and much more.
They figure startup costs will be at least $135,000, and they have an investor helping with the funding, which leaves $60,000 to be raised. So far the pledges total $13,090 with 16 days to go. You can view all the details and contribute here.
---
Long-time food reviewer Anne Marie DiStefano over at the Portland Tribune has penned her last column. "Speaking of the cocktail hour, I will be embarking on an extended one as I step down this week as the Portland Tribune's restaurant critic. I've been writing about food for the Tribune, on and off, for more than 10 years, and it's been really amazing to see how much Portland's restaurants have changed and improved." Reporter Jennifer Anderson is taking over her column. Sad – she's be at this as long as I have and I enjoyed her take on things. Good luck to her!
---
Finally, Little Big Burger is opening an 8th(!) location, this one at 2032 NE Alberta Street in Portland. According to their Facebook page, the doors will swing wide "summer of 2014". I've had all good experiences at LBB lately. The music has been toned down, the burgers have been cooked just as ordered, and the staff has been great. It kind of sucks living so close to one – I need my phone to shock me when I try to cross the threshold.