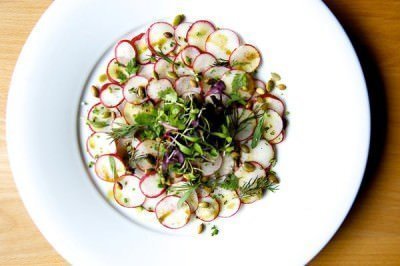 The Oregonian says that Grüner, the Alpine restaurant  is closing at the end of 2015.
Opened in 2009 by Chris Israel of Zefiro fame, Grüner isn't a "German" restaurant, nor does it bill itself as such; rather it is Alpine, a vast region that includes pieces of France, Italy, Austria, Switzerland, Slovenia, Hungary, and even a bit of Balkan and Mediterranean influences. All of this is alongside the distinct regional cuisines of Germany. Over the years the restaurant has garnered much praise, making Portland Monthly's Top Restaurants for 2010, featured by Washington Post critic Tom Sietsema in 2010, named number 5 in GQ Magazine's 2010 list of Best New Restaurants in America, and chef Israel was nominated for Best Chef Northwest 2011 by the James Beard Foundation. It also placed on our reader surveys many times.
According to The Oregonian, the owners of the popular OX restaurant will be taking over the space.
On New Years Day, chefs Greg Denton and Gabrielle Quiñónez Denton will take over both Grüner and Kask, the craft cocktail bar attached to the restaurant. Kask will remain open. In March, the couple plan to open SuperBite, their first new project since opening Ox.
No details about the new restaurant yet.