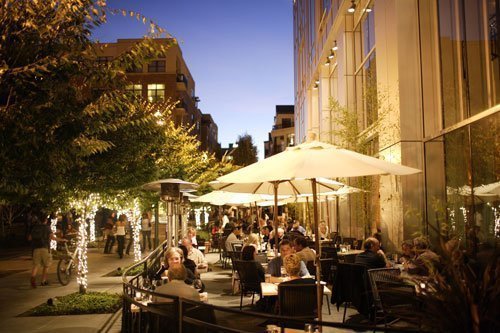 Under the title of, I can't believe they lasted this long, comes the news that Jamison is closing.
To our patrons and community friends:
After much consideration, we've decided to close Jamison. Our costs for operation in this space have exceeded our ability to provide a quality dining experience at reasonable prices. We're sad to say goodbye and want to thank each and every person who has ever graced our doorstep. We've enjoyed serving you, and being a part of your celebrations.
Our last day of serving the community will be Sunday, August 2.
We wish you all the best!
Fenouil opened to great fanfare in 2005 at a cost of over five-million dollars. With chef Pascal Chureau at the helm, it quickly became a hot spot, for it's French Disney atmosphere and for the stellar menu, which actually brought frog legs back to Portland.
Unfortunately, the restaurant failed to live up to it's promise from the start. Reviews were mixed, and they received some terrible PR on this site, when a friend of mine bought a gift certificate for his boss, who took his wife for their anniversary. As they tried to pay, the restaurant claimed the certificate was fake. It wasn't – I was with him when he bought it. You may remember my "Customer Service F for Fenouil" story.
The restaurant closed in May of 2011, and after sitting empty until July 2012, the space reopened as Jamison, owned by the same people behind Davis Street Tavern.
At that time I wrote, "220 seats is a huge space, especially for Portland. This has to be one of the most expensive restaurant leases in the Portland area, so they are going to have to fill the seats every night to make it. It scares me that the last owners, Spaghetti Factory who owned Fenouil and have very deep pockets, couldn't make it there. Another part of the problem is issues with the building. With it's glass doors and view of the square, it is one of the most striking dining rooms around, but those same glass doors resulted in cold dining experiences in the winter months, and the upstairs mezzanine made it difficult for the kitchen to get hot food to those tables.
Unfortunately, the changes they made did not carry over into the quality of the food. I've been twice, and had mediocre food, and on one occasion, lousy service. Still, with their unbelievable patio, I'm surprised they weren't able to keep the doors open until the end of the summer season. It is one of the nicest in the city.
The question now is, what will become of the space? It still has high overhead and an awkward design. It is going to take a restaurant powerhouse team to make it a successful venture.
The restaurant will remain open until August 2nd. It is located at 900 NW 11th Avenue on Jamison square. Go by and have a cocktail on the patio.