Bunk Sandwiches Closes Original Morrison shop, Pizza Jerk to Replace.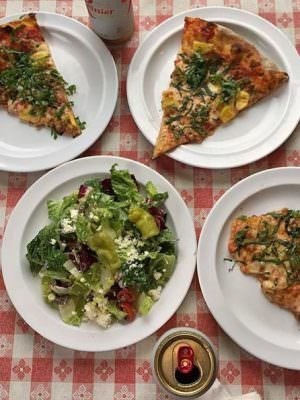 Tommy Habetz and Nick Wood have closed the original Bunk Sandwiches location on SE Morrison Street. Back when it opened, Bunk was like a siren, calling me from NW Portland to hassle with lousy parking and lines out the door to get what was then, Portland's best sandwiches.
But over time, with the opening of many other shops in the Bunk empire and lots of new options from new restaurants in town the hubbub died down. Soon it will become the second branch of the duo's next empire, Pizza Jerk.
Despite a fire in June 2017, Pizza Jerk has been running smoothly at 5028 NE 42nd Ave for quite a while now and has built a solid following, placing 5 in our 2017 reader survey for Best Pizza in Portland. Last summer a press release trumpeted that Pizza Jerk would be adding another location in the new Happy Valley Public House but that doesn't seem to have materialized.
Anyway, back to the 42nd Avenue location. The website is pretty awful, but if it doesn't set off a seizure, you'll find the menu has a bit of everything – Korean chicken wings, French fries, frito pie, pasta, Dan Dan noodles, fried rice and more. The real star is the pizza, East coast style, and you'll find a large menu of options. Though some are pretty traditional, there are selections like Clam Jam with Bacon, a New Han Dynasty with kimchi, bacon, blue cheese, BBQ sauce, onion and basil, or a Sunday Sauce Pie with pepperoni, meatball, sausage and ribs. If you are an aficionado of thick crust, they have cast iron 12″ pies – cheese, pepperoni or a traditional supreme with sausage, black olives, bell peppers and red onion. While some of the pies may seem a bit out of the box, that is part of the charm – they are willing to try anything. Surprisingly, most are pretty good.
French chef Paul Bocuse has died
The end of an era: Paul Bocuse, one of the most famous chefs in the world died last Saturday of complications from Parkinson's Disease. He was 91 years old. According to news reports, he died in the same room he was born in, above his restaurant in Collonges-au-Mont-d'or.
Bocuse was a relentless self-promoter, way before it was as necessary as it is today, constantly appearing in public events and television shows. Cooking at his family restaurant L'Auberge du Pont de Collonges, he won his first Michelin Star in 1958, and by the age of 32 had garnered a rare three stars. I had the lucky adventure of dining there in the early 1970's and have never forgotten the experience.
The current prix fixe menu consists of eight selections for £270 or about $378 US dollars, alcohol not included. Shall we go for lunch?
What's up with Ray Restaurant?
Ray doesn't seem to have gained the following of its prior restaurant, Lincoln. I have received lots of benign comments from readers, and then in November, they received one of Portland Monthly's most negative reviews in ages.
Carrot hummus sounds intriguing but tastes nowhere, with nary a bright, sweet, or rooty vibration; the tame braised lamb ladled on top doesn't help. The promised tahini notes in a White Russian-esque cocktail are MIA. Meanwhile, entrées flub: shakshuka smolders with requisite heat, but you sense the kitchen counts every slice of merguez sausage (one bite per person). Yemenite braised chicken is pale and wan, in a Dickensian-orphanage-thin broth. The double-lamb-pattied shawarma burger is Ray's low point: a bland-on-squish experience with a slippery texture that ricochets off your teeth. (Where the shawarma comes in is anyone's guess.)
Now comes the rumor that Chef de Cuisine Sara Woods has walked. Maybe they will take this time to pause and regroup.