Billy Wilson to Open "Barista" Coffeehouse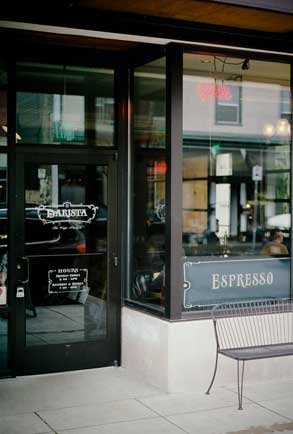 A new coffeehouse is to open in the space last occupied by Acorn, or before that, Little Wing Cafe. Why is this news? Because it is owned by Billy Wilson, formerly of Albina Press, currently of Coffeehouse NW. Billy is known for having a huge following of coffee aficionados, and for winning the NW Barista Competition. The shop will be in a tiny space inside the old Pearl District building. Seating will be in the public lobby. The coffeehouse is called Barista.
Lucier Restaurant has Closed
That's the rumor. I don't normally post these things until the doors are locked, but I've been deluged with reports that they will close their doors on Saturday night. Look for lots of wine flooding the market soon. Anyway, take this news with a small grain of salt until the closed signs go up. Even though (I think) this restaurant was poorly conceived from the beginning, there will be lots of folks out of work, and jobs aren't exactly easy to get right now – I blame Karen Brooks for everything.
Beaker & Flask from Kevin Ludwig Opening Soon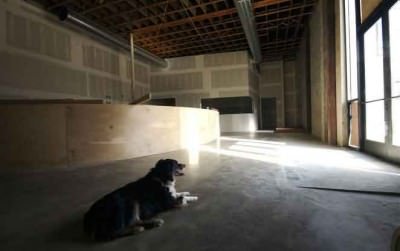 News from Clyde Common: Kevin Ludwig and Tim Davey have been working the bar since last summer, and has been responsible for an upturn in the quality of their drinks. They will be leaving soon to get Kevin's new restaurant, Beaker & Flask, up and running. In his place, well-known bartender Jeffrey Morganthaler from Eugene will take over as bar manager. This town has so many top-tier bartenders, it is an embarrassment of riches. I'm hooked on Ten 01's fine libations. Kevin says he can finally see the light at the end of the tunnel and hopes to open the doors of Beaker & Flask in 2009.
Ned Ludd will be opening December 11th, in the old Wildfire Pizza spot on MLK Blvd.
From the note sent out to every chef in town (and CC'd instead of BCC'd – Oops!) "Our restaurant is called Ned Ludd and will offer fine Euro-Portland cuisine from a wood-fired oven. Our wood is pear and apple wood from the Hood River Valley. Our tap beer and wine list will feature a global, seasonal selection."
I threw myself on the grenade and ordered Bacon-Apple Pie at Lincoln Restaurant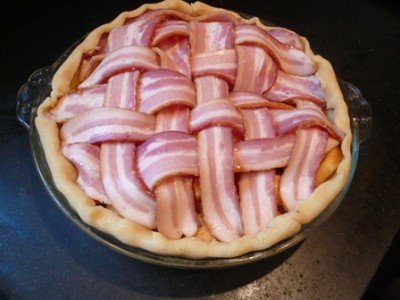 I don't know what I was thinking, but I also ordered an entree of pork shoulder and pork belly. I'm lucky to be alive! My verdict: better than I expected – I thought the apples would be horribly greasy – I'd go so far as to say it was really good, especially with the cinnamon ice cream on top, which worked really well. On the other hand, I don't think I'd want it more than once a year. It's on the menu as a serving for two, weekends through Christmas. Want to make it yourself? We have Jen's recipe for her Bacon Apple Pie here!
Lance Mayhew's Hot Buttered Rum!
Finally, Lance Mayhew has posted his Hot Buttered Rum recipe on his website. I love good hot buttered rum, and this is one of the best recipes I've seen – beats the heck out of most bars in town (IMHO). Cold weather is -supposed- to be coming. Prepare a batch of it now!