Some new news, some older stories that have been sitting forever!
Barbur World Foods is opening their Pearl District store at 830 NW Everett, where Local Choice Market used to be, this Friday. If you've never been to the original on SW Barbur and Capitol Hwy, it's an experience. The Barbur store has a small selection of wine, excellent – and some unusual produce, a large Middle-Eastern deli with hot and cold options along with sandwiches and homemade pastries, a good selection of cheese, and a whole bunch of strange things I've never seen anywhere else. They also carry lots of regular items, though not always of the highest quality – Tree Top apple juice for example. Anyway, with a larger selection of groceries than Local Choice and generally lower prices than anyone else in that area, it will be interesting to see if they can make a go of it. The big issue will be that they don't have parking. I know people from here in the Pearl that drive up to the original market – trivia: I am told it was once a Piggly Wiggly grocery store. Remember those?
---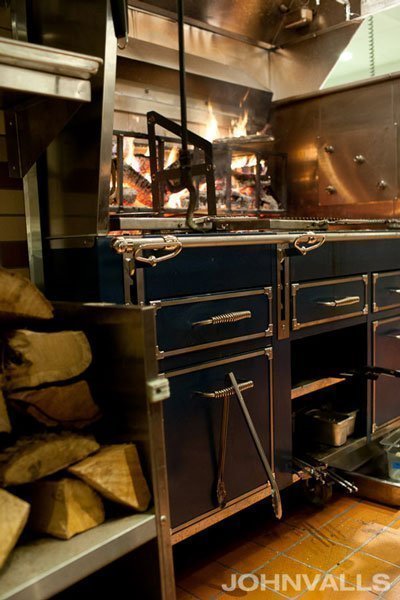 You may have seen this in the PR section, but it's worth repeating: The "Barbecue Bible" by Steven Raichlen is a highly respected guide to wood smoked food across the USA. Raichlen recent came out with a list of the 10 Best BBQ and grill restaurants for 2013. Two Portland restaurants made the list.
At number 3 is Vitaly Paley's Imperial. Raichlen reports,
"The first thing that hits you when you check into Hotel Lucia, home of the new Imperial restaurant, is the intoxicating aroma of wood smoke. The second is the comforting knowledge that you can breakfast on home-smoked pastrami hash, lunch on wood-grilled romaine lettuce salad, and dine on secreto (a butcher's steak cut from the hog's underbelly) grilled and served on a wine barrel stave. The brainchild of Portland culinary legend Vitaly Paley, the Imperial is Portlandia at its best, complete with chandeliers welded from bicycle chains."
In my experience, Imperial has come a long way from their rocky start, and is well worth a visit. That wood-grilled romaine is excellent.
Coming in at number 6 is OX.
If barbecue is a religion, Ox is its holy tabernacle, with a blazing Grillworks Dual 48 Architectural grill dominating the dining room like an altar. Greg Denton (he's the guy with the octopus tattoo) and his Ecuadorian wife Gabi have loaded the menu with South American classics, such as smoked lemon pisco sours, Uruguayan grass-fed skirt steak, and a stunning grilled lamb heart herb salad—a riff on Peruvian anticuchos. Halibut comes in bible-thick steaks on the bone, while mammoth artichokes are roasted directly on the embers. And because this is Portland, you don't have to ask if the grilled beef short rib, maple-brined pork loin chop, or housemade morcilla (blood sausage) are humanely raised or locally sourced. Of course they are.
You know how I feel about OX, and can read my review here.
To see the rest of the restaurants that made the list, check out Raichlen's original article.
---
Have you been listening to the new Portland food podcast, Right at the Fork? Portland Food Adventures owner Chris Angelus started the weekly show at the beginning of the year, and his list of guests has been stellar. They want to focus on all parts of the Portland Food scene from farmers to cheese makers, chefs and more. So far Chris and co-host Heather Jones have interviewed Don Bourassa – Yelp community manager , Nick Zukin – Mi Mero Mole, Brett Burmeister – Food Carts Portland, Mindy Keith – Xico, Sara Hart – Alma Chocolates, Kevin Ludwig – with the inside story of the now closed Beaker & Flask – currently at Le Taq, and Adam Higgs of Acadia. It's available for any platform – links on their website.
Full disclosure, Chris advertises with this site, but this podcast is good enough that I would be bringing it up anyway. 
---
A piece of old news, but some folks seem to have missed it. The owners of the ever popular Laurelhurst Market which won our readers Best Steakhouse for the past 3 years, are opening a new barbecue restaurant in Southeast Portland. They will be taking over the space that was vacated by Eleni's Estiatorio on Southeast 13th Avenue. Plans call for a very basic menu. The name will be Reverend's BBQ (no word if there will be a reverend involved), with an opening date of "Spring".
---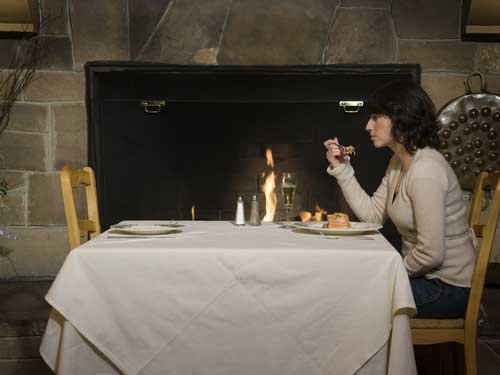 Have you ever found yourself without a dinner companion and stayed home because you didn't want to eat alone. I know the feeling – a bit awkward, especially if you aren't known by the restaurant staff. Some restaurants, especially those without counters make it down right uncomfortable. Michael Zusman covered this topic for us way back in 2005, and now The Guardian has written about the same subject in their "Word of Mouth" blog.
Aside from the perceived tragedy of the lonely diner, it's not easy cooking for one either. Unless you're super-organised and cook in batches to eat at leisure, making food or ordering in for one person can be quite wasteful.

But the opportunity presented by the number of people who live (and, by implication, eat) alone is an entrepreneur's dream. Social designers, restaurateurs, and app-builders have been busy finding creative ways to tackle lack of dinner partners, wasted leftovers, and even how single eaters are perceived by culture. Could these make eating for one more palatable?
I wrote about one smart phone application the article discusses back in August. Now it has launched, and the details seem even more unpalatable to me than before – though it is probably just my aversion to leftovers talking. LeftoverSwap has two primary focuses:
For leftover takers

You're hungry. And cheap. We understand. You also care about reducing waste, eating locally, and want to build relationships within your community. We also understand those things. Simply fire up LeftoverSwap, view the available leftovers around you, make your selection, and arrange for pick-up or delivery. Your cheap, local, and community-oriented meal is waiting

For leftover givers

You're stuffed. You can't take another bite, but there's so much left on your plate. You hate the idea of throwing out food, but also don't want to be eating the same leftovers for the next few days. We understand. You want to reduce our dependence on fossil fuels and fertilizer as well. We also understand that. Snap a picture of what you can't eat, name it, and share the rest of your meal. Your neighbors are hungry.
I dunno, it's just… weird. I picture a piece of leftover pizza and a few cold fries.
---
You may remember my college love affair with Taco Bell – when tacos and burritos were nineteen cents. Now the chain has unveiled a "cutting-edge" mobile ordering system. Their new smart phone app will allow you to pay for food directly from your phone. Not a big deal, as companies like Starbucks and Square have been doing that for some time. However, the new application will allow you to customize menu selections, and will even try to up-sell you into buying larger drinks or desserts. "Mr., you look like a big guy – don't you think you'll need more than 3 tacos with that order?"
As you travel to the restaruant, the system will track your progress using the GPS locator in your phone to make sure your order is hot and ready when you get there. They will even have a separate pick up window to jump you ahead of the line. Hmmm.
For those unfamiliar with Taco Bell, I reviewed the restaurant in April 2006 under the name of La Campagna. One of my favorite April Fool jokes of all time (next to the gas station food review).
---
Rumors have been swirling for the past week that the venerable Gypsy Restaurant and Velvet Lounge on Northwest 21st street has closed for good. Now where will I go for my goldfish racing?! Now it is comfirmed: the space is for sale, including all furnishings. My feeling is that the property is large enough that it will be torn down for… an apartment building. More from Willamette Week.
---
Finally, when you buy meat from Carlton Farms, were you under the impression that you were buying local? Not necessarily so. From the Oregonian,
Several Oregon companies have been swept up in a recall by a California processor of nearly 9 million pounds of meat from "diseased and unsound animals."

Rancho Feeding Corp., based in Petaluma, Calif., said in a recall notice Feb. 8 it was pulling a year's worth of production because "it processed diseased and unsound animals and carried out these activities without the benefit or full benefit of federal inspection…

…Carlton Farms, which sells beef from Oregon and pork from the Northwest, purchased veal trim from Rancho Feeding and then resold it to retail outlets, including Gartner's County Meat Market in Northeast Portland and Long's Meat Market in Eugene.
Happy Eric?