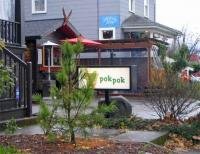 Refreshed 4.11  Note that this review is for the to-go shack and not for the Pok Pok dining room reviewed here, or Whiskey Soda Lounge across the street. You'll find the menu and food here is very similar at the new Pok Pok Noi on Prescot at NE 15th.
It was a chilly night, and I felt like the fox that had gotten into the chicken coop. Crispy, crackly chicken skin gave gently under my teeth releasing a flavor somewhat reminiscent of the time I rode my tricycle into a lemon geranium bush. I was eating roasted game hen from Pok Pok Thai on SE 32nd and Division, some of the best Thai food I have ever had in the Northwest.
Andy Ricker from Pok Pok on SE Division is passionate about Thai food, especially the food from the temperate Chiang Mai valley and Isaan area, in the northern part of the country. He makes trips every year, learning more and more about the cuisine. This is good for us, because his passion is paying off in some of the most authentic regional Thai food in town. This isn't your typical Thai curries and soups, more like the street food you'll find if you visit the country. For more information on Thai food and the culture, read our Thai Food Primer by clicking here.
I've been coming to Pok Pok since it first opened, and during that time the quality would vary a little bit. Sometimes the papaya salad wasn't quite balanced, sometimes the khao man pork was a bit cold or dry, but after a summer vacation to work on the larger restaurant space next door, and a vacation in Thailand, Andy seems to have smoothed out all the of tones. Lately, I haven't had a single complaint.
Keep in mind this is a tiny takeout place. On nice days, comfortable wood tables with umbrellas provide a great place to sit. On inclement days there's only a shed to keep out the wind and rain, but Andy lights a propane fire when you order, and there's something kind of romantic about eating in the little space watching the downpour. Atmosphere or not, the food is so good, I can't help but go back over and over. Now Pok Pok has expanded across the street, opening a bar called The Whiskey Soda Lounge.
Moving on to the food. The small menu is very focused on Northern Chaing Mai Region, and the Northeastern Issan region.
The papaya salad is marvelously refreshing, incredibly complex and yet perfectly balanced between sweet, spicy, salty and astringent. Little chopped peanuts and long beans give a distinctive crunch; tamarind and palm sugar work together in perfect balance. I was reminded of Camus: "In the midst of winter, I found there was, within me, an invincible summer." It's wonderful on a hot day.
Khao Soi Kai is perfect for a rainy night. It is like a Thai version of chicken soup. A very hot chili paste and nice crispy noodles are served on the side, giving a yin/yang in textures – add them as you see fit. Pickled mustard greens show what Thai food is all about: a group of completely different flavors, coming together in a harmonious blend, where none stand out, and all work together. It is also a reminder that, just because you call something a curry, it doesn't mean it has to be spicy hot, but rather distinctively spiced. That is the way it is served here. Lots of complex layers and textures all interplay just right; the best I've had in Portland.
Muu Sateh consists of about six pork loin skewers marinated in coconut milk and turmeric. A little cube of fat is placed at the end, which melts down a bit as the pork is grilled over charcoal. I have never been a big fan of sateh until now, but can honestly say this is the best I have ever had. It is so far above similar dishes served at most Thai restaurants, it can't even be compared. Here it is served with a good peanut sauce, a cucumber relish absolutely bursting with a medley of flavors, and grilled bread, which, sadly, doesn't do very well on the drive home.
For me, Khao Man Som Tam was like a religious experience. I could eat this on a regular basis. Let's take it from the bottom up. Steamed coconut rice. Oh my… give me a big bowl of this and a spoon. I have never had better coconut rice in my entire life. I sat in my car inhaling the stuff. Mixed with the juice from the caramelized pork it is so darn good… heck, I can't come up with the right adjective. The pork itself is shredded, slightly sweet and slightly salty, which works perfectly with the rice; fried shallots round out the flavors. Sometimes the pork can be a little bit dry, but even then it's great. Also, you need to remember that salty is a very important taste in Thai cuisine. Though your first bite of meat may seem a bit over-seasoned, take a few more bites and mix it with the rice. You will soon realize it all works perfectly. When the chef is on his game, this is an outstanding dish.
Finally, we come to the roasted game hen mentioned at the top of this review. Andy took me out back and showed me the rotisserie he imported from Thailand; the hens turning quickly over a glowing bed of wood coals, giving them a light smoky flavor with amazing aromatics from the lemongrass and garlic. Zounds! Crispy, crackly skin, perfectly moist, wonderfully complex flavors… I was literally bouncing around my kitchen going "Oh, this is so good!" I felt bad eating it alone, so shared some with the dog just so he wouldn't think I was crazy. He enjoyed it too. I almost finished the dish before noticing the dipping sauce, which is in a class higher than most. Not overly sweet or oily like so many Thai sauces, this was perfect, though I never did end up using much on the bird. It just didn't need it.
Phone: 503-232-1387 to order
Address: 3226 SE Division, Portland OR 97202. Map.
Hours: to-go hours: daily 11:30am – 10:00pm
Website: PokPokPdx.com