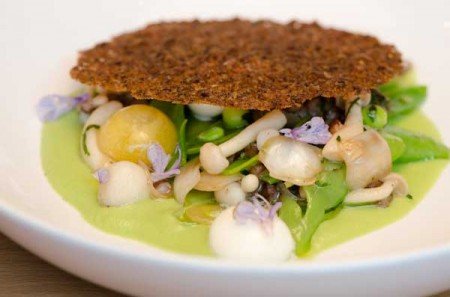 Portland Dining Month is returning for the month of June. This year more than 80 restaurants are offering a special three-course dinner for $29.00. The promotion includes big name restaurants like Aviary, Biwa, Bluehour, Genoa, Lincoln and Paley's Place as well as new businesses like Imperial, Oven & Shaker, Racion, Raven & Rose and Coppia.
Dining Month is a great way to check out local restaurants you've always wanted to go to, but couldn't afford the cost. Here is an example of the Paley's Place offerings:
First Course
Early summer greens – breakfast radishes, warm goat cheese croûte, lemon-chive vinaigrette
Second Course (choose one):
Grilled pork loin – bacon and heirloom bean stew-or-

Curried cauliflower-stuffed summer squash – sweet pepper agrodolce

Dessert
Olive oil cake – warm blueberry compote, roasted hazelnuts
and Aviary:
First Course (choose one):
Chilled zucchini soup – bitter almond, green grapes, Serrano ham-or-

Salmon gravlax – mussels, green papaya, grapefruit

Second Course (choose one):
Pan-seared skate wing – English peas, quinoa, lemon balm-or-

Hoisin-glazed short rib – Asian herbs, cucumber, corn pudding

Third Course (choose one):
Crème fraîche cheesecake – summer berries-or-

Chocolate terrine – peanuts, caramel ice cream
You can check out the entire listing here.
Note: Dining Month is a sponsor of PFD, but did not sponsor this post. I cover the event every year because I believe the event is a great thing for the Portland community.