After a very long vacation, I'm back in Portland – you'll find plenty of photos on my Instagram. Along the way, I ate at a wide variety of restaurants, and for the first time, the Portland scene feels a bit dated. It no longer stands out to me as a beacon of light. Sure there are lots of new restaurants opening, but it's been a while since something really stood out.
Salt & Straw Ice Cream is expanding locally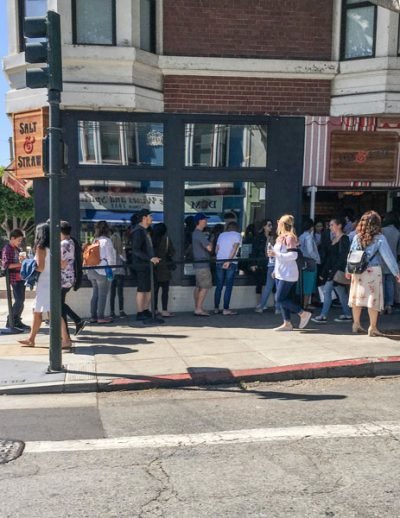 I was driving down Fillmore Street in San Francisco last week, trying to remember the name of an artisanal ice cream shop (Bi-Rite Creamery) when I came across a Salt & Straw. Yes, it had a line at 1:30 on a chilly afternoon. No, I didn't stop. Now The Oregonian is reporting that S&S is expanding to Lake Oswego.
"According to CEO Kim Malek, Lake Oswego made sense for Salt & Straw, both for its pedestrian-friendly downtown and an existing connection — the company has run an ice cream food cart at the city's farmer's market for several years."
The company, which now has 10 locations with two more in progress, recently received a large cash infusion from Danny Meyer's Union Square Hospitality Group.
People's Pig Expanding
The People's Pig, the restaurant which is number 2 in our survey of the best barbecue restaurants in Portland, is opening a second location. According to the Oregonian, the new space will be at 3004 E. Burnside St. If all goes well (and it rarely does in the restaurant business), they will open in late October.
The Pie Spot has Reopened.
The Pie Spot and Tails & Trotters were gutted by fire in February 2017. Now Pie Spot has finally reopened and is once again serving their little "cupcake pies". Meanwhile, the city has approved reconstruction plans for Tails & Trotters which also burned during the fire. Reconstruction is underway. For now, T&T has a food cart in the parking lot where you can purchase all their sandwiches and meaty goodness.
Cuban Restaurant Palomar to Coming Soon
Willamette Week reports that bartender Ricky Gomez is opening Palomar Cuban bar and restaurant at 959 SE Division Street.  Gomez won a 2012 bartending competition in Rio de Janeiro, the first American to do so.
From WW, "I want it to be very fun, very entertaining, very approachable," Gomez says. "There will be blenders, frozen drinks, shaken, stirred. A lot of it will be classic cocktails with twists: a Negroni with pineapple gin, and little variations on daiquiris. There will be a full daiquiri menu: strawberry, Hemingway, classic, blended." The food will be classic Cuban, which makes me very happy. Aside from the food carts, good Cuban food is difficult to find in Portland. Look for a December opening.
Slowburger R.I.P.
Sad news for fans of the busy scene at the Ocean restaurant complex at 2329 NE Glisan. Eater reports that the restaurant which was one of the original tenants in 2012 has closed. The restaurant has always done well on our Best Burger in Portland survey, placing number 6 in 2017. They signed out on Facebook – "It is with great sadness we have closed this location. You can still get our burgers at Slow Bar for those 21 and over. Thank you, everyone, for 5 years of burger love."
Fortunately, its mother restaurant, Slow Bar at 533 SE Grand Ave is still open, serving the same excellent burger.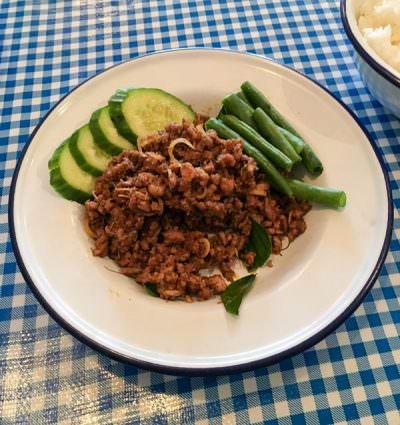 Hat Yai Opening Second Branch
Hat Yai, Earl Ninsom's southern Thai restaurant is expanding to a second location in SE Portland.  The Oregonian reports it will be near The Commons restaurant and will feature most of the same menu items with a few seafood additions. The exact location has not been released, but it's in the area of SE Belmont and 6th Ave. Have I mentioned I love Hat Yai? It's one of my favorite PDX lunch spots. If you have an aversion to spicy food, ask before you order. Just sayin'.