The Results for the 2017 Best Cocktail Bar in Portland are surprising.
Teardrop Lounge, which has topped this list every year other than 2011 suddenly dropped to number four. In its place, the next top choices all bumped up one. New this year: Mint/820, Laurelhurst Market, The Driftwood Room, and Bible Club. If you are into cocktails or planning the ultimate bar crawl, these places should be on your list.
802 total votes cast:
When Jeffrey Morganthaler took over the bar at Clyde Common, he turned it into one of the most popular in Portland. He is the author of the well received The Bar Book: Elements of Cocktail Technique, a book that I think should be in the home bar of anyone serious about dabbling in the craft. Go to Clyde Common for perfectly made classic cocktails, especially those based on whiskeys and bourbon – they have a great selection of both. The Happy hour menu lowers prices on 5 cocktails to $6, house beer and wine to $4 and $6 respectively, and offers a small selection of plates, among them pork and shiitake lumpia, chicken wings, chicken mortadella sandwich, killer fries and a burger, all priced between $5 – $8.  Review
Mon – Fri 11:30am – 11:45pm, Sat 10am – 12:45am, Sun 10am – 10:45pm
Happy Hour: Daily 3 pm – 6 pm.
503) 228-3333
1014 Southwest Stark Street Portland, OR 97205 Map (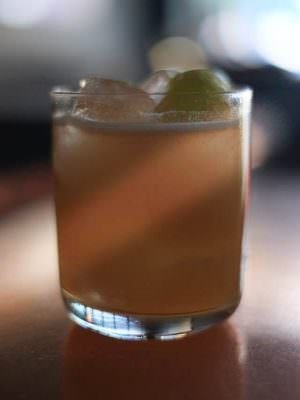 Bartender Kyle Linden Webster has quickly gained a reputation for well thought out, balanced cocktails. The scene is Portland cool, dark and cozy candlelight with the bartender switching from pouring drinks to playing DJ, spinning records to set the vibe. It's all very… sexy. Grab the booth in the back corner and soak it in; it's easy to while away time here. For the most interesting experience, pick a cocktail from the nightly selections and take in the scene. The food menu is interesting, designed by Kyle's James Beard award-winning wife Naomi Pomeroy. They are easily the most creative drinking foods in town: Chinese Sausage Corn Dog, Hot & Sour Indian Spice Fries, Shrimp Toast, Laotian Tacos,  Crab Paste & Corn Noodles, Rice Waffle & Hot Fried Chicken Strips, and James Beard's famous Onion & Butter Sandwich. Food prices range from $6 – $12. During happy hour the Expatriate Nacho is available – Fried Wonton Chips, Thai Chili Cheese Sauce, Spicy Lemongrass Beef, Crema, Kaffir Lime & Tomato Salsa for $12. Brunch is available from 10 am – 2 pm Saturday and Sunday. The whole environment speaks to places and times far away. If you haven't been, you owe it to yourself to give it a try.
Daily 5 pm – 12 am
No minors
5424 NE 30th Ave., Portland OR 97211  Map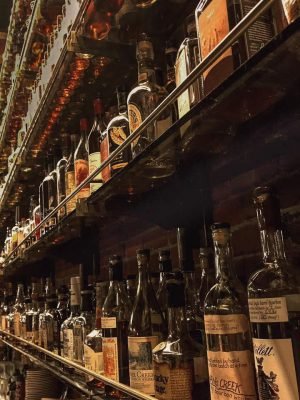 The name says it all, "an exhaustive collection representing all major and lesser styles of distilled spirits known to the modern world". If you are into whiskey or Scotch, Multnomah Whiskey Library must be on your bar list. A lot of money was spent this bar, but it was worth the cost – the interior is beautiful, with a clubby old-school vibe. It all feels very exclusive. However, before you drop in, there are a few things you should know. There can be a wait. Members get priority and pass everyone waiting in line – but membership is expensive, and currently, they aren't available.
You can buy a "Hall Pass" for $25 a person which also gives you priority over the lines, but there are restrictions. For example, hall pass requests must be made 48 hours in advance, so check the website for details. Yes, all of this can be a hassle, but everyone should go there once, and whiskey lovers will want to return.
The food menu runs the range from boards, Lamb Tartare with smoked bone marrow butter, Fries, Double Cut Pork Chop, a 40-day Dry-Aged Ribeye, Burgers and more.
Don't want to deal with the rigamarole? Try the Green Room downstairs. It's more casual, has a good selection of cocktails, and light bites from the kitchen upstairs.
Mon – Thurs 4 pm – 12 am, Fri – Sat 4 pm – 1 am
No minors
(503) 954-1381
1124 SW Alder St, Portland, OR 97205  Map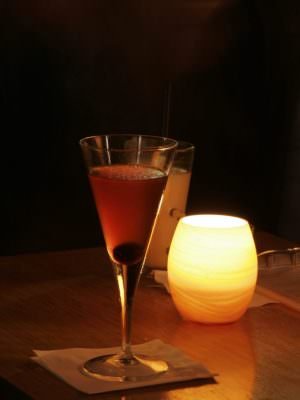 Teardrop was the first craft focused cocktail bar in Portland. These guys are obsessive, making their own syrups, bitters, shrubs and using fresh ingredients wherever possible. They have been written up in so many magazines they've made a national name for themselves. Go here if you want a perfectly made cocktail with the best ingredients available. From my review, "Their obsession isn't just with fresh fruits; it is also in digging up original ingredients – even making them in-house. The pedestrian Mai Tai reaches an entirely new level of complexity with the addition of house falernum, a floral, slightly sweet syrup redolent of almond, oranges, and spices. Add house-made orgeat and house Curacao, and at the first sip, conversation will come to a halt… I tried a friend's Dee Cee's Fuego with scotch, pomegranate molasses, and Carpano Antica vermouth. A quick flame of orange peel adds a caramelized orange note." The bartenders are always trying new combinations, improving on classics, and creating new modern cocktails. Cocktail prices range from $10 – $12. Food is pretty upscale, yet affordable: Roasted Marrow Bones, Truffle Custard, Caviar, Burrata, Beef Tartare, a Cassoulet and several boards. Prices from $5 – $17. Happy hour includes five cocktails @ $7 and small plates $5 each.
Teardrop Lounge is part of my regular rotation, a great place to relax, push your cocktail boundaries and try older drinks newly perfected.
Daily 4 pm – close, Happy Hour: Mon – Fri 4 pm – 7 pm.
(503) 445-8019
1015 NW Everett St., Portland, OR 97209. Map 
The Rum Club specializes in, er… rum drinks, with a whole list of cocktails featuring the spirit, including an excellent daiquiri. If you aren't very familiar with high-quality rums, try the three-pour tasting flight, guaranteed to open your eye as to the subtlety and sipping qualities of premium rums. I generally go with the "Drink of the Week", a featured classic which makes me flash back to my misspent youth. Not a rum aficionado? Don't despair, a long list of other spirits are also available. The drinks are strong but balanced, carefully made with quality liquors. I won't drive after a few cocktails here; I always get carried away. But the neighborhood has plenty of good restaurants to soak up the alcohol, or there is always Lyft.
It's a small place, and the crowd can be a bit exuberant at times, but Rum Club is popular for good reason. A small number of plates are available – dumplings, potatoes, sandwiches, skewers and a coconut rum cake. They also have a nice little patio.
Daily from 4 pm – 2 am. Happy Hour: 4 pm – 6 pm with six cocktails from $5 – $7 and a few small plates.
(503) 265-8807
720 SE Sandy Blvd., Portland, OR 97214  Map
6. Mint/820 – Closed 7.17
Many say that Mint started the Portland cocktail revolution back in 2001, when bartender Lucy Brennan took over the bar program at Saucebox, after which she left to create her own cocktail bar in what was then an iffy neighborhood under the shadow of the Fremont bridge.
Brennon quickly rose to fame by her use of house made fruit juices, purees, and an Avocado Daiquiri – light and gold rums, avocado, cream, lemon-lime, pomegranate molasses ($12). Ten years ago I stopped on the way to dinner and a friend knocked one over on my lap – dinner canceled. Not that I'm still holding a grudge. Cough. The cocktail list runs the gamut of freshened up classics along with some house creations. Prices range from $11 – $12.
Happy hour cocktails are $8, bringing in a good afternoon crowd with selections like Pineapple Drops, a  Guava Cosmo, House Mojito, Cilantro Lemon Drop and more. Well drinks and wine are $5. HH food choices include fries, salads, calamari, pork or chicken tacos, sliders and a lamb burger. I still drop by now and then to relax on the patio; a comfortable place to wind down a busy day.
816 N Russell St, Portland, OR 97227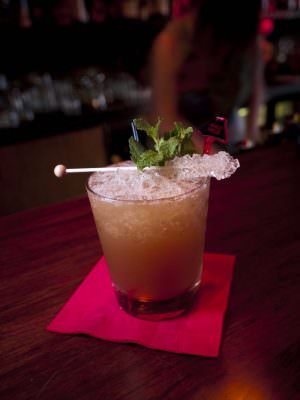 In the 50's and 60's tiki bars were a huge thing. They specialized in Polynesian drinks, most designed to be very strong yet go down easily. Over the years they have died out, and many of the remaining are dive bars. Enter Hale Pele owner Blair Reynolds. The man is clearly passionate about everything Tiki. The decor is authentic, and he makes his syrups from scratch, many of which were not available for years (you can also buy them at high-end liquor stores in many parts of the nation). If you haven't been to Hale Pele, you should give it a try. Hang out, learn about Tiki drinks, try some sipping rums, and have a good time. I'm partial to the Navy Grog – blend of aged rums and citrus lightly sweetened with honey. Another favorite with a great name: the Missionary's Downfall which is a 1937 ode to Don the Beachcomber – mint, peach, pineapple and light rum. If it has been one of those days, consider the Painkiller – don't ask, let's just say it will fix everything. The decor is pure Tiki kitsch, with genuine puffer fish lamps, carved wooden Tiki gods and more. Blair also has a nice selection of good sipping rums, with which he brought the cost of my home bar alcohol to a whole new level.
Open Sun – Thurs 4pm – midnight, Fri – Sat 4pm – 1am. Happy Hour daily until 6 pm with discounted food and many $6 drinks.
21 and over
(503) 662-8454
2733 NE Broadway St, Portland, OR 97232  Map
Laurelhurst Market is first a better than average steakhouse, with an upscale selection of charcuterie made from their butcher shop, marrow bones, beef tartare, salads and great steaks, along with a few other protein choices, a burger, oysters, scallops and more. Cocktails are far above the norm for this type of restaurant, though I've heard Kevin Ludwig, bartender extraordinaire has just left so we'll have to see how it all shakes out. Cocktail prices range from $11 – $14. Laurelhurst Market has more heart than most steakhouses; if you haven't been, it's well worth visiting. Every time we do a survey for the best steak in Portland, it clobbers the competition.
Daily 5pm – 10pm
503-206-3097
3155 E. Burnside, Portland OR 97214  Map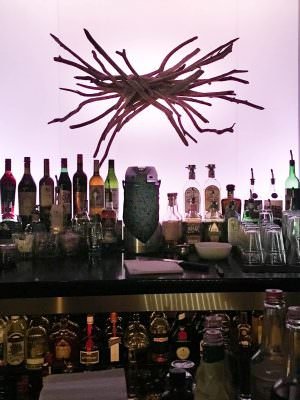 The Driftwood Room at Hotel Deluxe is a flashback to dark cozy cocktail bars, leather booths, and a feeling of intimacy not found very often these days. It's been open since the 1950's but has been beautifully kept up over the years while keeping the old-school vibe. The Driftwood is known for classics – old-fashioned, sazerac, gimlets and a selection of champagne cocktails. Prices range from $10 – $14. The bar food is better than most of the ilk, with everything from ceviche, meat and cheese board, steak skewers, a cheeseburger and more. In surveys from previous years, this bar won "Best Place for a Discreet Affair" more than once. I hadn't been to Driftwood Room for years but stopped by last winter when I wanted to escape the world. Mission accomplished, and I've dropped by several times since.
Mon – Thurs 2pm to 11:30pm; Fri 2pm to 12:30am, Sat 12pm – 12:30am; Sun 12pm – 11:30pm
Happy hour 4 to 6 pm and 9:30 pm to close, includes pints & glasses for $1 off, champagne cocktails $8 and reduced prices on small bites.
21 and over
729 SW 15th Ave, Portland, OR 97205  Map
Angel Face opened a bit off the radar but has quickly gained a following. The narrow little bar is owned by John Taboada, the force behind Navarre and Luce restaurants. The atmosphere is French, laid back; and yes, that wallpaper is hand-painted. There is no house cocktail menu, so if you aren't familiar with the standards, you may be a little lost. However, if the bar isn't too busy, the bartenders seem to enjoy working with you to make something you'll like. The food is based on French bistro. I go with a friend and order the Chicken Liver Mousse ($8), Steak Tartare with raw quail egg and traditional accompaniments ($14), Steak Frites ($18), and the Meat Board ($14), before waddling out the door.
Sun – Thurs 5 pm – midnight, Fri – Sat 5 pm – 1 am, Happy Hour: 3 pm – 6 pm
14 NE 28th Ave, Portland, OR 97232  Map  (503) 239-3804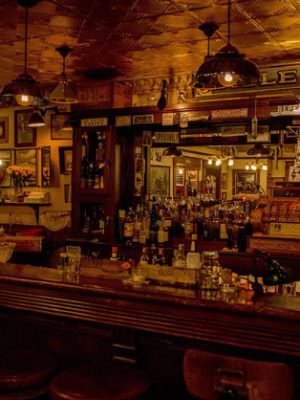 The Bible Club is on the second floor of a 1920's house in Sellwood. No expense seems to have been spared in the decorating – even the ceiling is 24k gold. It's like stepping into a period speakeasy, all beautifully done with original period pieces. If you are into the style, you won't find a better version anywhere in the northwest – check out this video. The menu is eclectic small plates, like Steak Tartare, Charcuterie Board, French Onion Soup, Truffled Mac & Cheese, etc. Don't miss the gravel patio downstairs at Revival Bar, shaded by big trees, its own bar, and strings of lights. It's all completely fenced in to keep it private (Open Wed – Sat 5 pm – 12 am only). One does pay a bit for the atmosphere; the drink prices are in the $12 – $15 range. Bible Club should be on the must visit list of any Portland bar crawl.
Wednesday & Thursday 5pm – 12am, Friday & Saturday 5pm – 1am, Sunday 4 pm – 11 pm. No happy hour.
6716 SE 16th Ave, Portland OR 97202  Map
21 and over
(971)279-2198
Jeffrey Morganthaler, bar manager of our first place winner Clyde Common has always been serious about the craft of cocktails, but never at the expense of having fun. In 2014 Pepe Le Moko opened in the Clyde basement, allowing Jeffrey to focus on craft in a smaller size and scale. He decided to apply his skills to the spurned and once ubiquitous cocktails of baby boomer hotel bars. The result is fresh and light-hearted drinks such as the Blended Grasshopper of vanilla ice cream, crème de menthe & cacao, Fernet Branca, Sea Salt; a Blue Hawaii with vodka, light rum, pineapple, lemon and blue curacao, and, a Long Island Ice Tea which is actually good – I drank a few one evening and pondered taking a Lyft the 5 blocks home. They also do quality takes on classics – one of the best Old Fashioned in town, Irish Coffees, Manhattans, etc. All drinks run $11 – $14.
The bar takes some of the posturing out of the craft cocktail scene, yet carries the trend of house made syrups and esoteric components on most modern cocktail lists forward. Food consists of oysters by the 1/2 dozen, bar snacks like deviled eggs, sardines, charcuterie board and cheese plates, and finally boccadillos (Spanish sandwiches) — Sweetheart ham and white cheddar, hummus and feta, Nutella and Jacobsen sea salt among the choices.
It's easy to walk right past the door and never notice it, but make the effort to find Pépé le Moko – it's worth your time.
Open daily from 4 pm – 2 am, no happy hour.
21 and over
407 10th Ave., Portland OR. 97205  Map  (503) 546-8537
Previous years:
2015: Teardrop Lounge, Clyde Common, Expatriate, Multnomah Whiskey Library, Rum Club, The Rookery at Raven & Rose, Angel Face, Hale Pele, KASK, Pépé le Moko
2013: Teardrop Lounge, Rum Club, Clyde Common
2012: Teardrop Lounge, Rum Club, Beaker & Flask, Clyde Common, Mint/820, Secret Society, Kask, Interurban, Kir Wine Bar.