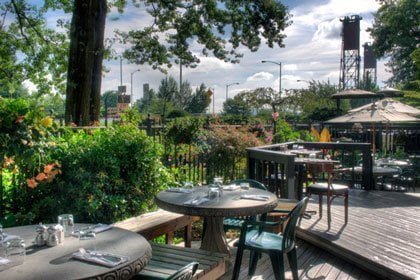 45 Year Old Veritable Quandary has been sold to Multnomah County
Not a big surprise to hear the news today that a deal has been made to sell the Veritable Quandary restaurant to Multnomah County. The century old building will be torn down to make way for a new courthouse. However, the restaurant will remain operating until the end of summer 2016.
The news first broke in 2014 that the county would be taking over the VQ outdoor dining area which it owned, leaving the restaurant butting up against the wall of the new building. The owner was concerned, because the new building would take over the land that he leases – the the patio and adjacent green space. He would lose the most valuable parts of his business – not to mention the chaos that would be caused by construction. At a joint press conference today, Owner Dennis King said "We explored a number of alternatives with the county to keep the restaurant open… I appreciate the efforts everyone made. In the end, the only viable financial alternative for me was to sell the property."
Over the years the Veritable Quandary at 1220 SW 1st Avenue has placed well in our reader surveys under Most Romantic Restaurant, Best Brunch in Portland, and number one in the 2015 Best Outdoor Dining. The owners always seemed like nice people. Best of luck to them.