Our complete guide to Portland's Best Bakeries
(completely updated: 6.17 – lots of new information, additions, changes. By Lizzy Caston and Food Dude)
Portland is well-known for great beers, coffee, and quality European style artisan breads, yet we also boast a very large choice of sweet shops, patisseries, chocolate purveyors and chocolatiers. For visitors or locals, here is our guide. Although this list doesn't include everyone in the Portland area, it does cover many of the more popular spots.
If we've missed your favorite bakery, let us know and we'll investigate, and add them to future updates.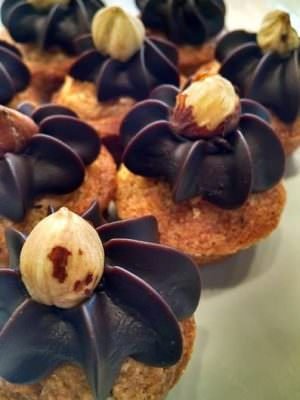 Voted #3 in reader survey 2017 Best Bakeries.
Bakeshop, which opened in early 2012, is owned by Kim Boyce, of the James Beard Award winning cookbook, Good to the Grain: Baking with Whole-Grain Flours. She worked for years with Nancy Silverton, founder of Pizzeria Mozza, Campanile and La Brea Bakery. Bakeshop has a growing following for their seasonal pastries and cookies, and you'll find their pastries in many coffee houses around town. If you ever get a chance to try their quiche, you owe it to yourself to step up – it's the best I've ever had. The shop is very small – just a few stools, but is well worth the visit to get their treats still warm from the oven. You'll find an interview with owners Kim and Thomas Boyce here.
5351 NE Sandy Blvd, Portland OR. 97213 map
(503) 946-8884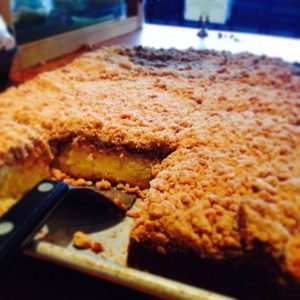 A successful bakery in the suburbs-meet-the-city Hillsdale area, Baker and Spice is one of the most popular bakeries in suburbs of SW Portland. You can read Portland Food and Drink's extensive write-up Baker and Spice here. They have also spun off  The Cakery – cake shop just a few doors down from the main bakery. I'm addicted to the cookies and the Irish Whiskey Cake (only available around St. Patrick's Day), but the coffee cake is a huge seller. The bakery also features soups, salads, "grab-and-go" sandwiches and more, all of which are above average in quality. Beware, during peak hours it can be difficult to get a table.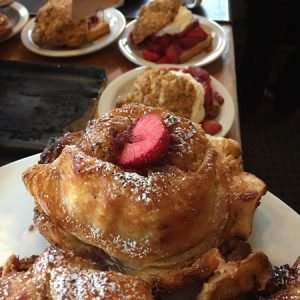 This café/bakery is almost always busy. It's gone through a few changes over the years, but continues to provide a bevy of house-made baked goods. It's a large, bright and cavernous space that can also be painfully loud at times, but no matter. When the weather is fine, large garage doors open to the street, reminding Portlanders why we put up with 6 months worth of gray and rain each year. Expect scones, croissants and other breakfast type pastries, alongside cheddar corn biscuits, bread puddings, and a very popular chocolate bread.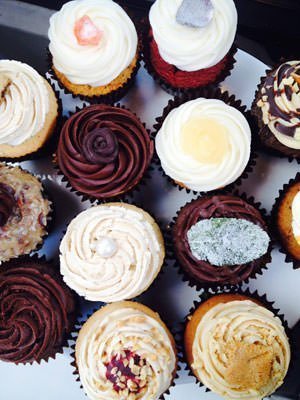 Cupcakes! First opened in 2007, Cupcake Jones has now expanded from their first location in Portland's Pearl District to a second on NE Alberta. Everything is scratch-baked using natural ingredients. Their specialties include items such as the Velvet Painting – white velvet cake filled with vanilla bean pastry cream, topped with vanilla bean butter cream icing and a white chocolate pearl, or the Downtown Cupcake Brown – devil's food cake filled with sour cream chocolate ganache, topped with fresh grated dark chocolate. Weddings and events are a specialty. I'm partial to the pumpkin pie cupcakes, and anything with their lemon curd. Take the kids for mini-cupcakes.
Fleur De Lis bakery is in the old Hollywood Library building at NE 40th and Hancock, which retains its library roots in the architecture of the building. Tall floor to ceiling windows allow light to spill into the room. Coffee and coffee drinks are available, all Stumptown blends. Owner Greg Mistell specializes in artisan French breads and pastries, of which there is a large selection: airy little apple puffs, flavorful rhubarb tarts, wonderful scones – maybe the best in town – are available every day. For almond lovers, the almond ring is a winner, exactly the way it should taste on a perfect crust. The croissants are flaky, light, and buttery without being oily, unmistakably authentic. The pain au chocolat has a good amount of excellent bittersweet chocolate running through it. One of these and a cup of coffee and I'm set for the morning. Other notable offerings: walnut pecan rolls, cinnamon rolls, pecan coffee cake, apple mazurka , blueberry scones, orange-currant scones, banana-walnut scones. Not only is this an excellent bakery, but they have breakfast and lunch items such as pancakes, omelets, egg sandwiches, salads, sandwiches etc. There is plenty of space to spread out – family friendly and a patio out front.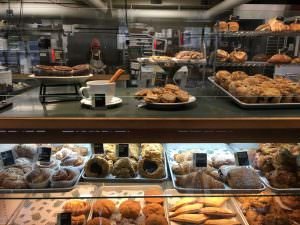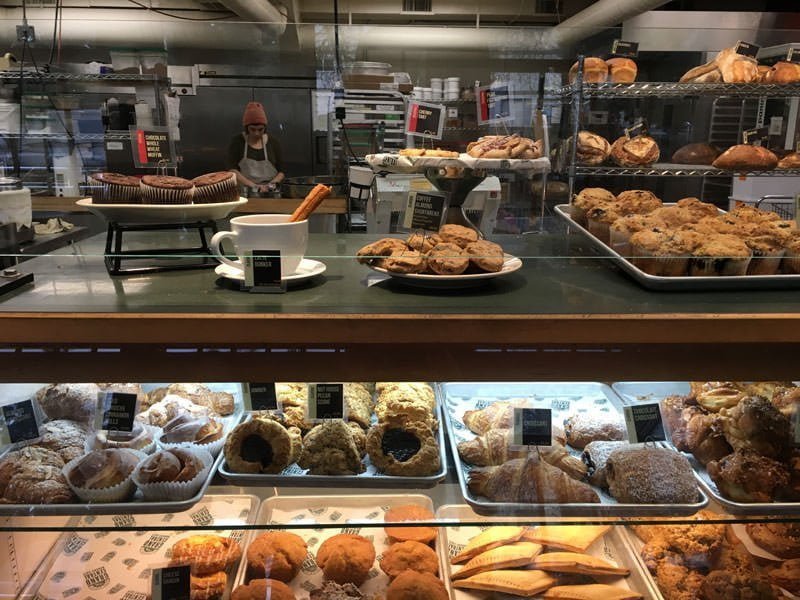 #6 in Best Bakeries 2017. Though Grand Central Bakery has its roots in Seattle, the first Portland branch opened way back in 1993. Since then, they have slowly expanded to seven branches, all featuring local and sustainable ingredients. The bakery has a wide selection of breads: sesame currant loaf, como, ciabatta, levain, etc. Grand Central also has a large number of pastries, pretty much what you would expect to find, and they draw a large lunch crowd with a selection of made to order sandwiches and salads. Of course you can get a variety of espresso drinks too. Also popular are their frozen U-Bake products – pie dough, pizza dough, puff pastry and pies.
Grano Bakery and Market is located in downtown Oregon City. After a recent rave in the Oregonian, we decided to drive out and pay them a visit. The bakery is easy to find, and offers easy parking. The bakery is known for bread, so we bought two loaves, a brioche and a spelt flour loaf. At the same time we bought several types of dessert breads, and a white nectarine polenta cake, and a chocolate rye hazelnut cookie.
We thought everything was just fine, but not up to the raves in the O. Their strength is definitely the breads. The brioche was light and airy, with just a slight sweetness. The spelt was great, dense but moist, ready for the dinner table.
Coffee, as seems to be true for many of the bakeries we've visited, was awful – I threw mine away.
If you are in the area, definitely give Grano Bakery a try, but I wouldn't drive all the way to Oregon City for it.
In a city with Parisian quality patisserie, and James Beard award-winning artisan bakeries, sometimes you just want a good old-fashioned American Bakery. Helen Bernhard will take you back in time, to the kind of bakery with a scuffled formica floor, a take a ticket number system for customers, cakes, cookies by the dozen, and even that antiquated, "ladies who lunch" classic: petite fours. We keep coming back to Helen Bernhard's because after being in business since 1924, they've perfected their craft. Bernhard's also makes bread daily from thin sliced white for canapés, to classic raisin bread.  A go to for custom birthday and other cakes – always moist, light, perfect using real butter cream, vanilla and sugar.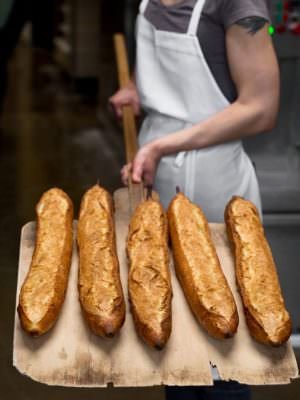 #2 in Best Bakeries 2017. Ken Forkish opened Ken's Artisan Bakery in 2001 to accolades from Travel + Leisure, The Los Angeles Times and more. Known mostly for their artisan breads, Ken's also makes a variety of pastries. Expect French traditional selections like croissants, cannelés, brightly colored macarons, and seasonal fruit tarts. American-style baked goods include pound cakes, Valrhona chocolate chip cookies, and flaky, sweet, orange Morning Buns. This café is a popular spot on bustling NW 21st. Expect long lines and hectic service during the morning rush and especially on the weekends. However, hit it on an off time and have a moment of relaxation with a cup of coffee and a pastry. Ken's has recently started offering pastries along with pizza at Trifecta Annex in Pine Street Market, SW/Downtown. In 2012, Ken wrote Flour Water Salt Yeast: The Fundamentals of Artisan Bread and Pizza for which he won a James Beard Foundation award. It remains the Amazon #1 in the bread baking category. Want more? Try Ken's Artisan Pizza, which is consistently voted one of the best in Portland by our readers.
We have an interview with owner Ken Forkish here.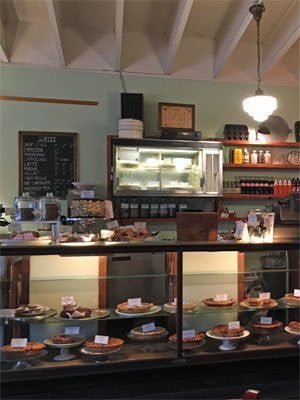 #5 in Best Bakeries 2017. When you specialize in pie, you'd better be Blue Ribbon State Fair worthy. Loretta Jean's pulls through, with great pies – flaky crusts and tender, never too cloying sweet fillings. Pies are often seasonal: Strawberry in late spring, Blackberry in summer, S'mores Pie in winter. Other pies rotate on the menu from a textbook traditional pecan and coconut cream, to a fancy pear strudel and salted honey pie. The Division Street location also acts as a breakfast-lunch spot with a tight menu of biscuits such as biscuits Benedict or biscuit egg sandwiches, while lunch offers homemade soups, salads and sandwiches. The atmosphere is a flashback to cosy cafés, comfortable alone or with a friend. On a recent warm weekend evening, the cafe was packed with happy people. Don't miss the pies in the cooler behind the register.
The downtown location also serves coffee and espresso drinks out of a tiny, but charming storefront.
Reader's Choice #1 in 2017. Little T  quickly gained a legion of fans for their French baguette and other breads, and many people consider the best bakery in Portland. Though they have a comfortable seating area, the selection of pastries is usually limited to ten or so, but the focus shows in the food. The selections are flawless and sell out quickly, so get there reasonably early. Sometimes I get up early on Sunday morning and drive over just to beat the crowds and quietly indulge it still warm baked goods. I've been known to eat an entire mini-baguette in a sitting, and their toffee cookies call to me like a siren on the rocks. Just get over there and try them for yourself. In my opinion, Little T is easily one of Portland's best bakeries.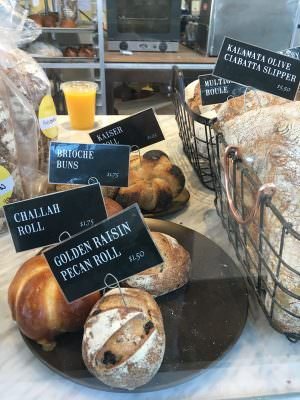 A recent post on the Lovejoy Bakers Blog read, "Light, Airy, Buttery, Goodness." Yep, that pretty much sums it up. Baked in the Viennoiserie style, this means baked goods here are in the classic patisserie tradition of feather-light croissants, creamy éclairs, and a very addictive hazelnut caramel tart. Scones are textbook British with the addition of things like crystallized ginger or dates. American treats include rich moist coffee cakes, muffins, and Walnut Cinnamon Gooey-Buns. This is also a full service café serving breakfast and lunch alongside espresso and coffee.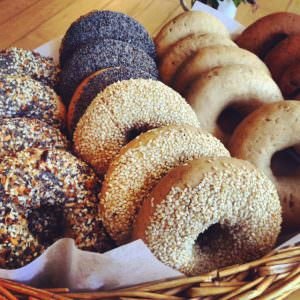 This is a completely gluten-free bakery offering breads, pastries and cookies. New Cascadia sells at the Portland Farmers Markets, but they also have a new storefront café near SE Hawthorne with coffee, tea and other beverages. Cookies include peanut butter chocolate, ginger lemon, and a vegan chocolate chip version. Pastries include things like fruit pies, cinnamon rolls, cupcakes and brownies. Whole cakes are available by special order.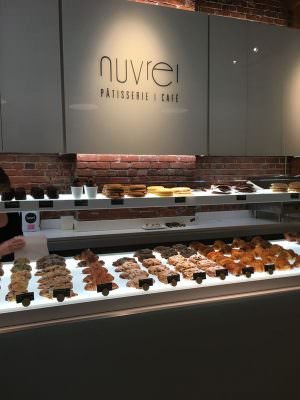 You'll know you are there by the odor of baking pastry. "Founded by Owner/Pâtissier Marius Pop, Nuvrei is a pâtisserie in Portland's Pearl District, known for skill, sophistication and innovation. Marius Pop worked under François Payard in New York before returning to Portland to open his own shop. Trained in French techniques, Pop uses classic pastry as a platform for modern experimentation and creativity. Nuvrei uses the highest quality ingredients in all of their products, each made carefully by hand." Nuvrei sells wholesale to many of Portland's coffee houses and cafés, so you might already be familiar with their brioches, chocolate chew cookies, and croissants. Yet, Nuvrei also has a storefront located in the Pearl District, with a macaron store downstairs. Orders can be placed, including special orders for cakes by calling ahead. Look for the macaron bakery hidden below street level on NW 10th st. Their products are also available at many Portland coffeehouses.
I'd heard rave reviews about the Japanese bakery, Oyatsupan, and made the treck to Beaverton with great expectations. They specialize in "oyatsu pan" breads you see in most of the Asian markets around town. The space is bright and airy, one wall lined with bins of pastries that reminded me of a 50's automat – wander down the row with a pair of tongs and a tray, oohing and aahing over the cute little pastries. You'll find all kinds of mini chocolate croissants, cream puffs, red bean rolls, and all manner of pastries. There is also a refrigerated section for more perishable items, and a selection of savory pastries. Unfortunately, we didn't find the goods to be much better than you find pre-wrapped at H Mart. That being said, it's a fun experience to wander down the row of pastries, and if you want to take photos for your Instagram feed, this is the place. Prices are a bit higher than you may be used to; about $2.50 and up. Service is great, and the whole place has a friendly, family atmosphere. They have a small selection of sandwiches, but I tried the hotdog, which was interesting – made with a pastry bun with a glaze of mustard which is baked on. Interesting, but I didn't see fireworks.
This may not be the best bakery in Portland, but it's worth the drive on a nice weekend morning, especially if you are heading that way. Your kids will love it.
A Portland dining institution, Papa Haydn are full restaurants, but they are best known for their huge selection of desserts. Desserts are available for carry out, and are often from the ooey-gooey chocolate and dairy rich school of pastries, but hey there's nothing wrong with that. They often look like something you'd expect to see on the British Baking Show. Expect a large selection of New York style cheesecakes, panna cotta, and crème brulee alongside Dobos torte, Cassata cake, and a variety of cream and fruit pies. Whole cakes are available for order with 24 hours advanced notice, and they do offer an extensive custom wedding cake service. One warning, both locations are extremely popular – be prepared to wait for a table.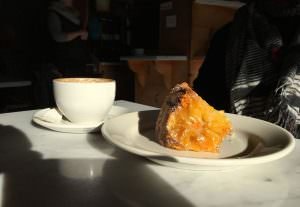 These pioneers have been baking artisan breads, cakes and other pastries since 1997 in Portland's Pearl district, when the area was still a gritty semi-warehouse district. As the neighborhood grew upscale, they've expanded the cafe offerings over the years to include soups and sandwiches, but the baked goods still hold court. For many years they were the bakery to beat, but quality dropped. However, over the last year they have upped their game substantially, adding a variety of excellent pastries and cakes. Alongside croissants, scones and cookies, look for their signature Gibrassier – a traditional treat from Provence made from a sugar dusted brioche-type bun infused with anise. Other specialties include Parisian macaroons, several types of tarts and layer cakes, and a rare sighting in Portland bakeries, traditional Gateau Basque, which is really a crumbly double crust tart stuffed with pastry cream and cherry preserves. Time for lunch? The sandwiches are excellent, though sometimes a bit daunting in size for lunch. The Pearl Bakery has been around for many years for good reason: it is one of Portland's best bakeries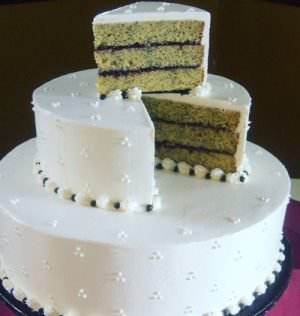 This bakery in the Sellwood neighborhood runs the gamut from elaborate tiered fantasy wedding and other cakes, to basic desserts, cookies, and other treats. Cakes come in a huge amount of types and flavor combinations. These include standards such as carrot, lemon poppy seed, and Devil's Food, alongside oatmeal cake, apple rum, berry, and chocolate peanut butter. They even provide options such as sugar free, vegan, and gluten free. You name it, they can probably make it. Living up to their namesake, Piece of Cake has all of their cakes for sale by the slice, while whole cakes come to order in several sizes. Pies include fruit versions as well as a signature Key Lime. Cupcakes, brownies, and tiramisu round out the offerings. This is not a place to visit if you are claustrophobic –  it is jammed from counter to ceiling with sample cakes, cake decorations and other bakery accouterments such as bride and groom toppings, ribbons and boxes. They do wedding cakes and custom orders, of course.
Pix is the Parisian princess of the Portland sweet shops, showing up in international guidebooks and is a de facto stop for many visiting guests and locals alike. Part quirky late night "date" bar serving champagne and other cocktails, part daytime cafe with the usual fixings, and part dessert shop, the funky French thrift store decor and late night hours only add to the vibe. Yet, Pix is also a serious patisserie and chocolatier featuring classic small pastry offerings such as Dobos torte, Gateau Opera, Macarons, and various creative creams, cakes and tarts. Their signature Amelie once won the Patis France Chocolate Competition. It is made with orange vanilla crème brûlée atop a glazed chocolate mousse, caramelized hazelnuts, praline crisp, and Cointreau génoise.  Chocolates include house soaked kir cherries covered in dark chocolate  and a variety of infused, stuffed and flavored selections; they also makes their own ice-creams. Pix has won many awards for having one of the best wine lists in the nation, and the best Champagne and Sparkling Wine List in the World… and the staff is knowledgeable about many selections. Look for special events such as their prix fixe dessert dim sum, spirit and dessert pairings, or kitschy movie nights.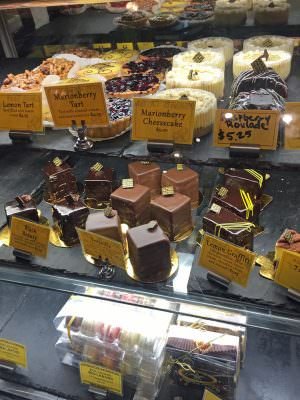 La Provence has three formidably sized locations in the Portland area, and one in the Dalles, making them more Grande Provence than Petite. And even though this self-proclaimed boulangerie and patisserie has an extensive menu more suited to a restaurant, including sandwiches, soups, salads and full breakfast, they do indeed offer a huge selection of pastries. Look for French favorites such as croissants, pain aux raisins, and palmiers alongside more Yankee sweets such as Bear Claws, fruit turnovers and coffee cakes. Dessert pastries are indeed quite Gallic though, including Chocolate Mousse, Strawberry Charlotte, and a classic apple and salted butter caramel Tart Tatin. Custom catering orders and wedding cakes are also available.
Random Order is a neighborhood café that makes cakes, pies and other baked goods, but also sources from bakeries such as the Pearl Bakery. Yet when it comes to house made pies, this is where Random Order really shines. Expect a dozen or so choices on any given day, including Banana Rum cream pie, Vanilla Apple Salted Caramel, or Oregon Cherry. Random Order Coffeehouse & Bakery has a full liquor license and is open till around 11 pm Thurs – Sat, making it a perfect stop for an end of the evening Spanish Coffee and a slice of Chocolate Cream pie, or a warm up with a glass of champagne and a slice of Marion Berry pie before a night on the town. Pieces are available by the slice, or whole pies are available upon special order. Contact them for details, and be sure to reserve in advance for major holidays.
Roman Candle Baking opened in 2013 by Duane Sorenson, founder of Stumptown Coffee. As far as bakeries go, this one stands out for the amount of money spent on the building. Marble, rustic wood beams and dark walnut tables help create a comfortable ambience, but the star is the food. The selection of baked goods is small, but as of this writing, the quality is some of the best in the city. I'd put their puff pastry up against any in Oregon; full of crispy little layers that crackle gently when you bite into them. Selection rotates, but a few items are always on the menu: the crusty Kouign Amann cake, seasonal fruit Danish, chocolate croissant, morning buns and bran muffins. Since opening, the bakery has expanded their offerings to include salads, sandwiches, and pizza. Like many people, I'm burnt out on kale, but the salad here with pine nuts, currants, pecorino romano, lemon and breadcrumbs is worth the rather steep $12; I get it every time I'm here. Breakfast is a bit more upscale too; try the "everything bun with steamed duck egg and aged cheddar". Of course, owing to the owner's roots, the coffee is terrific. These factors place it high in the list of Portland's best bakeries.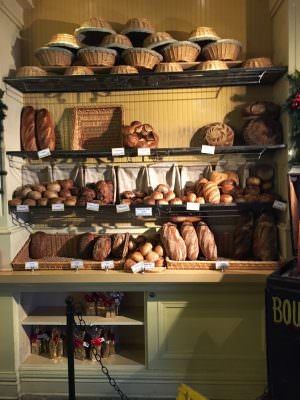 #4 in Best Bakeries 2017. A quintessential Parisian style cafe/bakery/patisserie, or at least an American fantasy version of one. We'll let you be the judge of St. Honoré's quality and authenticity, but feel free to read our hotly debated review from 2007. A variety of croissants, brioche and other classic French sweet breads share space with tarts, custard flavored Canelet, and Chouquettes – sugary, puffy baked pastry balls made from buttery pate á choux dough. Desserts include several French classics such as Eclairs, Napoleons, fruit and pastry cream filled Mille Fleurs, and the like. A great selection of sandwiches and salads are also available, making this a great place to end a hike in Forest Park, or from the second location, stroll around SE Division. Both are close to Salt & Straw – why not throw the diet out the window and truly go for it!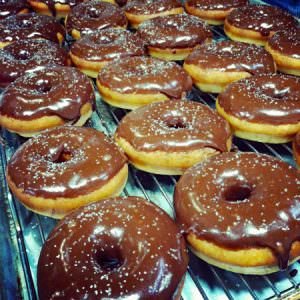 100% vegan, Sweetpea offers standard bakery fare, sans animal products, including cakes, cupcakes, cookies and other pastries. Boston Cream Pie, Banana Peanut Butter, Chocolate Decadence, Lemon Chiffon are but a few of the flavors. They can make cakes, gluten-free in many cases, and can make some baked goods soy free as well. Custom orders, including wedding cakes, are available. The storefront is also a café offering soups, sandwiches and coffee/espresso beverages.
Once upon a time in most American cities the term "bakery" conjured up images of places like Tulip – simple linoleum floored and fluorescent lit storefronts selling basic breads, row upon row of cookies, sticky buns, and custom cakes with fancy frosting and cursive writing. Located in the St. Johns neighborhood, Tulip Bakery is one of a few of its type left in Portland, but continues to provide the neighborhood with coffee cakes, seasonal items such as hot cross buns, and yes, cookies and cakes. This bakery is indeed cute – look for their whimsical seasonal window displays and a fancy vintage neon sign above the door. Do look past the design though, to try one of their freshly made maple bars made with real maple. Closed Monday – Tuesday.