We know from the last survey where to go when you want romance, but how about the Best Portland Restaurant for a First Date? I have strong feelings about this. Before I go on a date, I want to know 1) do they like dogs, and 2) how adventurous their palate is. Those two things are stoppers for me. Sure, roll your eyes, but admit it: we all have secret deal breakers.
With this in mind, I want a restaurant that is fun, not too romantic, fairly inexpensive, and that has interesting food choices. Give me a plate of octopus – if my date recoils, it's just not going to work. Also, as a commenter pointed out, I also want to be able to hear what they are saying.
Your first choice is unchanged over the last few years, and the same as mine  – Toro Bravo. My second choice would be Aviary, which didn't make the list this year.
680 votes cast:
1. Toro Bravo – 19.12% (!)  $$
I think the brave bull is a perfect choice: safe if it needs to be, and a bit daring to many people as lots of folks aren't very familiar with Spanish food. Small plates mean you get to try a lot of dishes, they have excellent service, a vibrant atmosphere, and the prices are low enough so that if your date turns out to hate dogs, you don't end up kicking yourself later.
120 Northeast Russell St. Portland, Oregon 97212  Map  (503) 281-4464
2. Portland City Grill – 8.09%  $$$
This restaurant is all about the view. Happy hour is a great way to get to know someone for a low initial outlay. If it's not going well, you can just stare out the window and fantasize you are really sitting with Lauren Bacall. Speaking of which, the happy hour is Mon-Sat 4 pm – 7pm and 9 pm- close; Sunday noon until 11 pm. Keep in mind that Portland City Grill is very popular and the happy hour is only available in the lounge. The regular menu can be pretty spendy depending on what you order, and the food is justso-soo, but that view!
111 5th Ave, 30th Floor Portland, OR 97204  Map  (503) 450-0030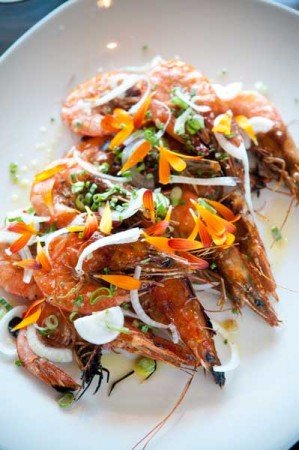 3. Little Bird – 6.99%  $$$
Little Bird seems to be faring quite well so far in the 2015 surveys. It is the child restaurant to Le Pigeon, and is owned by Gabriel Rucker, who won the "James Beard Rising Star Chef Award – Age 30 or Younger" in 2011, and in 2013 won the "James Beard Award – Best Chef Northwest".
Justifiably, the restaurant has a large, passionate following. The cuisine has been called French fusion and modern French – I think the latter best describes it, though there are some dishes that are true to the classic cuisine, such as crispy sweetbreads, cassoulet, and roasted marrow. You can get adventurous here too: Anchovy Cured Pork Belly, Steak Tartare which includes fried oysters, or a burger with foie gras.
219 Southwest 6th Ave. Portland, OR 97204  Map  (503) 688-5952
4. OX – 7% (tied with Departure)  $$$
OX hit the Portland food scene like a wrecking ball, drawing huge crowds from the day they opened. Part of the allure is that Portland has never had a decent Argentinian style restaurant, the second part is the food is damn good. Much of the menu is from the grill, imbued with a wonderful smokey taste. Try the "Asado Argentino for 2) – grilled short rib, house chorizo and Marcilla sausages, skirt steak, sweetbreads, fried potatoes and green salad. You'll be doing well if you make it through the platter, but being prone to gula, I ordered it for myself one night and regretted it for days. On the other hand, if you think things might take a frisky turn later in the evening, you might want to go with something smaller. When they have goat, it's wonderful; a mound of moist, sweet, slightly gamey meat. I always order the bruschetta, and you can't go wrong getting the clam chowder with smoked marrow bone, the empanadas, beef ribeye… it's all good – just go, but be prepared to wait, and wait for a table. Insider tip – be there when they open.
2225 Northeast Martin Luther King Junior Blvd. Portland, OR 97212  Map  (503) 284-3366
4b. Departure – 7%  $$$
Departure has always been a "see and be seen" type of place, mostly catering to a younger, hip crowd (I just dated myself by using "hip" in a sentence, so that leaves me out). Its reputation grew even more when chef Gregory Gourdet ended up as a finalist in the 2015 show, Top Chef. It is also a "Diner's Choice" winner from Open Table. The food is modern asian/fusion – Sushi, Dim Sum, Kushiyaki, and a variety of specials. All of this is served in an ultra modern environment – in part of the space the interior lighting reminds me of the Virgin Airlines VIP lounge. The outdoor patio has a great view – it placed 2nd in the 2015 Best Outdoor Dining list. They have a separate gluten-free menu, and a very popular happy hour with less expensive small plates.
525 Southwest Morrison St. Portland, Oregon 97204  Map  (503) 802-5370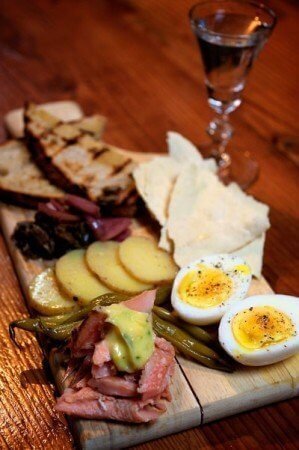 5. Tasty n Sons – 6%
Tasty n Sons has made our Best Restaurants in Portland list every year since it opened, and for good reason. The food has influences not only from Spain, but from the entire Mediterranean. In late 2014, they retooled, with a few changes to the restaurant layout and dropped some menu items. With these changes came an Americana meets Chesapeake Bay vibe, with selections like Clam Chowder, Carolina Peel n Eat Shrimp, Fried Clams, and Shrimp n Grits.
If you aren't doing the walk of shame the next morning, and want to have breakfast together, the quality of the food draws a line every day of the week. The Griddled Bacon-Wrapped Dates come with a light shower of warm maple syrup. More traditional items soar above the competition. The Toast & Jam is wonderful; thick soft bread, teleme cheese, and a smear of jam pairs nicely as a side to any of the larger plates. The same can be said for Erin's Sweet Biscuits with warm berry compote, or House-Made Granola with marionberries, kicked up with sweetened lebneh, a soft cheese made from Greek yogurt.
3808 North Williams Ave, Suite C. Portland, OR 97227  Map  (503) 621-1400
6. Higgin's Restaurant and Bar – 5.15%  $$$
Higgin's isn't cheap – a meal here will set you back quite a bit. But the service is some of the best in the city, and the restaurant has a strong focus on Northwest cuisine using local, sustainable ingredients. I can't speak for the food in the restaurant; it's been too long since I've dined here, but every so often I drop into the bistro/bar in the back which is considerably cheaper, for a good beer, Oyster Chowder, Totten Inlet Mussels, or some excellent Oysters on the half shell. The Higgins Burger on a hearth-baked roll made our Best Burger in Portland 2015 list. Though popular, the bar feels like you've discovered something new, and your date will undoubtedly be impressed that you know about it. There is a side door around the corner if you are just going to the bar.
1239 Southwest Broadway, Portland, OR 97205  Map  (503) 222-9070
7. Noble Rot Wine Bar – 4.41% $$-$$$
The great view of the city, looking out over the river from the east side makes this a destination for many. The open 4th floor patio makes it even better on nice days – it places on our Best Outdoor Dining list every year – go on a summer evening to watch the sunset over the west hills. The restaurant is very popular, and always has a good buzz about it. I always get a wine flight, which runs around $15 for 3 wines. I was here a few weeks ago and enjoyed their Grilled Romaine, Brussels Sprouts and a Hamburger. They grow some of the produce in a garden on the roof – talk about local.
1111 East Burnside St. Portland, OR 97214  Map  (503) 233-1999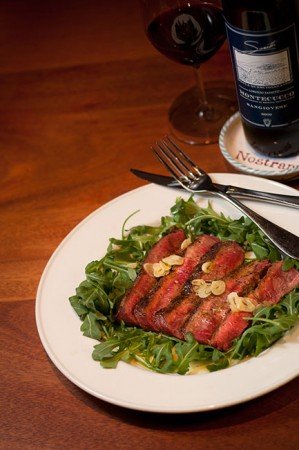 8. Nostrana – 4.04% $$$
This busy restaurant always places at the top in the Best Italian category of our reader surveys. The resulting popularity can make it difficult to get a table on many nights. I like to drop by for lunch, Mon – Fri 11:30 – 2:00. Otherwise, make a reservation. I'd call the food "real Italian". It's not spaghetti and meatball stuff. Rather, think Grilled Squid, Paglia e Fieno, Venison and Cherry Terrine, Smoky Rotisserie Chicken… in short, it's what you'd get in Northern Italy. The House-made Charcuterie is a terrific first course that should not be missed: venison and cherry terrine, smoked trout rillettes, crispy trotter, chicken liver mousse, rabbit rillettes, tonno del Chianti, pulled lamb, pickles, pear and apple chutney. The pizza is true Italian style, scorched and thin as a cracker, focusing on a small number of really good toppings. I like them simple: tomato, garlic and wild oregano.
1401 Southeast Morrison St. Portland, OR 97214  Map  (503) 234-2427
9. Angel Face – 3.31% (tied with Bollywood) $$
I discovered Angel Face on NE 28th a few months ago and enjoyed it. Relaxed, friendly, comfortable bar seating, good food great cocktails and reasonable prices. Try the Meat Board, Butter Lettuce Salad, Steak Tartare, and Steak with Fries. Add a couple of cocktails and shake. I think this is a great choice for a date.
14 Northeast 28th Ave. Portland, OR 97232  Map  (503) 239-3804
9b. Bollywood Theater – 3.31% $
Both branches of the decidedly casual Bollywood Theater are almost always busy. Lots of daily specials. Open 11 am to 10pm 7 days a week, so stop in for lunch. Troy says, "Opening Bollywood has been fun. I want people to come in the door, and I'm saving them the plane ticket. You're drinking out of a steel cup and eating off a steel plate just like you would if you were in Mumbai. I want people to have that experience, as if they have gone some place." He succeeds. Most of the menu is composed of Indian street food. Try the Dahi Papri Chaat – thin house-made crackers topped with chickpeas, potatoes, yogurt, cilantro and tamarind chutney, Lamb Samosas with spiced tomatoes, mint, onions, ginger and peas along with two chutneys.
3010 Southeast Division St. Portland, OR 97202  Map  (503) 477-6699
2039 Northeast Alberta St. Portland, OR 97211  Map  (971) 200-4711
2013: Toro Bravo, St. Jack, Departure, OX, Paley's Place, Biwa, Le Pigeon, Oven & Shaker, Wildwood, Ned Ludd.
In 2012: Toro Bravo won, followed by Andina, Biwa, Le Pigeon, Paley's Place, Ned Ludd Grüner, Aviary, Departure, and Little Bird Bistro.
For 2010: three votes stood above the crowd, Paley's Place, Toro Bravo and Le Pigeon
Some of my favorite comments from this question:
Yamhill Public House – I've taken most of my first dates there. Only one lasted. She's now my wife.
Angel Face – You can tell a lot about a person by a cocktail order, and how they respond to a place without the "safety" of a designated menu.
Iorio – You can actually hear what your date is trying to say.