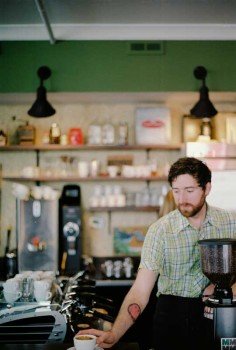 Once again I asked the question, "what is the best coffeehouse in Portland?" As always, the results proved  interesting.
In 2012, the ranking was: 1) Ristretto Roasters, 2) Barista Coffee, 3) Stumptown Coffee, 4) Heart, 5) Coava, 6) Coffeehouse NW, and 7) Extracto. For 2013, everything has changed.
Out of 1704 votes:
Barista I – Pearl District: 539 Northwest 13th Avenue, Portland. Map
Barista II – Alberta St.: 1725 NE Alberta St., Portland. Map
Barista III – 529 SW 3rd avenue, Portland 97214. Map
Coming soon to NW 23rd

2181 NW Nicolai St., Portland 97210  Map
3808 N Williams Ave, Portland 97227  Map
555 NE Couch St., Portland 97232 Map

1028 SE Water Ave., Portland 97205 Map
Social media played a place this year, with companies like Kobos, Nossa Familia, Oblique Coffee Roasters and Rose City Coffee moving up in the ranking. Some notable changes: With the exception of Barista Coffee and Ristretto Roasters, none of the coffeehouses that made last years' list placed in the top ten in 2013. Heart Roasters, which came out of nowhere last year to place 4th, plummeted, getting only 20 votes, followed closely by Coava Coffee Roasters, Coffeehouse NW, Jim & Patty's and Extracto. Stumptown dropped way down, receiving 18 total votes; it is interesting that they won the 2013 survey for Best Roaster, but were half way down for Best Coffeehouse.
For those who are interested, the 2011 rankings were Stumptown Coffee Roasters, Barista, Coffeehouse NW, Ristretto Roasters, Heart Coffee Roasters. For 2010: Stumptown (huge margin), Barista Pearl, Coffeehouse NW.
Later this afternoon we'll do a drawing for the winner of the $25 gift certificate to Barista Coffee, and will be notifying them by email.