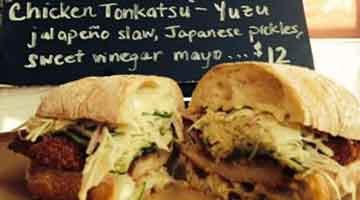 I asked, "What is the best restaurant for lunch in Portland", deliberately excluding food carts – nothing against them, this just isn't a food cart site. 70 different restaurants received votes. Two ties made up the bottom group, so I extended the list a few extra places.
1,323 votes:
1. Lardo – 12.1% of the vote.  $  
The menu features sandwiches such as a Pork Meatball Banh Mi, Korean Pork Shoulder, and Ginger Fried Chicken.
Portland West: 1205 SW Washington St., Portland OR  Map  (503) 241-2490
Portland East: 1212 SE Hawthorne Blvd., Portland OR  Map  (503) 234-7786
Portland North: 4090 N Williams Ave., Portland OR  Map  (503) 841-5373
2.  Bunk Sandwiches – 11.91% $  My review
It's all about the sandwiches here. Choose from perfectly crafted selections such as Pork Belly Rueben, Pulled Pork, Oregon Albacore Tuna Melt and many more.
Bunk Downtown: 211 SW 6th Ave., Portland OR 97204  Map
Bunk Morrison: 621 SE Morrison St., Portland OR 97214  Map
Bunk Alberta: 2017 NE Alberta St., Portland OR 97211  Map
3.  Olympia Provisions – 8.51% $-$$ Roger Porter's Review
My go to spot when I'm meeting friends for lunch. The sandwiches feature OP meats, and are a step up from the norm. Examples are Fre3sh Chorizo, Spicy Fried Chicken, Bratwurst, and Pork Frankfurter. They also have larger plates such as the excellent Ploughman's Platter or Rotisserie Chicken along with a few salads.
107 SE Washington St., Portland OR 97214  Map  (503) 954-3663
1632 NW Thurman St., Portland OR 97209  Map  (503) 894-8136
4. Boke Bowl – 7.56% $-$$
Ramen is the focus, but Boke Bowl also has a Rice Bowls, Steam Buns, Siu Mai and a few other items. A good place when you have the kids with you.
Boke Bowl West: 1200 NW 18th Ave., Portland OR 97209  Map  (503) 719-5698
Boke Bowl East: 1028 SE Water Ave., Portland OR 97214  Map  (503) 719-5698
5.  Nong's Khao Man Gai – 6.24% $
Born from one of the most famous of all the Portland food carts, Nong's features Vietnamese Chicken and Rice – and it will be some of the best you've ever had. The restaurant also has a few other options, and they have two food cart locations if you can't get to the east side of the river.
609 SE Ankeny St., Portland OR 97214  Map  (503) 740-2907
6.  Little Bird Bistro – 6.05%  $$
This French restaurant is a Portland favorite for a more upscale lunch. Examples include Steak Tartare, Mussels & Frites, Roasted Marrow Bones, Chicken-Fried Trout, Cassoulet of Duck Let and a killer Double Brie Burger.
219 SW 6th Ave., Portland OR 97204  Map  (503) 688-5952
7.  Meat Cheese Bread – 5.29%  $  My review
Stop here in the morning for a breakfast burrito, and come back for a sandwich at lunch. I'm partial to the Park Kitchen sandwich with flank steak, pickled onions, blue cheese mayo, lettuce and vinaigrette, but everything is good here. Try the hot Asparagus sandwich with bacon relish, soft boiled egg, Parmesan and aioli, or the B.L.B. – thick-cut Nueske's bacon, roasted beets, green leaf and lemon aioli.
1406 SE Stark St., Portland OR 97214  Map  (503) 234-1700
8. Tasty n Sons – 4.54%  $$  My review
This and Tasty n Alder below are more brunch places that serve until 2:30pm rather than specifically lunch, but don't let that stop you. My favorites are the North African Sausage with couscous, cauliflower and an over easy egg, the Pork Cutlets with over easy egg, and the Steak n Cheddar Eggs on a lovely buttery cornmeal cake. My favorite breakfast place in Portland.
3808 N. Williams, Suite C, Portland OR 97227  Map  (503) 621-1400
9. Kenny & Zuke's Delicatessen – 3.97%  $$
Well known for their New York style deli food. Check out the house pastrami – cured 7 days, smoked 10 hours and steamed 3 hours before it hits your table. I'm partial to the Reuben with kraut, Swiss and Russian dressing.
1038 SW Stark St., Portland OR. 97205  Map  (503) 222-3354
10. Tasty n Alder – 3.78%   $$
See Tasty n Sons #8 above. Similar menu with lots of crossovers. Alder tends towards a wider variety of international dishes. Lately, I've been indulging in the Korean Fried Chicken, Bim Bop Bacon & Eggs, and the Chorizo Verde Omelette.
580 SW 12th Ave., Portland OR 97205  Map  (503) 621-9251
11. Higgins Restaurant and Bar – 3.78%  $$-$$$  My review
A favorite for business lunches. Higgins features fresh local ingredients in an upscale setting, and has a large lunch menu. Try the Higgins Burger on a hearth-baked roll, the Charcuterie Board of artisan cured meats and pickles, the Oysters or any of the specials.
1239 SW Broadway, Portland OR 97205  Map  (503) 222-9070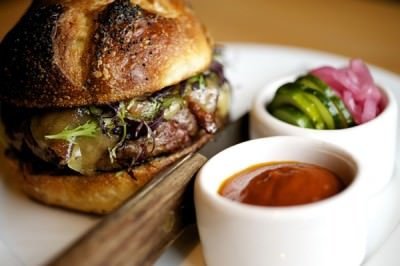 12.  Gruner – 2.65%  $-$$  My review
Middle-European/German restaurant. Along with lots of upscale dishes from those regions, they are known for a great burger. Try the House-Made Bratwurst, sauerkraut, yukon gold potatoes and hot & sweet mustard. I also like the Grilled Rainbow Trout with dijon mustard beurre blanc, roasted carrots, raab, dill and chives.
527 SW 12th Ave., Portland OR. 97205  Map  (503) 241-7163
13. Nostrana – 2.65% $$  My review
Nostrana is one of my favorite lunch places. It's easy to walk in at lunch, while it can be a battle to get a table at dinner. The sun streams in the windows, and you have a nice selection of good Italian food to while away some time. My most frequent meal here is the Radicchio Salad, the House Charcuterie, and the Divola pizze – spicy sausage, house mozzarella, provolone, tomato and Mama Lil's peppers. Go with someone else and share – makes for a good bargain.
1401 SE Morrison St., Portland OR 97214  Map  (503) 234-2427
Previous surveys:
2013: Bunk Sandwiches, Lardo, Evoe, Little Bird, Boke Bowl
2012: Bunk Sandwiches, Boke Bowl, Meat Cheese Bread, Little Bird, Olympic Provisions, Tasty n Sons, Kenny & Zuke's, Gruner, Pok Pok, Evoe
2011: Bunk Sandwiches, Evoe, Blueplate Lunch Counter, Tasty n Sons