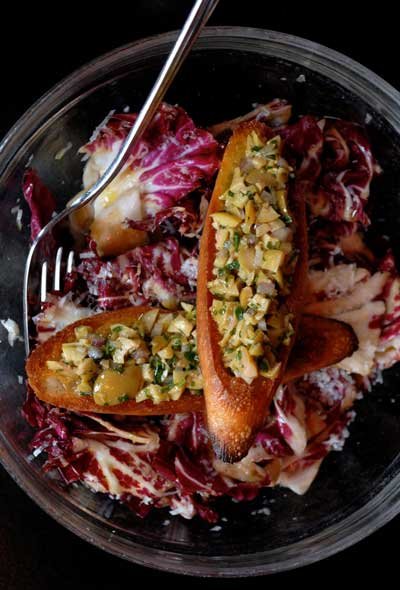 1. Toro Bravo – Everyday Spanish food is about quality and fresh ingredients, simply prepared. This is rustic food, meant for downing as tapas and accompaniments to glasses of Spanish Rosado or pitchers of Sangria. This is food to relax over, to nibble at, and to share with friends.
The Toro Bravo menu starts with pinchos, which are "little bites." These are as simple as a bowl of salted almonds, or a Spanish "amuse bouche" of "French kisses" – brandy soaked prunes, stuffed with foie gras, together wonderfully creamy, slightly sweet. Think about substituting them for a dessert. Another winner, griddled bacon-wrapped dates with warm honey. The result is complex, with the sweetness of the smoky dates, the meaty rich flavor of the bacon still tasting of the grill, and the warm honey, all combining to transport anyone who is familiar with the region right back to a cliff overlooking the Mediterranean. Lamb rillets with apricots and honey showcase the Moorish influence on parts of the country like Seville and Granada. They arrive steaming hot in a Cazuela dish, a traditional thick ceramic which is built to insulate food. Another satisfying dish is the lamb – a succulent small skewer of kebobs grilled Southern Spanish style with a cumin paste, and perfect at medium rare. It's a small portion, but very good; they hit the mark on this one. Boquerones, fresh marinated anchovies are loved throughout Spain, and Toro Bravo's version, served with piperade on thin slices of crostini are a highlight – fresh and bright, the anchovies draped alluringly over the bread, giving the slightest taste of the sea, with layers of satisfying textures and tastes wrapping around each other.
I once dated a woman from Peru, who decided it was her calling in life to teach me the mysteries of making good empanada. It's an art keeping the dough thin enough to cradle the ingredients inside, without getting in the way of their flavor; try as I might, I never could get mine quite right. At Toro Bravo, they are perfect little pouches that fall away with the slightest crunch of teeth, revealing an unctuous, complex filling of lamb, mint and harissa. Don't miss them
Address: 120 NE Russell St., Portland, OR 97209  Map
Phone: (503) 281-4464
Website: ToroBravopdx.com
Hours: Daily 5pm to 10pm, Fri & Sat until 11pm
Reservation Policy: 7 persons or more – available for Sunday through Thursday (Friday and Saturday are walk-in only).
Noise Level: Moderate to loud depending on the crowd
Price: Surprisingly moderate
Social: n/a
---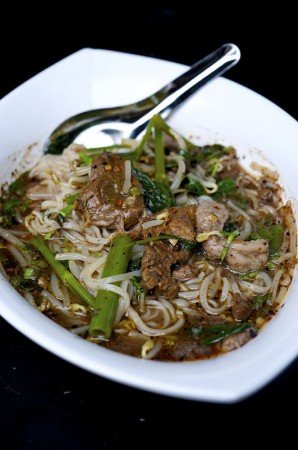 2. Pok Pok – Crispy, crackly chicken skin gave gently under my teeth releasing a flavor somewhat reminiscent of the time I rode my tricycle into a lemon geranium bush. I was eating roasted game hen, just one of the signature dishes on the Pok Pok menu. Eating here will surprise those used to more Americanized Thai food, and I can't think of any single dish that's composed the same way in other Portland restaurants. Keep an open mind, and be prepared for a learning experience; it's worth your time.
Owner Andy Ricker has been so successful with Pok Pok, he's opened Pok Pok Noi in NE Portland, and two branches in New York City; while keeping up the quality of the food in the original restaurant. I've had so many excellent meals here it would be difficult to describe them all. Khao Soi, a wonderfully healing Northern Thai curry noodle soup with house-made curry paste and house-pressed coconut milk. Yam Khai Dao made with crispy fried farm eggs, lettuce, and a melange of vegetables and Thai chilies, finished with lime, fish sauce and palm sugar dressing. Hoi Thawt, made with a crispy crepe, steamed fresh mussels, eggs, garlic chives and bean sprouts, topped with Shark Sri Racha sauce. The list goes on; Neua Naam tok is back for summer; a spicy and sour grilled marinated flank steak salad with ground dry-roasted chilies, lemongrass, fresh shallots, toasted rice powder, fish sauce, lime juice and mint. A classic salad, on the nose it's a panoply of fragrant, harmonious ingredients – strips of juicy steak, rice powder for crunchy texture, and all the other ingredients playing off one another in contrasting bursts. Ike's Vietnamese Fish Sauce Wings are legendary among Pok Pok fans. The fresh wings are marinated in fish sauce and palm sugar, deep fried and tossed in caramelized fish sauce and garlic – crunchy, salty, and loaded with flavor. Truly this is a wonderful restaurant; I've rarely had a dish here that was flawed in execution. Be prepared for a line; put your name on the list and drop into their bar, the Whiskey Soda lounge down the street, while you wait for your table. Even better, drop by for lunch when there is rarely a wait, though the menu is smaller. My full review
Address: 3226 SE Division, Portland, OR 97202. Map
Phone: (503) 232-1387
Website: PokPokpdx.com
Hours: Daily 11:30am – 10:00pm.
Reservation Policy: 5 or more persons in upstairs dining room. Call in advance reservations between 9am – 10pm. Credit card number required for 8 or more.
Noise Level: moderate/loud
Price: moderate. Can add up quickly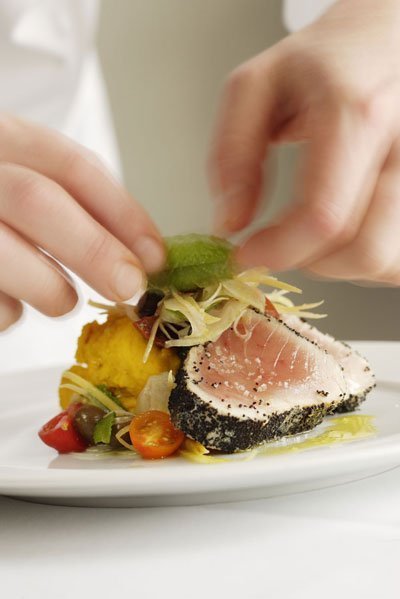 ---
3. Paley's Place – A restaurant is like an art piece. The way you are greeted, your dining companions, the smells from the kitchen, feel of the menu in your hands, lighting, music, sounds, service and finally the food. Everything works together to paint a picture. On a good night, walking into Paley's Place can be like walking into a Matisse. A classic Portland restaurant, Vitaly and Kimberly Paley's restaurant was one of the first in Portland to serve exceptionally fine food.
Meals begin with an amuse bouche, recently a fine gazpacho of cucumbers, sherry vinegar, garlic and olive oil. The overall effect was the puckering of the jowls and salivating for more – a wake-up indeed. The braised lamb terrine is rich and flavorful, a mosaic of textures. The same goes for a terrine combining pork tenderloin, chicken liver and porcini. Salmon pastrami is paper-thin, dressed with crème fraîche and wonderful fresh dill on grilled, slightly blackened rye, crispy edges of the bread giving it texture. Prosciutto cotto draped across a plate is mild in flavor, smooth and almost creamy, with a dusting of finely chopped hazelnuts giving a wonderful balance to the fat.
Mediterranean blue mussels are served in a large bowl with a simmering buttery broth flavored with white wine. A dash of persillade over the top adds color and an extra layer of depth. The bivalves are large and silky, crunchy bread is on the side to sop up the leftover broth. The bowl is accompanied by irresistible fries that are fresh and crisp, and an excellent aioli which gets a slight kick from a hint of mustard and garlic.
Paley's is known for a traditional "escargot a la Bordelaise", or snails with roasted marrow bones. It's rich; made with red wine, marrow, shallots and demi-glace. Vitaly's version is impeccable: a master class on a plate. When served with rich marrow bones surrounded by garlicky plump escargot and sweet roasted garlic, the combination is robust and earthy. A plate containing crackly grilled brioche, persillade and sea salt is served on the side. Use the little fork to dig the marrow out of the center of the bones, and dip the accompanying brioche in the sauce. Close your eyes and you'll be transported to France.
Order a small portion of sweetbreads, served nestled with a little pile of forest mushrooms, a bit of nutty spätzle and a wonderful kidney-mustard sauce. The sweetbreads are crisp and creamy; when combined with the rich sauce, they hit in a rush of earthy flavors. Paley's Place is always on Portland best restaurant lists, and was my Restaurant of the Year in 2010. My review
Address: 1204 NW 21st Ave, Portland 97209. Map
Phone: (503) 243-2403
Website: Paley'sPlace.net
Hours: Mon-Thurs 5:30pm to 10:00pm, Fri-Sat 5:00pm to 11:00pm, Sun 5:00pm to 10:00pm.
Happy Hour: n/a
Reservation Policy: please call (503) 243-2403
Noise Level: low to moderate. Easy to converse
Price: expensive
---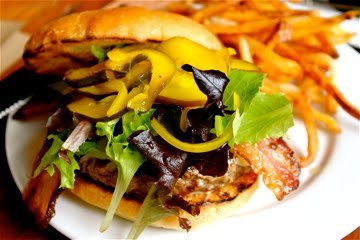 4. Tasty N Sons – Owned by John Gorham of Toro Bravo – our number one 2011 and 2012 readers choice, the menu at Tasty N Sons is tinged with influences not only from Spain, but from the entire Mediterranean.  Though they are open for lunch and dinner too, the breakfast menu quickly became legendary, drawing lines every day of the week. The griddled bacon-wrapped dates come with a light shower of warm maple syrup. More traditional items soar above the competition. The toast & jam is wonderful; thick soft bread, teleme cheese, and a smear of jam pairs nicely as a side to any of the larger plates. The same can be said for Erin's sweet biscuits with warm berry compote, or house-made granola with marionberries, kicked up with sweetened lebneh, a soft cheese made from Greek yogurt.
Spicy North African sausages are laid over a bed of couscous which is loaded with little bits of dried fruit,  and cauliflower. An accompanying over-easy egg draped across the top, runs over everything, pulling it all together. Try the pork cutlets with fried egg and sauteed spinach, or the Libyan shakshuka, red pepper and tomato stew with baked eggs. At night, the line forms for choices like quajado, a "Mediterranean Jewish frittata, pork shank adobo, grilled quail with couscous and Merguez sausage, or the nueve cocktail with octopus, prawns and flat bread. The "pretty damn good chicken strips" are the best I've ever had. They are moist and tender, lightly breaded, piping hot with strong chicken flavor; not greasy at all. They arrive draped across a mound of fries and a good dipping sauce. I get them every time I go to happy hour.
Tasty & Sons has a full liquor license, so a list of "breakfast cocktails" is available, including at least four versions of bloody Mary's; most of which are an interesting departure from the norm. Two examples, the dimsomore: Monopolowa vodka, tomato, hoisin, lime, sriracha, ginger, and the Tasty Mary: Monopolowa vodka, tomato, Worcestershire, horse-radish, lemon, sriracha, celery and house pickles with a salted rim. I love them – balanced, spicy, and just enough booze to send you home for an hour of napping. Service is excellent – attentive and knowledgeable; they make you feel welcome and cared for, though be prepared; the food is served family-style, and dishes may not come to the table in the order you expect.
Overall, Tasty & Sons has an interesting menu, quality food, and is one of my favorite restaurants in Portland. Try an assortment of dishes and share with a few friends. It tends to provoke strong feelings from diners; they either love it or walk away disappointed, but the lines don't lie. It has quickly become one of my favorite restaurants in Portland.
Address: 3808 North Williams Ave., Portland OR 97212  Map
Phone: (503) 621-1400
Website: TastyNSons.com
Hours: Daily 9am – 10pm, Fri & Sat until 11pm
Happy Hour: 2:30pm – 5pm
Reservation Policy: available for parties of six or more. Call between 9am – 10pm
Noise Level: high
Price: moderate
Social: n/a
---
5. Andina – My restaurant of the year in 2009, Andina is a restaurant that rarely disappoints, always intrigues and provides a great introduction to Peruvian food, one of the world's great cuisines. After years of accolades, it would be easy for them to coast on their reputation, but it is obvious that they are always trying to reinvent themselves, offering challenging versions of traditional dishes with their modern NovoAndina cuisine. The servings are a dazzling parade of color, from deep purple potatoes to the brilliant yellows of passion fruit, all dancing across the plates like an artists' palette.
Eating here is an adventure of flavors and combinations you might not expect. Peruvian food is strongly influenced by both Spanish and Chinese cooking, as well as that of other nations. This can make for an interesting array of choices to pick from, with something for everyone. While you read the menu, try one of the native drinks, such as a pisco sour with its perfect egg white and bitters island over Don Cesar pisco liquor, or a darkly sweet caipirinha loaded with an intriguing combination of flavors from cahaca sugar cane liquor and lime. Another interesting cocktail is the Sacsayhuamán, named after the walled complex near the old city of Cusco in southeastern Peru: habanero pepper infused vodka shaken with passion fruit puree and cane sugar, served up with a sugar rim and a cilantro leaf garnish.
Some standouts: the tortilla de patata y alioli de ají amarillo, a Spanish-style potato fritatta or tortillia, with ají amarillo aioli. The tortilla features wonderful, light fluffy layers of potato with a slightly spicy depth; it's just terrific. While many green salads can be rather boring, the Andina ensalada verde Peruana, made up of fresh greens topped with hearts of palm and whatever vegetables are in season, is terrific – large for the price, dressed in a balanced vinaigrette, the little seeds, palm hearts, and vegetables all giving an interesting interplay of textures. The small is easily enough for two to share. During the spring and early summer, try the esparragos Peruanos, fresh grilled asparagus brushed with olive oil and grilled for a nice smoky flavor. It is simple and unfussy, making any asparagus lover happy. This part of the world is known for cebiches, a traditional Peruvian dish, where raw foods are "cooked" in key lime juice with onions, cilantro, hot peppers and salt. As is traditional in Peru, they are served with cusco corn kernels, slices ofcamote (yam), and pieces of cancha (crispy corn nuggets) They have six seafood versions and another four vegetarian versions. I've tried the pescado five elementos which changes depending on the catch of the day, and the mixto chorrillano mixed seafood and fish with celery, ginger, and garlic. Both are very good, the fresh fish leaving a firm texture and an almost Thai-like interplay among the flavors.
The entrées are universally large; I always end up taking some home. Food from Peru is heavy on beef and seafood, so you'll find a large amount of both on the menus. Some examples are lomo saltado con yuca y arroz, which is tender strips of beef, wok-fried with onions, tomatoes, soy, garlic, and ají , served with rice and fried yuca. It is flavorful and shows the strong influence of Asian cuisine on Peru. Another dish that sometimes appears is entrecôte a la pimienta molle, a tender sirloin paired with purple potatoes, black quinoa, green beans, wild mushrooms and a molle pepper sauce. This is one of my favorite beef dishes in Portland; really tender with loads of beef flavor, cooked exactly as ordered. Another beef dish, bistec a la Peruana con humita verde, a marinated Cascade Natural rib-eye steak with huacatay butter is equally good. The meat is accompanied by a steamed corn husk "humita" a Native American dish from pre-Hispanic times, and a traditional food in Peru. It consists of masa harina and corn, which is slowly cooked in oil. Andina's chef stuffs it with a fresh corn puree, asparagus, wild mushrooms, and cipollini onions.
The food at Andina rarely fails to impress. The scene is warm and trendy, the food beautiful to look at and overall very good. They want to inspire passion for the food and an interest in the country, and I'd say they have succeeded. This restaurant is on my recommended list, and a must-visit for guests from out-of-town.
Address: 1314 NW Glisan, Portland, OR 97209 Map
Phone: (503) 228-9535
Website: AndinaRestaurant.com
Hours: daily days: Lunch: 11:30-2:30pm. Dinner: Sun-Thurs 5:00pm-9:30pm, Fri-Sat 5:00pm-10:30pm.
Happy Hour: daily 4:00-6:00pm
Bar/tapas: Sun-Thurs 4pm-11pm, Fri-Sat 4pm-midnight.
Reservations: OpenTable
Social: n/a
---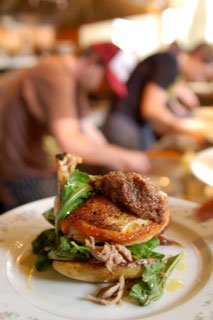 6. Le Pigeon – since the day they opened, owner Gabriel Rucker's Le Pigeon has been on Portland's must visit list. The restaurant is a quaint and charming, a place you'll be equally comfortable taking a few friends, or a romantic date. The menu items rotate frequently, but in most cases everything is a masterful balance of flavors. A few nights ago, a starter of grilled pork cheek, feta creamed chard and Greek salad made a perfect foil to a hot evening. Another warm night a Mediterranean appetizer of rabbit spanakopita with peaches, prosciutto and black truffles. In June, I ordered a lobster and chicken tart with vinegar ice cream. Yes, you read that right, and it was amazing.
Menu choices vary so frequently you never know what will be available, but Foie gras is always on the menu, currently served with spinach-artichoke dip and green peppercorns. Another constant, the beef cheek Bourguignon over mashed potatoes and onions – earthy and warming on a winter day. Chicken and oysters is a dish that I first read about in the 1918 Fannie Farmer cookbook, at Le Pigeon they are an inspired combination, served with liver, salsify and lemon jam, as were sweetbreads with pickled strawberries; perfectly crisp, yet creamy inside, the sweetness of the strawberries singing a soft harmony. A cucumber gazpacho is beautiful and refreshing, a green soup that tastes of summer, with a single perfectly grilled prawn in the middle. A dish of squab is so rich you might think it is duck, until you remember it's matched with duck fat-poached potatoes and marrow crostini.
Even the desserts can be stunning. Take, for instance, the bizarre sounding dish of sweet cornbread with apricots, topped with crispy bacon, honey, and maple ice cream. I've had it twice, and both times we sat there saying, "I can't believe this is so good!" Foie gras always seems to be on the dessert menu: foie gras profiterols over salted caramel; savory and earthy, with the caramel providing salt and sweet, foie gras ice cream and bread pudding with apricot syrup, or even seared with a chocolate croissant.
There is a reason that Gabriel Rucker is a highly respected chef – you'll understand when you try his food. For a great experience, try the $65 five-course tasting menu. It's a bit spendy, but worth it. My review
Address: 738 E Burnside St., Portland OR 97214 Map
Phone: (503) 546-8796
Website: LePigeon.com
Hours: nightly 5pm – 10pm
Happy Hour: n/a
Reservation Policy: Open Table
Noise Level: moderate
Price: expensive
---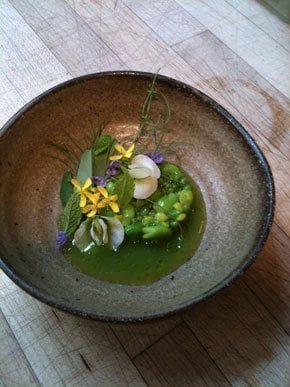 7. Castagna  has had its share of ups and downs over the years, and as a result, the overall quality of the food has varied. Most recently it gained a large following for its touches of molecular gastronomy under chef Matthew Lightner. He left in 2010, and sous chef Justin Woodward was promoted to his place.
Woodward is no lightweight himself. A graduate of Manhattan's WD-50, he's put his own stamp on the restaurant, and has quickly gained a following for his fresh look at our local ingredients, combining them with more refined techniques of molecular gastronomy than were found in earlier versions of the cuisine. For me, this is a good thing. I've had my share of the cuisine where it seemed the chef was trying to impress with "gee wiz, that's cool!" food than things I would order on a second visit. In a restrained hand, the cooking actually brings valuable techniques to the table. It is a complement to our great local ingredients, without stepping on them.
Though an ala cart menu is available, order the ten-course tasting menu. Yes, it is prix fixe $95, and everyone at your table has to order it. However, it is worth the price for the sheer variety and exploration of flavors and textures. This isn't going out to dinner, it is going on an adventure.
Address: 1752 SE Hawthorne Blvd, Portland OR 97214  Map
Phone: (503) 231-7373
Website: CastagnaRestaurant.com
Hours: Mon -Thu 5pm-10pm, Fri-Sat until 11pm. Sun 5pm-9:30pm
Happy Hour: Mon-Sat 5pm-6pm & 9pm-close
Reservation Policy: recommended (503) 231-7373
Noise Level: low/moderate
Price: Expensive
---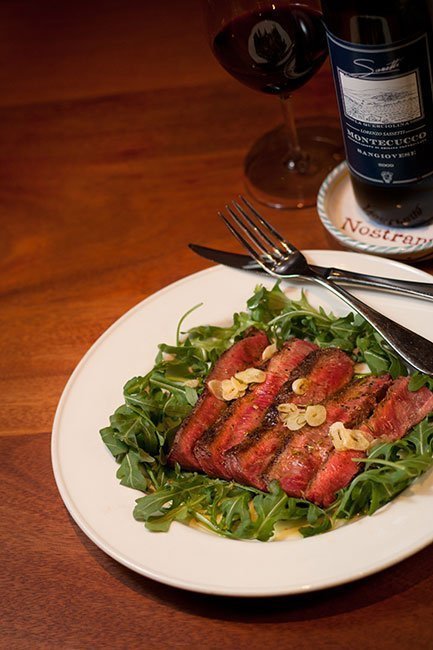 8. Nostrana – Owner Cathy Whims has made Nostrana a success since the doors opened, consistently winning the PFD reader survey for Best Italian in Portland. The house-made charcuterie is a terrific first course that should not be missed. Duck liver & cheffy pâté, coppa di testa, porchetta di testa, smoked lamb rillettes, fried pork trotter, ciccioli, red currants, preserved cherries and pickled kholrabi make up a large plate. It's a tasting adventure sized just right for three to four people. Grilled razor clams are laid out like butterflies, tasting of the sea. There were herbs and oil, perhaps some almonds, but mostly they tasted of wood smoke and salt with a long savory finish.
As they should, pizzas have good scorch, with little bubbles of black on not only the top, but a bit on the edges and all the way underneath. The mozzarella is hand-made, and the slow-risen dough is naturally leavened. Most nights they are close to perfect, crispy all the way through, with just the right balance of toppings, terrific flavors. A recent special with a topping of squash blossoms, burrata, tomato and oregano is straightforward but as good as it sounds, an homage to summer.  Try the Diavola with spicy sausage, house mozzarella, provolone, San Marzano tomato and Mama Lil's peppers, or the Salumi with calabrese salami, tomato, provolone, house mozzarella wild oregano, honey Lil's peppers.
If you go to Nostrana expecting American pasta dishes, you may be disappointed. This is the real thing: bucatini with pesto and pickled white anchovies and rigatoni served in a sauce of guanciale, peas, fava beans, pecorino romano and black pepper are among current offerings. A menu favorite for years, the fettuccine in Marcella Hazzan's #3 tomato and butter sauce is always a good choice for those who would rather stick to something more familiar. Overall, most of the pasta dishes are outstanding.
Desserts are hardly an afterthought. The budino is small, but very moist, oozing dark chocolate flavor. A real standout is the wood oven baked crisp; this week it is blueberry and peach. The ingredients are placed into a thin ceramic dish, topped it with sugar and cooked in the 700 degree oven. Twenty minutes later it is delivered sizzling to your table, the sugar crackly and caramelized. When it is brought to the table, your server will pour a small pitcher of thick almond cream over the top to cool it off.
Address: 1401 SE Morrison St., Portland OR 97214 Map
Phone: (503) 234-2427
Website: Nostrana.com
Hours: lunch Mon-Fri 11:30 – 2pm, Dinner Sun – Thurs 5pm – 10pm, Fri & Sat until 11pm
Happy Hour: nightly from 9pm
Reservation Policy:

Open Table

Noise Level: moderate
Price: moderate
Social: Twitter
---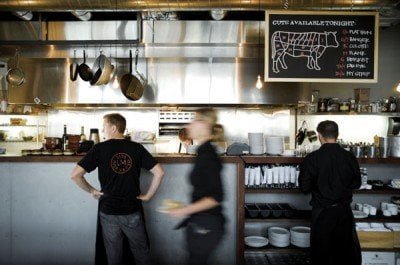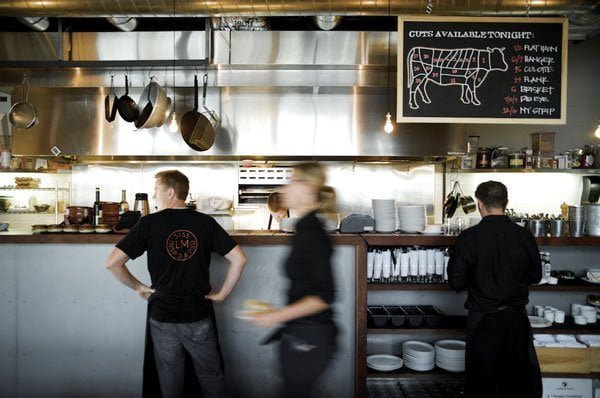 Laurelhurst Market is a temple to all things meat. Unusual for a restaurant, a meat case at the entry allows you to purchase various cuts to take home if you'd rather cook them yourself. However, judging by the nightly crowd, it seems like most people prefer to have the crew at LM do the cooking for them.
I'm not finished with my complete review, but here are a few of my impressions. If you are into steak tartare and are willing to experiment, the Laurelhurst Market version is very nice. It's a little different from most, with the addition of vodka and a "salt-cured farm yolk". As far as steaks go, I like the Steak & Sauteed Greens – a bavette with ancho chili romesco; it tastes like a cow should taste, and while I admit I am biased towards anything with good romesco, I could happily eat this dish every time I'm there. Moving up in price, try the grilled flat iron with glazed shallots and shaved foie gras torchon, or the most expensive cut, a grilled ribeye which is cold smoked and served with blue cheese butter and sweet onion rings. Note that the prices are substantially lower than a traditional steakhouse. The bavette I mentioned is a mere $20, and the most expensive ribeye is $38 – about $12 cheaper than competitors, but arguably better.
Personally, I'm a purist; serve me a slab of meat and some salt. I don't need any damn blue cheese butter. The staff seems accommodating  and I have a feeling they'd hold the topping if I asked.
My complaints so far are few. At times the service can be very slow, but is generally well-informed and friendly. If you don't have reservations, there is a long wait for a table on busy nights. It can also be challenging conversing with table mates – it gets very noisy. This is not a romantic first date type of place.
Address: 3155 East Burnside St., Portland OR 97214 Map
Phone: (503) 206-3097
Website: LaurelhurstMarket.com
Hours: daily 5pm – 10pm
Happy Hour: n/a
Reservation Policy: limited number every night. See website form
Noise Level: moderate/loud
Price: moderate for a steakhouse
Social: n/a
---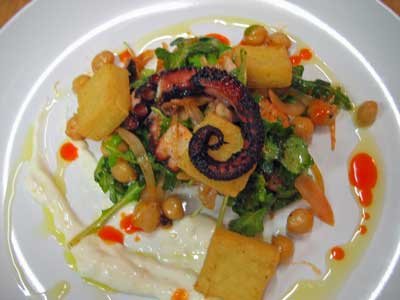 10. Aviary – The food served at Aviary is executed with a rare degree of excellence. It is not merely to be consumed; it's meant to be thought about, tasted with eyes closed, lingered over, and discussed with a good friend. Salads are unusual, always showcasing the ingredients in new and interesting ways. One combines lightly dressed arugula, strips of Asian pear and celery root, thin bright wheels of watermelon radish and tiny grains of candied cumin. Without the latter, the near perfect composition of the other ingredients would make it stand out, but the scattering of the spicy little grains are like a spark waking the mind. The crispy pig ears are, in a word, perfect. When the paella pan is brought to the table you are assaulted with the hot scent of steaming, rich coconut rice, which acts as an aromatic basket for salty chunks of Chinese sausage, avocado and barely wilted greens. Black vinegar-pickled daikon are scattered throughout, providing little prickly strands of flavor. The ears are delicate crispy wafers, almost like a meaty potato chip, the rice so rich and comforting I could eat an entire bowl. Every time I order this dish other people at the table recoil, but it always ends up being the star of the night. Full review
Address: 1733 NE Alberta St., Portland OR. 97211  Map
Phone: 503-287-2400
Website: Aviarypdx.com
Hours: Mon – Thurs 5-10pm, Fri-Sat 5-11pm
Happy Hour: Mon – Fri 5pm – 7pm
Reservation Policy: Open Table
Noise level: Can be loud at times
Price: small plates: $8-$13; larger plates: $12-$22. Spilt 1/2 a dozen between friends for a great meal.
Phone: (503) 281-4464
---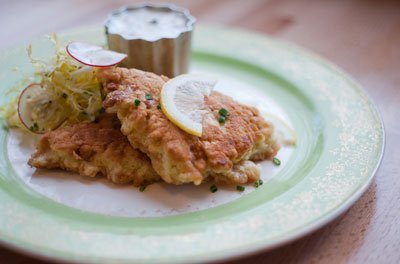 11. St. Jack – The glory of St. Jack has to be its pungent, deeply flavorful meats. The restaurant is heavily invested in organ meats, but even the timid may agree that the adventure is well worth the risk. A "petit plat" of fried tripe is for sure a tad fatty, but it's the kind that's addictive and utterly delicious. The French call it tablier de sapeur, or "fireman's apron." Basically the tripe is breaded and sautéed, and slathered with a sauce of capers, red onion, and homemade mayonnaise, it has both crunch and lusciousness. Then there's a salad of leeks and mixed greens topped with crispy bits from a pig's head, a tantalizing mix of health and hedonism, just enough of the latter to give extra interest to the vegetables. There's fowl afoot in the form of coq à la bière instead of coq au vin. It's a lighter dish than its more common cousin, drenched in sparkling farmhouse ale and not in the wine that stains the bird a blood-red, while pearl onions, wild mushrooms, and bacon give the chicken a pungent taste of the earth. But for those who really need a break from meat, one heavenly fish makes its appearance. Boned trout, a giant beauty curls in a semi-circle as if following the rim of the plate, bedded on a warm lentil salad. The trout is soft, moist, and as fresh as you'd wish for. Roger Porter's Review
Address: 1610 NW 23rd Ave, Portland, OR 97210  Map
Phone: 503-360-1281
Website: StJackpdx.com
Hours: Patisserie: 7 days a week 7am-4pm. Restaurant – Mon-Sat.  Dinner: Sun – Thurs 5pm, – 9:30pm, Fri & Sat 5pm – 10:30pm
Happy Hour: daily, 4pm-5:00pm
Reservation Policy: yes. See website
Noise level: Contented buzz in the rooms
Price: Appetizers: $3-$13; entrees: $17-$22; desserts $5-$7
Social: