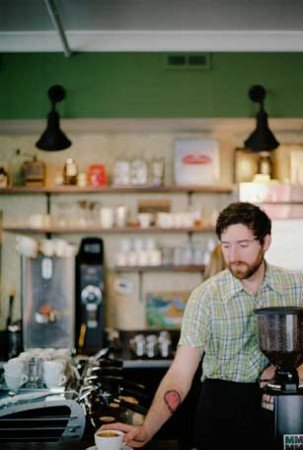 The number of coffeehouses that have opened over the past few years made untangling the votes for Best Coffeehouse in Portland a challenge. We love our coffee, and judging by the comments, many of us have strong preferences about coffeehouses. For this survey I left out "Best Roaster" for another survey, because I wanted to concentrate on things like service, feel, and the general "makes me happy" factor.
There was a bit of a change in order this year, but in general the same places made the top of the list.
1228 votes counted:
1. Barista Coffee – 12.63% of the vote
You can read our detailed profile of Barista here.
2. Coava Coffee – 12.22%
Read our detailed profile of Coava Coffee here.
3. Stumptown Coffee Roasters – 7.74%
Five Portland locations, see website for more information
Read our detailed profile of Stumptown Coffee here.
4. Ristretto Roasters – 6.92%
Nicolai: 2181 NW Nicolai St., Portland 97210  Map
Williams: 3808 N Williams Ave, Portland 97227  Map
Couch: 555 NE Couch St., Portland 97232  Map
5. Heart Roasters – 5.5%
Eastside: 2211 E. Burnside St, Portland OR. 97214  Map
Westside: 537 SW 12th Ave, Portland OR. 97205  Map
Read our detailed profile of Heart Coffee Roasters here.
6. Water Avenue Coffee – 3.87%
1028 SE Water Ave., Portland 97205 Map
Read our detailed profile of Water Avenue Coffee here.
7. Case Study Coffee – 3.67%
5347 NE Sandy Blvd, Portland Or. 97221 Map
802 SW 10th ave., Portland OR. 97205 Map
1422 NE Alberta St., Portland OR. 97211  Map
Read our profile of Case Study Coffee here.
8. Spella Caffé – 3.67
520 SW 5th Ave., Portland OR. 97204  Map
Read our profile of Spella Caffe here.
9. Jim & Patty's Coffee – 3.26
10. Dutch Bros. Coffee – 2.65%
5482 SW Beaverton Hillsdale Hwy, Portland OR. 97221  Map
11746 SW Pacific Hwy, Tigard OR. 97223  Map
8940 SW Hall Blvd., Portland OR. 97223  Map
There are few interesting changes in ranking. The effect of so many new coffeehouses means the same votes are spread over more businesses. Because of the sheer volume, Barista went from 18.74% to 12.63%. Though Case Study has opened new locations, they dropped from 5.9% to 3.67. Water Avenue Coffee moved from 4.25% to 3.87%. Ristretto Roasters continued to fall – 7.56% to 6.92%. putting it in 4th place, and Coffeehouse NW, a past favorite dropped all the way to 20th place with just 18 votes. Stumptown, which seems to be building a negative buzz lately, has climbed back to third on the list.
Previous years:
My favorite comments from the survey:
Coffeehouse NW – "I had a boss (a real new jerk) who would not step a foot in the place. I drank his coffee and mine as well with a smile."
Cathedral – "It was a strong race between the SW 12th Heart and Cathedral, but Cathedral is just pretty divine (pun intended)."
Albina Press – "I think one of the guys is flirting with me."