Best restaurant in Portland for a first date
For me, after the obligatory coffee meetup, the first real date gives me enough information to decide whether we should go out again. I want to know 1) do they like dogs, 2) have a sense of humor and 3) how adventurous their palate is. These things are stop signs for me. Sure, roll your eyes, but admit it: we all have secret deal breakers.
With this in mind, I want a restaurant that is fun, not too romantic, fairly inexpensive and one which has interesting food choices which lead naturally to good conversation. Give me a plate of octopus or sweetbreads. If my date recoils, it's just not going to work. Also, I don't want the restaurant to be too loud, I want to be able to hear what they are saying. The last eliminates a good portion of Portland restaurants. Keep in mind, some of these are not necessarily among the best restaurants in Portland, but, judging by your votes, fit "first date" requirements.
Your first choice is unchanged since 2010 and is the same as mine  – Toro Bravo. My second choice would be Aviary; unfortunately, it didn't make the list this year.
1. Toro Bravo – 16% of the vote  $$
I think the brave bull is a perfect choice: safe options if your date isn't adventurous, and a bit daring to many people as lots of folks aren't very familiar with Spanish food. Small plates mean you get to try a lot of dishes. The restaurant has remarkably good service, a vibrant atmosphere, and the prices are low enough so that if your date turns out to hate dogs, you don't end up kicking yourself later. A recent refresh has left the restaurant better than ever; a few more tables, a standing bar, and a more interesting menu. My suggestions: Albacore Tartare, Empanada, Fried Spanish Anchovies, Squid Ink Pasta, Octopus. Save room for dessert – they have improved quite a bit over the last year. Though prices have risen over the years, if you don't get too carried away, you'll have an excellent dinner for not too much money. Also, this isn't exactly a quiet restaurant, but one can carry on a conversation.
Toro Bravo doesn't take reservations and is very popular. If you can work it out, get there right before they open to ensure a table without a long wait.
 (503) 281-4464
120 Northeast Russell St. Portland, Oregon 97212  Map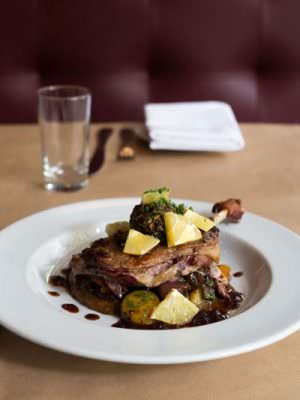 Little Bird is a sister restaurant to Le Pigeon, also owned by Gabriel Rucker, who won the "James Beard: Rising Star Chef Award" in 2011, and in 2013 won the "James Beard Award: Best Chef Northwest". It moved one slot up the list this year, flipping with Portland City Grill.
Justifiably, the restaurant has a large, passionate following. The cuisine has been called French fusion and modern French, though these days it seems to have drifted a bit more towards classic cooking. With menu items like Lamb Tartare, Spring Onion Tart, Roasted Marrow Bones, Seared Foie Gras, Trout, Coq au Vin, Hanger Steak Au Poivre and Baguette Jambon de Paris, you'll find plenty to tempt a non-foodie to explore. If your date isn't biting, Little Bird Bistro has a terrific Double Brie Burger with Fries – one of the better hamburgers in town – number three on our survey of Best Burger in Portland.
(503) 688-5952
219 Southwest 6th Ave. Portland, OR 97204  Map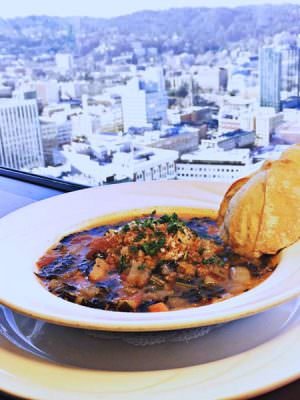 This restaurant is all about the view; it's on the 30th floor of "big pink" downtown. The happy hour is a great way to get to know someone for low initial outlay: Mon-Sat 4 pm – 7 pm and then 9 pm – close; Sunday it runs longer – noon until 11 pm. The menu is large and unfocused, so don't expect amazing food, but it's just fine, and look at that view! If the date is not going well, you can just stare out the window and fantasize you are really sitting with Lauren Bacall – yes, I'm dating myself. Keep in mind that Portland City Grill is very popular, the happy hour even more so, and it is only available in the lounge. The regular menu can be pretty spendy depending on what you order; steaks start at $47 and even the chicken – macadamia nut, vanilla passion fruit sauce, stir-fried petite vegetables, kimchi and sushi rice (say what?) is $30. By the way, whoever does their menus needs to learn to spell – it's not Kim Chee – I hope. Portland City Grill – for when you want to dazzle with the view and your wallet.
(503) 450-0030
111 5th Avenue, 30th Floor Portland, OR 97204  Map
4. OX –   $$$
Ox hit the Portland food scene like a wrecking ball, drawing huge crowds from the day they opened. Years later they are still coming. Part of the allure is that Portland never had a decent Argentinian style restaurant before this, the second part is the food is damn good. Much of the menu is from the grill, imbued with a wonderful smokey taste. Try the "Asado Argentino for 2 – grilled short rib, house chorizo and Marcella sausages, skirt steak, sweetbreads, fried potatoes and a green salad. Whew. You'll be doing well if you make it through the platter, but being prone to gula*, I ordered it for myself one night and talked about it for days, though parts of my conversation included that it cost $82.00. On the other hand, it will feed two hungry people and you'll waddle out the door with leftovers. Don't let that price throw you, it isn't difficult to eat at Ox for much less.
If you think things might take a frisky turn later in the evening, you might want to go with something smaller. When they have goat, it's wonderful; a mound of moist, sweet, slightly gamey meat. I always order the bruschetta, and you can't go wrong getting the clam chowder with smoked marrow bone, the empanadas, beef ribeye… it's all good – just go, but be prepared to wait, and wait for a table. Insider tip – be there when they open for easy seating, or late in the evening.
[*I used "gula" when I wrote about OX the last time, but drew a blank this year and looked it up. Though it refers to glutton or piggery in the gastronomic world, the Urban Dictionary also has the definition as "the recipient of prison gang rape". Ack! I'm not prone to that. (And you thought you wouldn't learn anything from this list.)]
(503) 284-3366
2225 Northeast Martin Luther King Junior Blvd. Portland, OR 97212  Map
Departure has always been a "see and be seen" type of place, mostly catering to a younger, hip crowd (I just dated myself by using "hip" in a sentence, so that leaves me out). Its reputation grew even more when chef Gregory Gourdet ended up as a finalist in Top Chef 2015. The food is modern Asian/fusion – Sushi, Dim Sum, Kushiyaki, and a variety of specials. All of this is served in an ultra-modern environment which reminds me of the Virgin Airlines airport lounge. Prices can be a bit on the spendy side, so keep that in mind, or if you really want to impress, go for the Chef's Imperial Tasting Menu, $105. The outdoor patio has a great view – it placed 2nd in the 2015 Best Outdoor Dining list. They have separate gluten-free and vegan menus, as well as a very popular happy hour with small plates from $4 – $13, 4 pm to 6 pm daily. If you haven't been here, you need to get off your tail and check it out, if only for the ambiance and the view. Oh, and if they have the Peking Duck (usually in December), drop everything and go get it.
(503) 802-5370
525 Southwest Morrison St. Portland, Oregon 97204  Map
Relaxed, friendly, quirky atmosphere, comfortable bar seating, good food, great cocktails and reasonable prices. Try the Meat Board, Butter Lettuce Salad, Steak Tartare, and Steak with Fries. Add a couple of drinks and shake. I think this is a great choice for a date. Intimate if you are able to grab one of the small tables, not too noisy and easy food.  Angel Face has received a few negatives for not having a cocktail list per se, but don't let that stop you. Just tell them the type of things you like, or what you are in the mood for, and they will make you happy. It's one of my favorite late-night drop-ins.
Angel Face is open until 1 am on Friday and Saturdays, which is a nice plus (midnight other days).
(503) 239-3804
14 Northeast 28th Ave. Portland, OR 97232  Map
Before you react with, "this list is crap", stop and think a minute. The question is "Best Date Restaurant", not "Best Restaurant". Salty's has the view – sunsets, water, a big deck… You've got to admit, with the right person it could be very romantic. On the other hand, with the right person, my broom closet could be romantic, but I digress and don't have a broom closet. You'll find a full menu of steaks, pasta, and fish. The brunch is legendary; a huge array of choices laid out before you. It was voted in the Nation's Top 100 Brunches on OpenTable for 2013.
The make your own Bloody Mary's should help tilt you in their direction, though the brunch is $44 – $48. On the other hand, it features a four-foot cascading chocolate fountain with Lady Finger Cookies, Strawberries, Pineapple and Marshmallows; Seasonal Tarts; Brownies; Caramel Almond Bars; Blueberry Muffins; Bread Pudding and Cobblers; Croissants; Apple Dumplings; Danishes; Cheesecake; Bread Sticks; German Chocolate Cake; Blueberry Coffee Cake and Chocolate Chip Cookies. Eat one of those special, funny tasting brownies before you go, and get your money's worth. Glady's! Get the keys!
I'll admit, I've never been to Salty's, but plenty of people are regulars – the place always looks packed. Motor up on your yacht and have a lovely champagne brunch. Patio information here.
(503)288-4444
3839 N.E. Marine Drive, Portland, OR 97211  Map
I've had more business meetings at Higgins than anywhere else in Portland. I've also had some good first dates there. You can go two different directions. For a casual feel, eat in the bistro area at the back of the restaurant. The cocktails and wine service are excellent, and the menu is casual, yet interesting, with lots of options, though prices can be high – $16 for a burger (though it's one of the best in Portland). For something more formal though pricey, eat in the front of the restaurant where tables are spread out, and unlike many Portland restaurants, you can actually have a conversation.
Higgins specializes in local ingredients and you'll see them throughout the menu. You are more likely to be incompatible with your date than with the food. This isn't a cheap date. Prices start at $16.50 for salads and the cheapest dinner plate is $24.50.  Not matter, throw your credit card to the wind and live it up. Have a bottle of wine, revel in some of the best service in Portland, and enjoy the food. Insiders hint, go for lunch and save quite a bit of money.
(503) 222-9070

1239 SW Broadway, Portland, OR 97205  Map
Nostrana is a Portland restaurant success story that few in the city can match, still drawing lines 12 years after opening. Located at SE 14th & SE Morrison, Nostrana is on the corner of what was once an old grocery store. Showing its roots, the arched wood ceiling soars overhead, lighted by well-placed spots. Between widely spaced tables and touches like cork floors, the conversation is easy. On many nights you will wait if you don't have reservations, so plan ahead. On nice days, the patio area out front provides outdoor seating. The food is reliably good and authentic. This is not an Americanized red sauce spaghetti and meatballs place. They have just a few kinds of pasta like Pork and Beef Ragu, Blue Prawn Ravioli, and Rotelle with Marcella's number 3 tomato butter sauce. You'll find dishes such as Oven-Roasted Trout, Roasted Porchetta, Rotisserie Chicken and a Flat Iron Steak, but many people come for the pizza – naturally leavened classics without a lot of fuss. They are served whole, with a pair of shears to cut them into pieces.
Prices range from $9 – $18 for appetizers, $17 – $20 for pasta, $9 – $16 for pizza, and the large plates are $26 and up. Not cheap, so maybe not the best for a first date. On the other hand, the food is reliably good. Review
(503) 234-2427

1401 SE Morrison St Ste. 101, Portland, OR 97214  Map
Noble Rot is a good first date restaurant because it's easy to be seduced by the whole concept – the good looking servers, the lighting, the view of the city from the outdoor deck, and the sophisticated, modern interior. Service is good, multiple wine flights provide opportunities for conversation, and the prices are reasonable, ranging from $11 to $28 (there is one steak for $36). Lots of the vegetables and herbs are grown in the restaurant's rooftop garden, making produce ultra fresh. The wine cellar contains over 300 bottles matching every budget.
Check out the happy hour – Monday – Friday     5 pm – 6 pm. Half a dozen items are available from $5 – $10, draft beer $4, house wine $5, and cocktails are $6. It's a good deal and a nice way to get to know someone.
(503) 233-1999

1111 E Burnside St, Portland, OR 97214  Map
Previous winners: